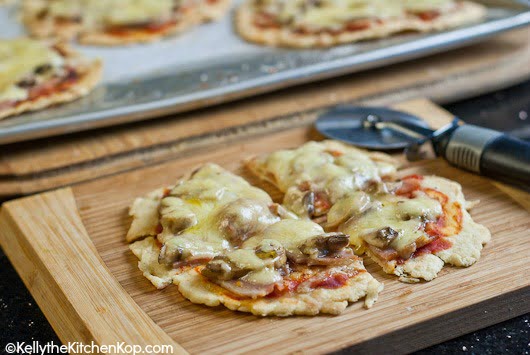 Fast Food Meal Ideas Using Homemade Tortillas (or not Homemade!)
Do you realize how many quick/fast food meals can be made when you have tortillas on hand?  Check out how to make homemade soaked flour tortillas here.  Don't want to make them?  I HAVE finally found some pretty good tortillas that you can find here in a pinch and we use these quite often now!  (If you can't find them at that link, try your health food store or buying club.)
Here's a complete list of real food options that can be made quickly.
And HERE are fast food meal ideas using homemade tortillas:
Homemade pizzas (my kids' favorite) – Just add organic sauce, cheese and whatever other toppings you like and bake 'til the cheese melts.  (Here's another recipe for Homemade pizzas.)  I forgot to say that I also butter the bottom really well so the tortilla gets really crispy.
The other hit with the kids lately:  Mexican pizzas.  Also super easy:  spread organic refried beans on a tortilla, sprinkle with cheese.  Bake 'til the cheese melts and serve with salsa, sour cream, lettuce, etc.
Quesadillas – A fast meal that everyone loves, like a grilled cheese with character.  I like to use at least a couple different kinds of cheese.  Just sprinkle cheese on a tortilla, place another on top and fry each side in plenty of healthy fat like butter/ghee, refined coconut oil (some things I use the refined for if I don't want the coconut flavor), lard or beef tallow, even bacon grease. Add sour cream and tomatoes and you've got an "adult" quesadilla.  You can also use chicken or beef and serve with salsa.  (Where to find safe, healthy meat.)
I like making tortilla roll-ups.  Spread cream cheese on a tortilla and whatever else you like:  green onions, other veggies cut up (small pieces of tomato, green pepper, shredded carrots, etc.), shredded cheese, and you could also add ham or turkey lunch meat.  Roll up then slice to serve or just eat like a burrito.  The kids like these in their lunches.
You could fry them in plenty of healthy fats for a crispy taco salad topping or use like chips to dip into guacamole, this yummy feta cheese dip, or some bean salsa.  Also after frying like this you could sprinkle cinnamon and sugar on for a treat, or some garlic salt for a snack.
They're also nice to have on hand to make chicken enchiladas.
Breakfast burritos are a good make-ahead fast breakfast.
Of course they're good for the basic tacos or burritos, too.  We all like these shredded chicken tacos.
Does anyone have more fast meal ideas using homemade tortillas?
See my how to make homemade soaked tortillas post and read about the quest for the not-so-bad tortilla ingredient list.
Meal Planning Help!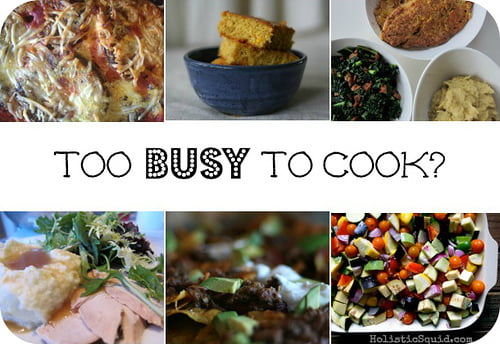 Sick of planning meals and answering the question, "What am I going to feed these people?" No matter what kind of eater you are (traditional, GF, paleo, vegetarian)… Check out these affordable interactive easy-to-use meal plans where the work is done for you.  NOW recipes also available from Nom Nom Paleo, The Paleo Mom, and Wellness Mama all in one spot!  You can read over my review here.