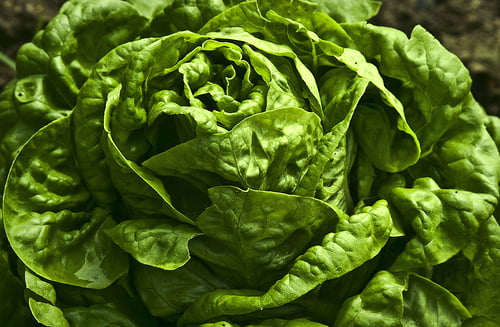 This guest post from Kate comes at a perfect time in my own kitchen.  I'm not sure how it happened, but I've got waaay too much lettuce in the fridge right now, and don't you just hate letting anything go to waste?  Well, I guess I do know how it happened.  I felt like a salad last week so I got my first bunch of lettuce when I was at the store on Friday, and then Saturday at the opening day of our farm market I just couldn't resist those fresh, local greens!  So I'll be using one of Kate's below suggestions for dinner soon. 🙂
Here's Kate…
Lettuce.
If you are part of a CSA, or frequent the farmer's markets that have now opened, you may be drowning in an abundance of it.  If you're not, you should know that lettuce is in season now, so get thee to the store and pick some up!
I'm assuming you now have lettuce.  A lot of lettuce.  So what exactly are you going to DO with all of it?  Luckily, I've got a few ideas for you.  Over here, we go through at least 2 heads per week, and often more (and that's just among the two adults).  So we have experience going through a LOT of lettuce!
Our favorite meal?  Taco salad.  Here's how:
1 pound grass-fed beef (Read more about grass-fed beef or find where to buy healthy meat on my resources page)
1 recipe seasoning mix
1 medium head of lettuce, torn into bite-sized chunks
1 medium tomato, chopped OR fresh salsa (recipe below)
Raw cheddar cheese (we found an aged, sharp cheddar that we really like at Trader Joe's)
Organic corn chips (please no non-organic as GMOs are a concern)
Other desired toppings: black beans, pinto beans, kidney beans, sour cream, guacamole, etc.
We actually octuple this recipe (read: times eight!) and keep it in a spice jar so we can use it easily whenever we want.  It's a bit of a pain to mix up at first, but if you keep it on hand it's just as easy as the packets are.  The directions are so simple I almost forgot to include them: put all ingredients in a small bowl and stir.  That's it.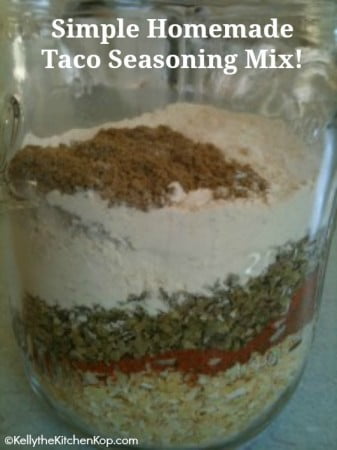 (NOTE FROM KELLY: Here is my recipe for Homemade Taco Seasoning Mix from my friend, Sue, and I've already figured out all the amounts for a batch that makes about 1 1/2 cups, perfect for a small jar.  You can see how it looks, before you shake it together, in this picture.  Isn't that a neat shot?  Once in a great while I'll snap a good one!  I actually thought it was super easy to mix together, too.  OK, back to Kate…)
Then, put a bunch of lettuce in a big bowl.  Top with the seasoned meat (works with chicken too) and whatever else you like.  Such as the salsa:
5 – 6 Roma tomatoes
¼ c. red onion
½ small bunch of cilantro
2 limes
Sea salt to taste
Cut the tomatoes into small chunks, removing the seeds and juice.  Mince the onion and mix it into the tomatoes.  Chop the cilantro loosely, removing stems, and add it.  Add the juice of two limes, then sea salt to taste.  Some people add black pepper and jalapenos; I find it's more kid-friendly if I don't (my 10-month-old LOVES this salsa!).
Another idea:
If you get bored with this taco salad (we never do), I have an awesome recipe for Caesar dressing, too.  Serve it up with garlic-butter croutons, some grilled chicken, and some fresh cheese.  We found a raw sheep's milk Romano cheese at Trader Joe's too.
There!  Two great uses for all that lettuce!  And since you can vary your taco salad toppings almost infinitely, it should never get old.  And it can be vegetarian sometimes if you're trying to reduce your meat consumption.
What are your favorite uses for lettuce?
Kate blogs at Modern Alternative Mama about real food, natural living, parenting, and other "natural" subjects.  She lives in Ohio with her husband, Ben, and their two kids, Bekah, 2, and Daniel, 10 months.  She also sells an organic skin cream that has a multitude of uses, from diaper rash to dry, cracked feet, to soothing burns!  Kate enjoys everything that has to do with an all-natural lifestyle, even if most people do think she's a little crazy.
MORE IDEAS FOR EXTRA LETTUCE:
Yummy Salad Ideas that you may not have tried yet!
Part of Alex's new 2 for Tuesday blog carnival!