Are All Dietz and Watson or Boars Head Lunch Meats Natural?
I rarely buy sliced lunch meats from the store anymore, but when I do, I always get whatever is the most "natural", although now I know more than ever what a loose term that is.  I went to get some roast beef today to make French Dip and asked to look at the label.  Of course most people never do this, and since they had to pull it out of the big case for me I got "the look".  From what I knew, Dietz & Watson has "okay" meats, not grass-fed, but at least I didn't think there was any junk in there.
The Dietz and Watson website says, "To enhance the natural flavors and goodness of the meats, only the freshest all-natural spices and seasonings are added. We never use artificial flavors, colors or fillers and never any MSG."
So far, so good.
Also, in the Q & A section on their same site, it says this (I see this page is no longer up, but here's what it DID say):
"Q: What are Corn Syrup Solids?
A: They are flavoring agents with sweetening power greater than or equal to sugar. Its use is limited to two percent meats which makes it an excellent sweetener. In poultry its use is unlimited which means that it can be used as an extender. Dietz & Watson chooses not to use Corn Syrup Solids or any other extenders in our recipes."
Now look at the ingredients I found on their website for roast beef: (my comments in italics)
INGREDIENTS: Beef, Water, Contains Less Than 1% Of Salt, Sodium Phosphate, Dextrose, Maltodextrin, Dried Beef Stock, Caramel Color, Soluble Black Pepper, Garlic Powder, Onion Powder, Grill Flavor (From Vegetable Oil), Corn Syrup Solids, Modified Corn Starch, Lemon Juice, Spice Extractives, Lemon Oil. Coated With Salt, Dextrose, Garlic & Onion Powder, Dried Beef Stock, Natural.
WHAT?!
Dietz and Watson replies:
In an email from the company, a guy named Steve replied and said that he looked into it and the corn syrup in the roast beef is "only in the coating".  Not cool considering that on their website it says they choose NOT to use corn syrup solids!  According to Steve this is the only product they use it in, but that's not very reassuring.
A couple of those ingredients often contain MSG (Maltodextrin and beef stock), but he said, "We specify to ALL our suppliers that none of our ingredients can contain MSG."  Again, not very reassuring.
My conclusion is that overall their stuff may not be as bad as other conventional lunch meats, but I'm not sure how "on it" they are to know if we can totally trust them.  Also keep in mind that their meats are not grass-fed, which is HUGE as you know.  (Read why grass-fed/pastured meats are so much better for us.)  Wouldn't it be awesome if they'd offer a grass-fed lunch meat from cows raised on a sustainable farm?!
Surely Boar's Head is a good choice, right?
The Boar's Head website says, "We are proud to say that our meats and cheeses contain no fillers, gluten, artificial colors, flavors or trans fat. We wouldn't put anything in our products that you wouldn't put on your own table."
Here's what their pdf guide says:
• Raised without the use of antibiotics or hormones
• No nitrate or nitrite added
• Gluten free
• No MSG added
• Vegetarian grain fed
I found no ingredients listed so I had to call to find out if they used High Fructose Corn Syrup in their lunch meats.
They asked:  "Are you allergic to it?"  I said, "Yes, everyone is actually."  (Meaning:  NOBODY should be eating that!)  Apparently it's not in their lunchmeat but it is in a few of their other products.
I thought I knew the answer to whether or not their meats had MSG, based on the pdf info above, but thought I'd ask just in case.  Good thing I did, she said it is added to a few of their lunchmeats!
I asked, "But it says on your site that your products have no MSG added!"
Her reply:  "Well, it's not in most of our products, but it is in a handful."
"But that's so misleading, 'No MSG added' sounds like none at all."
"Well I'm sorry about that, as I said, there is added MSG in a handful of our products as a flavor enhancer, but most do not have the added MSG."
Seriously.
Now for the good news:
Thankfully, now we can get sliced ham through our local farmer AND my favorite butcher in town, Louise Earl, now offers lunch meats and all their meats are from pastured animals!
I just don't trust big companies as much as talking to my farmer about the meat from the animals HE raises, or walking up to my butcher who I trust and who I know has a close relationship with the farms he works with.
Have you tried these homemade sub sandwiches?!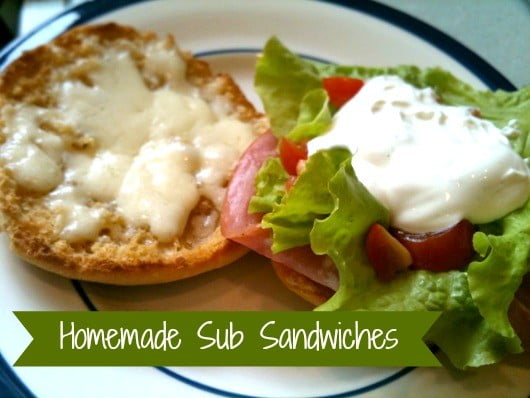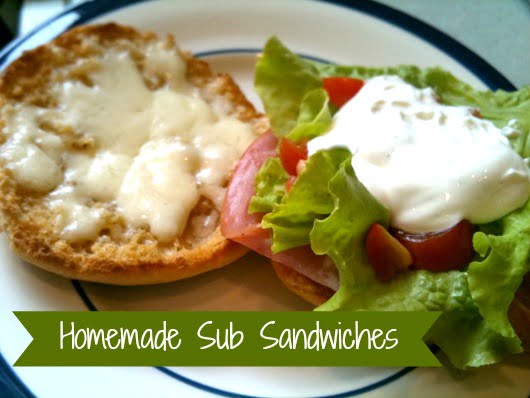 photo credit