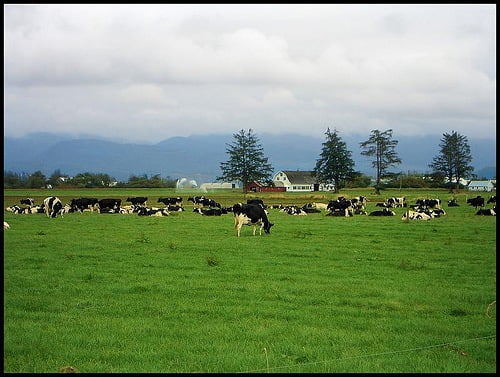 Antibiotic use, ground beef recalls, chlorine on U.S. chickens, YOU can make it stop!
On what other issue do you have the opportunity to vote three times a day?
The following articles make me all the more thankful that we've found our local farm as well as online sources that we know and trust for safe and healthy meat.  <– Find safe online sources of meat at that link.  (I've also posted this one:  Are all Dietz & Watson and Boar's Head lunch meats natural?, you may be surprised and even ticked off at what I found.)
The overuse of antibiotics in livestock feed is killing us – "The 2000s were go-go years for antibiotic resistance. Thanks to the over-prescription of antibiotics in medical settings and the non-therapeutic use of antibiotics in concentrated animal feeding operations (or CAFOs), we've aided the emergence of 'superbugs' — or drug resistance microorganisms. Antibiotic resistance (AR) has led to the deaths of 70,000 Americans a year."
Here's something I didn't know about tea tree oil: "Even antibiotic hand sanitizers and laundry detergents contribute to resistance, as do natural antibiotic treatments like tea tree oil."  Did you know this?
390 tons of U.S. ground beef recalled – "Some 390 tons of ground beef produced by a California meat packer, some of it nearly two years ago, is being recalled for fear of potentially deadly E. coli bacterium tainting, U.S. officials said on Monday."
Putin says Chlorine in U.S. Chickens Unsafe – "Putin's response to American arguments about the safety and science behind chlorine can pretty much be summed up in one word: 'Nyet.'"
Why Has the FDA Allowed a Drug Marked 'Not Safe for Use in Humans' to Be Fed to Livestock Right Before Slaughter?
If you haven't rented Food, Inc. yet, you've got to do that soon so you know what's going on with the meat you eat:
Food, Inc. – read what I thought about the movie.  (The trailer gives me chills every time.)  Also, see this post the Truth about Food, Inc. – an interesting interview with Michael Pollan & the film maker.  One more – Jeanmarie wrote a great Food, Inc. movie review!
Lastly, check out this short cartoon look at a factory farm:
Wonder About Lunch Meats?
Again, here's my post on whether or not we can trust Boar's Head or Dietz & Watson meats.