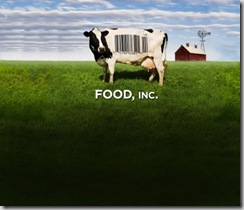 As the movie, "Food, Inc." makes its way to cities around the U.S., the blogosphere is all abuzz with posts about it – and this is a good thing because it is a film you need to see!
Check out this YouTube video with Robert Kenner, the filmmaker of Food, Inc., and Michael Pollan.  It's amazingly powerful, just as it always is anytime Michael Pollan speaks.
You'll want to take the time to watch the 8 minute video.
And if you haven't heard this information before, you'll want to take notes.  If you are like me and have heard it many times, you'll want to cheer at how well it is said!  (I never get sick of listening to Michael Pollan.)
A few of the extra juicy excerpts:
"We're spending less on food than anyone in history, only about 9% of our income, cheaper than anyone else in the world.  So we've got lots of cheap and abundant food, but…it's making us fat, we have this tremendous problem with obesity and Type II Diabetes, and as it turns out, cheap food has many many hidden costs."
"One of the most shocking things for me was when we went to one state legislative hearing and were discussing whether we should allow labeling of cloned meats.  I didn't even know there were cloned meats.  The industry representative said she thought it was not in the consumers interest to have that on the label, and I realized that time and time again this kind of information is being kept from us.  Whether it's GMOs or trans fats and on and on…  In our society, if we're going to make good choices, it should be based on proper information."
"Right now we're subsidizing the least healthy calories in the supermarket. The HFCS that comes from corn, the hydrogenated oils that comes from soy, the animal feed for the animal factories, this is what we subsidize.  We don't subsidize the health food.  We don't subsidize fresh produce, so we have to change the playing field so that the healthy food can compete with the less healthy food, and that is really a matter of changing the incentives built into our subsidies."
"People are very concerned about what they're eating, there have been a number of food scares…  I think it's going to be mothers who are feeding their children who will help change this system."
"We've had these episodes, beginning with Mad Cow Disease, various food safety problems.  Every one of these episodes is an opportunity to peer behind the curtain, and people see things they don't like and they are moving for these alternatives."
"Hopefully this debate will lead to more public discussion and political involvement on what is absolutely the most important thing – our ability to feed ourselves everyday and stay healthy."
"The health care debate is going to drive the food debate, because you cannot address these health care costs without addressing the food system.  More than half of what we spend on healthcare, of that 2.5 trillion, is going to treat preventable, chronic diseases linked to diet."
Watch the video: The Truth About Food, Inc.
Watch the official Food, Inc. trailer:
Photo credit