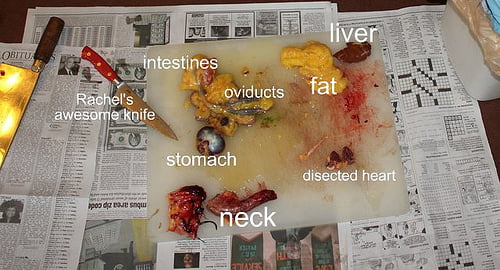 Did you grow up eating liver? Do you want to start feeding organ meats to your family?!
What about other organ meats like heart or kidneys? Ew, my face is scrunching up just writing this! Obviously this has never been part of my diet, but I just might consider trying some…maybe. Stick with me, I'm not going nutso on you, just read this and see what you think afterward.
Update:  have you seen my post, You CAN Eat Beef Heart?  If I can, you can, and I actually love it the way we buy it!
Also, if you just don't think you'll eat liver, get these desiccated liver pills!
I just hung up from the Urban Homemaker phone seminar that I'd told you about earlier this week. In case you weren't able to listen in, I took notes so you don't have to miss out on any of the details…
URBAN HOMEMAKER PHONE SEMINAR NOTES: ORGAN MEATS ARE SUPERFOODS!
Where to find a healthy source for feeding organ meats to your family.
Guests tonight were Maria Atwood and Blair McMorran from Denver, CO, co-leaders of their local Weston A. Price chapter. (Who is Weston A. Price ?)
(Before they started, Maria reminded everyone of something that I have at the bottom of each of my posts: this information is purely for educational purposes, talk to your doctor if you have specific questions and need medical advice.)
Maria began by sharing one thing she loves about the teachings of the Weston A. Price Foundation (WAPF) – they help us learn to use ALL the foods that God has made available to us, instead of so many man-made (and less nutritious) foods. She and Blair both agree that we need to get back to the more natural ways of life.
If we know the many health benefits of eating certain foods that we're not used to eating, it affects our mental perceptions and we lose our tendency to have squeamish feelings about it. Liver is a food that often has some of those squeamish feelings associated with it, so…
Maria discussed some common concerns and the many health benefits of eating liver.
Blair shared her love of eating beef heart. (We now love it, too – read the post, "You CAN eat beef heart!")
They discussed the many nutrients in bone broths/stocks.
There was a small mention of a few side issues:
I'd love to hear what you think of all this, please leave a comment below!
More you might like: