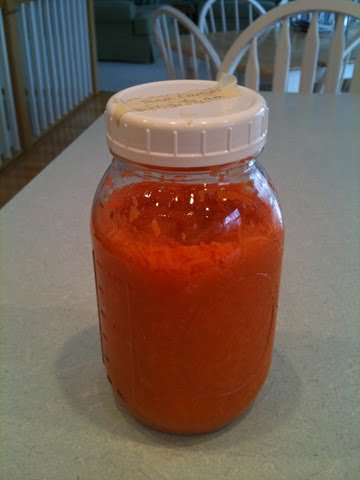 I really wanted to like more fermented foods, and fermented vegetables, but when I tried a couple recipes from Nourishing Traditions I just didn't care for them.  One was the pineapple compote and the other was fermented salsa.  They both tasted like beer and I just don't want my fruit or my salsa to taste like beer.  Thankfully I didn't give up forever.  I tried Homemade Nourishing Traditions Sauerkraut last summer and it turned out really good!  Next I made fermented cranberry relish – yum!  (Remember these are condiments and not side-dishes, so you only need a little bit with meals to help with digestion and add beneficial healing bacteria to promote gut health and a strong immune system!)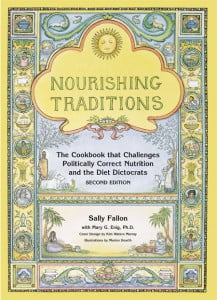 Then at the Weston Price/Wise Traditions conference in November I got some fermented carrots and kimchi to bring home.
Oh-my-gosh, those things were DREAMY.  So much for fermented vegetables only being a condiment; these became almost a main dish I ate so much.  I was hooked and found myself craving them in the weeks after the conference.  (Here's where you can buy fermented vegetables if you don't want to make your own.)
I decided to do a comparison, I wanted to try making my own and see how they tasted up against the ones I purchased.
For my version I used the recipe from Nourishing Traditions, only I used less salt since I've heard from a few sources that 2 Tablespoons was too much:
4 cups grated carrots (My Bosch made this go fast.)
1-2 T. freshly grated ginger (I like a lot)
1 Tablespoon sea salt
4 Tablespoons whey
(See my note below about what I'll use next time.)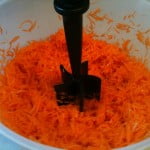 Nourishing Traditions directions:  "In a bowl, mix all ingredients and pound with a wooden pounder or meat hammer to release juices.  Place in a quart-sized, wide-mouth mason jar and press down firmly with a pounder or meat hammer until juices cover the carrots.  The top of the carrots should be at least 1 inch below the top of the jar.  Cover tightly and leave at room temperature about 3 days before transferring to cold storage."
Isn't that simple?
THE VERDICT?
I loved them both!  And the weirdest thing happened, I seriously couldn't get enough of any of the vegetables and decided this will be my new way to eat veggies all winter long!  Over and over I felt myself drawn to the fridge for "just a little more".  I wonder if these cravings were my body's way of getting what it needs?!  (You know how that happens when you're pregnant?  Not that I AM…)
Here's a picture of the kimchi I tried from the conference:
This was SO flavorful and had the perfect "bite" to it.  It tasted like a spicy sauerkraut.  Two of the kids ate (and loved) my carrots, but none of them would eat the ones I brought home.  Again, here's where to get raw fermented veggies online.
FOOD THAT IS ALIVE
I love knowing how beneficial these foods are for my body and that unless you have health issues and need a stronger therapeutic strength probiotic, just eating traditional fermented foods is SO good for us!  The living enzymes, the beneficial bacteria, all the other nutrients in the veggies, I love it.
DIE OFF? (And what I'd do if I made these again)
Something tells me that the veggies I purchased were full of more of the "good guys" because I didn't have the same, um, reaction after eating mine.  They were obviously clearing my body of some toxins.  (Kent suggested I refrain from being more specific, lol.)  So they're definitely doing something better than I did. Maybe I need more whey?  Or I think I'll try using fermented food starters next time so I'm sure to get all the little beasties I need and so I can be consistent.  (Click here to get a fermented vegetable starter online with more instructions there too.)
There's no use in making just a shredded carrot salad when I can be just as easily making a superfood!
Want a video?
Here's a good video showing how to make this recipe.  🙂
More you might like: