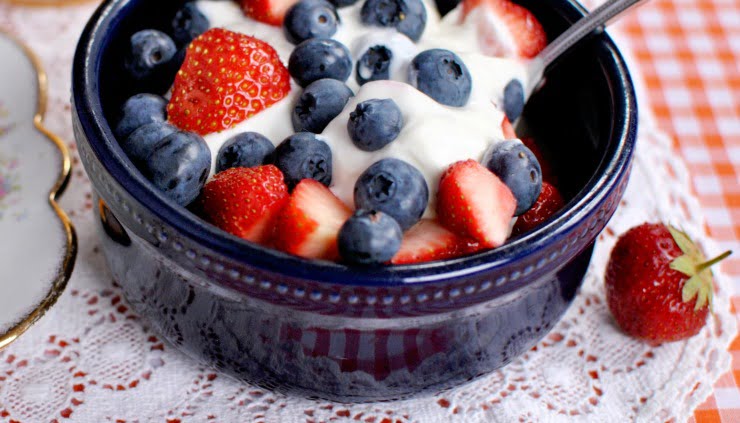 It's embarrassing to admit, but growing up I didn't even know you could make your own cream cheese, I'd only ever seen the store-bought kind.  And I never knew how to make raw milk yogurt either, or that raw milk cream cheese could be so simple.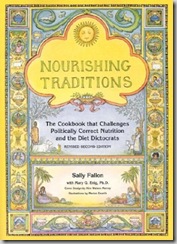 In case you're wondering, I learned all this and more from Sally Fallon's cookbook:
Nourishing Traditions: The Cookbook that Challenges Politically Correct Nutrition and the Diet Dictocrats
Note:  This cream cheese/yogurt cheese is one that I like to use in recipes mostly, although some do use it the same way they use store-bought cream cheese.  It has a little different consistency, though, so keep that in mind.
(Scroll down for a simple probiotic cream cheese frosting!)
How To Make Raw Milk Yogurt
***BE SURE TO CHECK THE COMMENTS FOR SOME GREAT INFO YOU'LL WANT TO KNOW!
Ingredients:
Instructions:
Watch one of these videos on how to make yogurt if you'd like visual help!
You can follow these instructions but I don't heat it as high initially as it says there since I'm using raw milk and enzymes just begin to be damaged around 118F.  So I just heat 1 quart (4 cups) of whole milk, preferably raw, up to only 110 — use a thermometer like this one — it clips on so you can set it to go off when it's at the right temp.  Then take it off the heat, cool, then stir in the starter until it's well-incorporated.  Transfer to a glass jar.  (I use these jars.)  Then just keep at 110* for 8 hours or maybe longer if you're not heating it high at the beginning — you'll know when it's set because it'll pull away from the jar when you tilt it.   Here are ideas for keeping your yogurt warm enough to culture.  Or read about making yogurt in a pressure cooker!
That's it!  Now you have yogurt, but it may not be as thick as store-bought. Commercial yogurt must have gelatin or some type of fake ingredients in it to give it the thicker consistency.  If you know of a natural way to make raw milk yogurt more thick, please share.
UPDATE ON HOW THICK IT IS: I've learned that to make it thicker you can strain some of the whey out like I talk more about below, or also try just using a different kind of yogurt starter.
You could also add your own good-quality grass-fed gelatin — follow the instructions for how much.
I'm going to try adding different fruits and natural sugars to flavor it well, but for now, y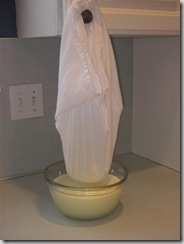 our kids may go for this yogurt, but mine don't…
…So I use mine to soak grains, for my superfood smoothies, OR to make this…
Yogurt Cheese/Homemade Cream cheese and whey:
Tie a cheese cloth with the corners so it can hang on a cabinet knob.  (You can buy cheesecloth or thin dish towels cheap at the store.)  Or hang from a chandelier as pictured below, it's super classy looking for when company pops in.  LOL!
Place a bowl under the cheese cloth to catch the whey.
Pour the yogurt into the middle of the cheese cloth and it will start dripping whey.
When it is done dripping (12-24 hours, depends on how dry you want it), I usually try to squeeze a few more drops out.
By the way, this is actually a picture of when I made a different kind of cheese, but I wanted you to get another idea of how I tie it up.  Pretty classy, right?  🙂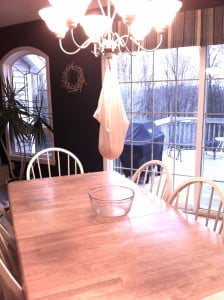 What you have left inside the cheesecloth is yogurt cheese, just like cream cheese! Scoop this into a bowl and it will keep for 1 month in the frig.  You can add herbs to give it different wonderful flavors in dips or the frosting in the recipe below.
What you have in the bowl is whey – some drink it plain because it is so good for us, but I use it in recipes found in the below cookbook, in my fermented veggies, in homemade bread, or in Real Food protein shakes.
By the way, you can make yogurt and cream cheese from pasteurized milk (only whole milk!), but obviously it won't have as many nutrients – still much better for you than store-bought, though!
Simple probiotic cream cheese frosting (recipe from a reader and guest-poster, Barb):
8 ounces cream cheese – room temperature so it's soft and easy to mix.
1-2 Tablespoons raw honey or other natural sweetener
Mix the desired amount of sweetener into the cream cheese, whip to fluff a bit.
Now, I'm sure there are MANY of you out there who know much more about all this and have done it for years, so feel free to correct me or give us more details if you can provide them!