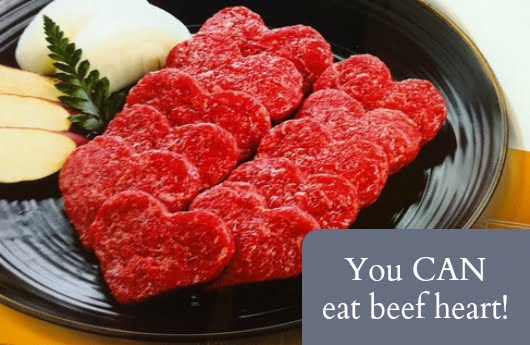 You can eat beef heart too!
I have the pickiest palate in the world. When I tell you that 3/4# ground beef mixed with 1/4# ground beef heart is totally unrecognizable in the taste, you can believe me, you really can eat beef heart–what a great way to get more nutrition into your family, we know from this post about organ meats how nutritious this is, but here's a recap…
(Also find more safe, pastured meats and beef tallow for frying here.)
What's so great about it, why eat beef heart?
Here is some information from the post on the organ meats phone seminar:
Beef heart has very concentrated levels of CoQ10, B vitamins, folic acid, Selenium, Phosphorus, Zinc, and Amino Acids that help with fat-burning, energy stores, stamina and endurance.
More on CoQ10 in beef heart: it is thought to help protect against cancer and is found only in animal foods. CoQ10 is a substance present in every cell in the body and essential for cell production, we need a lot for good health and can get 40% of our daily requirement with 1 serving of heart. It helps protect our heart, improves problems with our gums, and has an affect on many different diseases (read more about CoQ10.)
Heart also has twice as much collagen and elastin – to help prevent wrinkles!
Have you been told not to eat organ meats too much, due to the cholesterol?  Read more about cholesterol here.
You really don't taste anything, in fact it's BETTER than plain burger!
I've used the ground beef with heart in spaghetti sauce, tacos, meatloaf, and the taste is no different than regular ground beef in any of these recipes. As a matter of fact, now use this ground beef for everything, including burgers, and it's actually better tasting, more like steak, for real!
Ready to eat beef heart?  Here's where to get it…
Here's where to find healthy meats/organ meats online if you don't have a good local source.
Have you seen these?