The book, Nutrition and Physical Degeneration, and the Weston Price Foundation have played a huge role in my life and in my "food conversion" story.  In that post I mentioned finding a website that made so much sense, something inside me changed the day I discovered it – I spent hours reading the information I found there.
Who is Weston A. Price?
Weston A. Price was a dentist who did research years ago, comparing the health and eating habits of those in America to those in traditional cultures. (Meaning people in remote areas who still ate the way their ancestors did.)  His findings and the information in his book, Nutrition and Physical Degeneration, are the basis for the teachings found on the Weston Price Foundation website and in their quarterly publication, "Wise Traditions."
Nutrition and Physical Degeneration describes his research and these comparisons:
His Patients ate: refined/white sugar, white flour, canned condensed milk, canned foods, vegetable oils, skim or low-fat milk
People in traditional cultures ate: no refined foods, nutrient dense foods, foods with a higher healthy fat content, high enzyme content foods, foods higher in vitamins and minerals, animal foods, eggs
Health of his patients: weak immune systems/not resistant to disease, narrow bone structures (narrow jaw = call the orthodontist; narrow pelvis = difficult childbirths, narrow nasal passages and constricted ear canal = frequent upper respiratory infections), digestive disorders, weak dispositions
Health of people from traditional cultures: resistant to disease/strong immune systems, healthy digestive systems, no infections, wide bone structure, hardy & strong
His Patients' teeth: tooth decay, crooked teeth, narrow jaw, narrow palates, overcrowding, underbites, narrow faces
Teeth in traditional cultures: no tooth decay, straight teeth, wide jaw, wide palates, room for all the teeth, no overbites or underbites, round faces
What does this mean for us?
In a recent e-mail from Sally Fallon, President of the WAPF, she summarized the main principles of the WAPF diet:
Basically, they teach us how to cook foods the way our ancestors or great great grandparents did.
Since most of us are so unfamiliar with this (along with our mothers and even many of our grandmothers), this cookbook is one I refer to often: Nourishing Traditions: The Cookbook that Challenges Politically Correct Nutrition and the Diet Dictocrats.
In the beginning…
I owe a huge thank you to my friend, Kathy, who first told me about Dr. Weston A. Price and the Nutrition and Physical Degeneration book in early 2004.  When I began reading their website something in me "clicked" and I haven't been the same since!  I've always been drawn to finding the Truth (I tend to question everything), and what makes sense with whatever it is that I'm researching at the time.
Here are some of the wild and crazy things I learned that day…
Butter is actually good for me?
Red meat is nutritious if you buy from a farmer who knows how to raise his animals on nutrient-dense pasture (as in NO mystery meat from factory farms)
Dieting should not include "fat-free sugar-free" (FAKE) foods?
Soy is not a health food?
Those topics and all the "politically incorrect" information there blew me away.  It made sense and I knew I'd found what I was looking for.
Chicken feet anyone?
One thing though…  As much as I believe in the wisdom at the WAPF and its teachings and all I learned in Nutrition and Physical Degeneration, I have to admit that a few of the suggestions I'm just not sure I'll ever do.  For example, in the cookbook it talks about making bone broth (read more about this superfood here) and how you can make it even more nutrient dense by throwing in some chicken feet – ICK!  I just don't see me tracking down some chicken feet at a foreign food market, supposedly where those are found.  HOWEVER, I'll bet that if I, or someone I love, had arthritis issues or a joint disease or a digestive disorder, I might just make it happen!  All the "odd" foods we hear about in other cultures, now it makes you wonder if they aren't traditions handed down through generations for their healing wisdom! (GET THIS: my friend Lyn just told me that she found some chicken feet in the freezer at the farm where she gets her meat and she bought them! I told her I'm so proud of her to try something that sounds so gross to most of us. She said they made really good broth!)
UPDATE:  Read about when I finally did it and added chicken feet to my stock!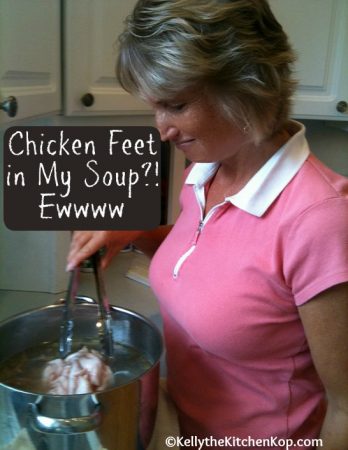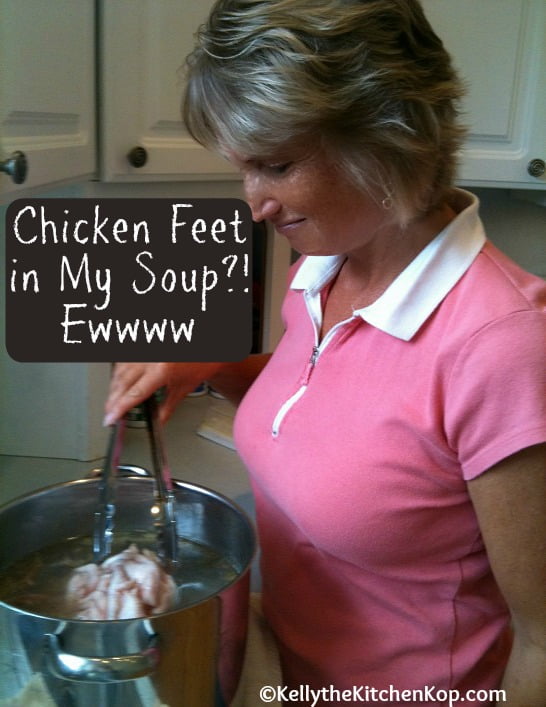 Want to learn more about real food and what I feed our family?  It's mostly really normal meals with a twist:  just switch to better quality ingredients — it's easy!  Get my book here: Real Food for Rookies.
Since that day when I first found the Weston Price Foundation site (and read Nutrition and Physical Degeneration), that's where I go first now when researching any topic.  Their articles are highly referenced and researched.  As a member you get the WAPF quarterly journal, Wise Traditions, which I happily read cover to cover.  By becoming a member you also help support all they do and help them to continue.  For us Real Foodies, this is no small thing.
Also, if you take the time to read through the site, you may wonder, "Why haven't I heard any of this stuff before?" I wondered that too, yet at the same time everything made so much sense, so I stuck with it. Through the past few years, however, there has been an explosion of this same common sense information coming out.  I've seen WAPF research quoted in various publications and websites, not to mention that other more recent researchers are coming up with similar results pointing to the same conclusions about whole, nutrient dense foods, healthy fats, etc. The word is finally getting out!  (Update:  here's a post with new saturated fat research!)
Lastly, the main reasons this site has credibility in my eyes is because:
The main people who benefit from their information are local farmers who are growing/raising nutrient-dense food to help people be well again, often after years of feeling like crap!
The articles on their site and in their quarterly publication, "Wise Traditions", are full of references, clearly showing where they get their solid information.
As I mentioned before, I happen to think that the teachings from the WAPF just make sense. (Read more here about the criteria I use to find the truth on health & nutrition .) Why would foods that have nourished people for centuries become taboo in the last few decades? (Meat, butter, eggs, etc.) With the increase in refined and processed foods (and things like, "I can't believe it's not butter"), we've had MORE heart attacks and cancer, not less!  (Read more about healthy fats here.)
If you want to find farms in your area and other stores selling more nutritious foods, go here.
Just doing the best we can…
All this is why I often refer to the Weston A. Price Foundation site and why many of my recipes are made using the healthy ingredients and traditional food preparation techniques recommended there. Sometimes this is simple to implement, other times much more time-consuming. As time goes on I see there are areas that I'm doing well in, but I also see many areas where I have a long way to go.
God has it right, again!
The bottom line is that we don't need to accept the road that would've been ahead for us and our children, had we continued on our processed and refined food diets. There is a better way, and as you would expect, it's all about getting back to the way God intended us to nurture the bodies we've been given. I hope you'll keep reading and sending your comments, so we can all learn together on this journey toward better health.
Watch this video for more about Weston A. Price and his studies:

Become a member of the WAPF here!
More you might like: