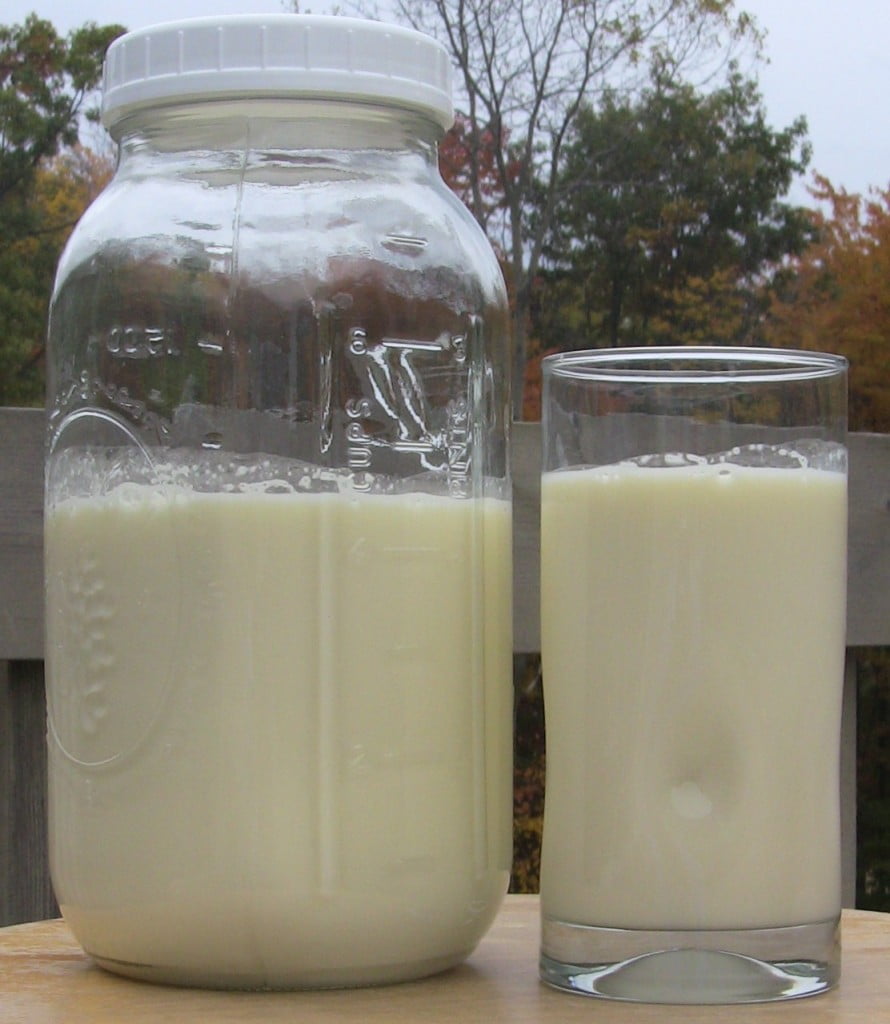 Do you wonder if raw milk is safe?  Is real, fresh milk more nutritious?  Ask yourself this question: do you agree that anything in its natural and unprocessed form, the way God designed it, is always better for us as opposed to super-heated, processed foods? Do you agree that the fewer the steps between where your food originated and your table, the better for you it is? Keep those questions in mind as you continue reading…
I split up the information so it wasn't too long and overwhelming.
Click the links below to visit that post…
The topic of drinking raw, unpasteurized milk tends to elicit some interesting responses from people. But since my site has been up a few weeks now, I thought it was time to give you another dose of the "politically incorrect" nutritional information I promised, so hang on, here we go…
What the heck is "raw" milk anyway?
If you're like I was, you have no idea what raw milk even is, and personally, I agree with my friend, Michelle, I'd rather it was called, "fresh milk" – it just sounds better! (Although I've learned how important it is to include more raw foods into our diets for better nutrition…more on that later.) Raw milk is simply this: milk right from the farm, with no processing/pasteurizing/heating, no transporting in big tanker trucks to big factories to big stores. But it is SO MUCH more than that…
Yep, this Kitchen Kop freak has gone over the edge for sure…

The first time I found out someone I knew (a friend, Kathy) was drinking unpasteurized milk, I thought she was nuts. I'd never heard of anyone doing such a thing, and I didn't know WHY anyone would. She gave me some to try and I had the same response others have had who try our milk from the farm, "But…it tastes just like milk!" My husband, Kent, who grew up on a farm, said, "No kidding, Kel, what did you think it was going to taste like?" (Sometimes the taste does change depending on what the cows are eating, but most of the time it tastes better than "regular" milk from the store, much more fresh, that's the only word I can think of to describe it. Also, for those of you who think whole milk is "too thick", whole raw milk has a much lighter taste to it.) I also remember thinking, "I thought we had to drink pasteurized milk so it didn't have harmful germs in it!" This was a huge concern for me, so my next post will cover the topic of safety issues in raw milk.
Have you heard about how nutritious it is?

No wonder it tastes more fresh, raw milk has all of its original vitamins, minerals, protein and enzymes for proper digestion still intact. It's truly a nutritional superfood! All these different nutrients in real milk are together for a reason – because each piece of the puzzle fits together just how God intended in order for our bodies to best assimilate it all. But pasteurization kills most of the beneficial nutrients and then synthetic ingredients are put back in – the once perfect food from nature becomes a fake. Not to mention all the other junk that gets put into conventional milk:
Conventional dairy cows live 4 years compared to cows out on pasture the way God intended: 12-15 years. That alone tells you there must be something very wrong going on.

Allergies and other health issues
It makes sense that many people are healed from allergies and other health issues when they stop drinking pasteurized milk and instead drink raw milk with all the probiotics, vitamins, minerals and enzymes still alive and in their natural form. Pasteurized milk has been linked to asthma, bowel diseases (more about this in part 2), immune system diseases, and many more. There are multiple stories of how drinking raw milk has provided huge health benefits, and I happen to know of one personally. My friend's daughter was allergic to all dairy products, until she began drinking raw milk, eating raw cheese, etc. Now she has absolutely no problems with dairy at all. (Also, see the link below for a U-tube video talking about this.)
By the way, some people tell me this is a non-issue for them, since they're not milk drinkers anyway. I'm hoping those of you will revisit that decision not to drink milk, or give it another try. Milk in its original, natural form from grass-fed cows is FULL of what our bodies need – it's that way because it's how God made it!
Not convinced? Don't believe me!
Do some research yourself and see what you come up with. There's no doubt that you'll find plenty of debate on both sides of the argument. But if you think there might be some truth to what I'm saying, take the time to do some more reading. The links below are a good start!