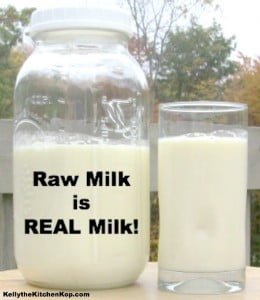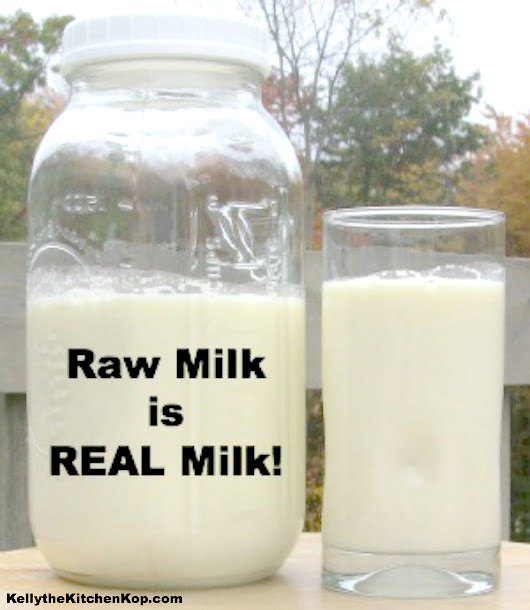 Last time part #1 in the raw milk series explained the many health benefits of drinking raw milk.
Today in part #2 we'll answer questions about raw milk safety, as well as some logistics: where to get it, cost, etc.
Part #3 will be my first guest post, from Karen Lubbers, a local farmer who sells cow shares to those who want to obtain raw milk in the Grand Rapids, MI area. She'll talk about their farm, more about raw milk safety issues, and answer other questions.
Part #4 is another guest post, this one from my friend, Michelle, on how they decided raw milk was the best choice for their family, or "fresh" milk as Michelle prefers to call it!
Learn why raw milk is the best milk for us: Raw Milk Benefits and Information: Q & A with Mark McAfee
Here's a book on the topic that you'll definitely want to read:  The Untold Story of Milk, this book covers raw milk safety and much more.
Is it really safe? How do you know?<
Once I got past the taste issue and realized it does taste the same (better actually) than store-bought milk, the next thing I wanted to know was whether or not it was safe for us to drink. This really concerned me, I always thought milk had to be pasteurized. (This shows how taken in I was by all that had been pumped into my brain through the years about the "benefits" of pasteurization.) Before I tell you how safe fresh milk is though, first I'll give a super-condensed version of why they began to pasteurize milk in the first place.
Is pasteurization a good thing?
Pasteurization was first used in the early 1900's to prevent disease, when milk began being shipped in huge quantities into the fast-growing cities. Without proper procedures to keep it clean, people were dying of tuberculosis and other diseases. Later after the collection and transportation of milk became much more clean and safe, pasteurization continued because by then, people were convinced it was something that HAD to be done, and more importantly because the big dairy companies loved the way it lengthened the shelf life of their product, thereby increasing profits. Today the dairy lobby is so powerful, they fight the legalization of raw milk at every turn.
Or is pasteurization a bad thing?
If you Google, "raw milk safety", believe me, you'll find plenty to read on both sides of this issue. So, again, for me it came down to common sense. Milk straight from the farm has been good enough to nourish people for thousands of years. For the time frame mentioned above it became unsafe, but that was when the number of steps between the farm and the table grew, and there were no guidelines in place to make sure the milk wouldn't become contaminated. If you are able to find a good, clean source for raw milk, why not give your body all the nutrients from it that God intended? The more raw foods we eat (from healthy sources), the more nutrients our bodies take in because they're not partially or completely killed off by the heat of pasteurization. (Read more about this in part #1.)
What is the bigger risk?
I know someone who cannot believe we give our children raw milk, yet he lost all credibility with me when he said he doesn't even eat raw vegetables! If you find a good local farmer who uses clean farming practices and who has his cows out on pasture (see link below to find someone in your area), then the chances of getting ill from drinking raw milk are small. (More about what to look for when you visit a farm next time in part #3.)
Could there still be a pathogen in the milk that could make you sick?
Yes, there is always a chance. Just like you could get ill from eating any uncooked foods, like raw vegetables – or spinach, which was reported on the news not long ago. I have a much bigger chance of getting into a car accident, but I still ride in cars!
As a matter of fact, I'm updating this post with my friend Jo-Lynne's story of how she and her kids actually did get sick from their raw milk, it really is a possibility, although it's a rare one if your farmer runs a clean operation.  (See #3 in the series.)  I wanted to include the story, though, so you are totally informed.
Here is what I always say when it comes to raw milk safety:
I'd rather take that small risk of getting ill from raw milk, for the chance of getting all the amazing nutritional benefits every single time I drink it.
Our family has been drinking raw milk for 4 years now and have never had ONE problem, on the contrary, we have never had better health. Not only that, if you're eating a healthy diet, your immune system is much more ready and able to fight off anything your body might come against.
Mark McAfee and e-coli
Mark McAfee is a dairy farmer in California. He sells his milk to many loyal customers who are convinced of the value of raw milk. He had a lab do an experiment a few years ago where they injected pathogens into raw milk and into conventional milk. The next day, the pathogens were still present in the conventional milk, but in the raw milk, the friendly bacteria completely overtook the pathogens – they were gone. That is how powerful the good bacteria is in raw milk! You may have heard of how beneficial probiotics are for us, especially for our digestive systems, raw milk is a great way to get probiotics into your diet.
Your choice
If you're not comfortable with the idea of eating or drinking any raw foods, by all means, cook the heck out of everything you eat or drink (whether it's milk, fruit, veggies or whatever), that's totally up to you. But just remember, you're cooking out most all of the very nutrients that could be building up your immune system to fight off anything you may come into contact with.
This makes you think:
An interesting quote from this site: "What nearly everyone fails to appreciate about pasteurized milk is that although the pathogenic (disease causing) bacteria are killed during pasteurization so they can't multiply, they are NOT removed from the milk. The dead bacteria are STILL IN THE MILK. If the bacteria are there, they can serve as a stimulus to your immune system and cause all sorts of autoimmune diseases, Crohn's disease being only one example. Instead, RAW milk from healthy grass-fed cows is actually one of the more profound healing agents you can turn to when confronted with inflammatory bowel disease. Rather than cause it, raw milk can send your IBD into remission. This is because if cows are raised properly and only fed grass, not immunized, given access to plenty of fresh air and sunshine, and not given antibiotics or harmful vaccines that impair their immune system, then they simply do not get sick or become colonized with these pathogenic bacteria in the first place. Thus there is no need to pasteurize their milk."
Now let's talk logistics:
You must have a zillion questions like I did, so I'll try to hit on many things without making this post too long.
Q: Is it legal? A: In our state of Michigan, the dairy lobby has prevented the sale of fresh milk outright. Pretty amazing what we have to do to obtain healthy milk, compare it to buying cigarettes…big money and big lobbyists have big power. So to obtain fresh milk in Michigan, you need to buy a share of a cow, then pay the farmer fees for boarding and feeding the cow.  As long as we can get it somehow, that's all that matters.
Q: How much does it cost? A: I'll tell you some specifics about our milk so you have a reference point, but keep in mind this can vary quite a bit from farmer to farmer. We bought a $150 share of a cow, and pay $36.50/month for 2 1/2 gallons of milk/week ($3.65/gallon). This is not much more than conventional milk, but keep in mind we began 4 years ago, and our farm is an hour away – that was the closest place to get it when we started. Now there are two more farms much closer. If your local farmer charges more, don't let that stop you, it's worth it!  (Updated 2019: we pay $7/gallon and it's worth every penny!)
Q: How do you find a farm? A: Scroll down at this site to find local farms. Read the next post (part #3) in this raw milk series for more information on what to look for when finding a farm.
Q: Do they deliver? A: Some farmers might, but most people go to the farm to pick up or pick it up at drop sites.  I can think of about a dozen or so families we know who drink raw milk, and most of them take turns driving with other families.
Q: What do you put it in? A: We got our 1/2 gallon Ball glass bottles by special order through our local Ace Hardware. Then I bought "wide-mouth" white plastic Ball lids at Meijer in their kitchen section by the canning stuff. Some like the gallon size glass jars, but we found it was easier to pour from the smaller ones. (Always use glass, never plastic.)
Q: Does it really taste good? A: What the cows are eating on pasture sometimes changes the way it tastes a little. Kent never notices any changes at all, it depends on your palate. Mostly though, I think it tastes better than store-bought milk, definitely more fresh.
I hope this answers all your questions about raw milk safety and more, but if you have more just leave a comment below, then when I respond everyone can read the answers.
Just remember, it is never easy to step away and be objective about something we've always believed to be true. But we only need to look at all the people around us (including many children!) who are plagued with one illness or another to know that the modern way of thinking about food isn't working. If you're not convinced, that's OK! I just hope you'll keep reading and learning.
Related posts on raw milk safety and more:
Part #1 in raw milk series on the many health benefits of raw milk
Part #3 is a guest post from Karen Lubbers, who answers more questions about raw milk safety and clean farming practices
Part #4 is a testimony from my friend, Michelle, on how she and David decided raw milk was the best choice for their family
Read the interesting discussion in the comments section at this post on raw milk safety
More you might like: