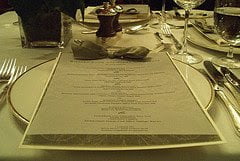 Today I wanted to share with you an interesting comparison of a Nourishing Traditions/Weston A. Price menu (which will be served to the lucky dogs at the WAP conference in San Francisco this weekend), vs. a low fat menu served at another conference.
The below email came from my new friend, Karen from California, a reader I've "met" since beginning my blog. Thanks for letting me post this, Karen. 🙂
I'll begin with an email she sent to Sally Fallon:
I thought you should know…I look at this menu for the next low fat seminar and actually get hungry. But it's a hunger I know will not be satiated.
I found the menus on the Weston A. Price site for the upcoming conference and it brings back memories of my first meals, Nourishing Traditions way, in Vancouver. I remember eating HALF my dinner and being puuurfectly happy and satisfied… and totally baffled and surprised.
Recovering people need specifics. You can promise your audience that they will FEEL better, not necessarily tomorrow, but within a month, if they try the Nourishing Traditions way….
Thank you for working so hard. I literally feel as though you have saved my life.

Karen
First the low fat meal:
MC DOUGALL PROGRAM MEALS
---
WEDNESDAY 6:30PM DINNER BUFFET
MIXED GREEN SALAD WITH OIL FREE DRESSINGS
BOWLS OF ASSORTED VEGETABLES & BEANS
TWO STEAMED VEGETABLES
DIJON SPINACH SALAD
VEGETABLE BARLEY SALAD
PEA SOUP
BAKED YAMS, PEANUT DRESSING
Serve dressing on side
POLENTA WITH BLACK BEANS AND MANGO SALSA
CONFETTI RICE
SHEPHERD'S VEGETABLE PIE
FRUIT COBBLER
HERB TEA, DECAF ICED TEA
RICE MILK, ALMOND MILK
---
THURSDAY 7:30AM BREAKFAST BUFFET
STEEL CUT IRISH OATMEAL
RICE MILK, SOY MILK, ALMOND MILK
SLICED BANANAS, CHOPPED APPLE
ASSORTED SLICED FRUIT
CINNAMON, MACE, NUTMEG
STEVIA, BROWN SUGAR
COLD CEREALS: PUFFED CORN, PUFFED RICE, PUFFED MILLET
SHREDDED WHEAT, GRAPENUTS, UNCLE SAM CEREAL
BAKED POTATO PATTIES
SALSA, KETCHUP, BARBECUE SAUCE
HERB TEA
---
THURSDAY 1:00PM LUNCH BUFFET
MIXED GREEN SALAD WITH OIL FREE DRESSINGS
BOWLS OF ASSORTED VEGETABLES & BEANS
STEAMED VEGETABLES (squash, spinach, carrots) sautéed with ORIENTAL DIJON DRESSING
CHUNKY VEGETABLE SALAD
SOUTHWESTERN BLACK BEAN SOUP
ASIAN RICE SALAD
MAPLE MASHED SWEET POTATOES
WICKED MUSHROOMS
BAKED POTATOES, BROWN RICE
GLOBAL BEAN STEW
KETCHUP, BARBECUE SAUCE, SALSA
HERB TEA, DECAF ICED TEA
---
THURSDAY 6:30PM DINNER BUFFET
MIXED GREEN SALAD WITH OIL FREE DRESSINGS
BOWLS OF ASSORTED VEGETABLES & BEANS
SHREDDED SALAD
STEAMED VEGETABLES
MEXI SOUP
TEX-MEX POTATOES
WITH ENCHILADA SAUCE
INSTANT MEXICAN BROWN RICE
MASHED PINTO BEANS
ONIONS, DICED TOMATO, SHREDDED LETTUCE, SALSA
WHOLE WHEAT AND CORN TORTILLAS
TABASCO SAUCE
RICE PUDDING
RICE MILK, ALMOND MILK
BASKET OF ASSORTED FRESH FRUIT
HERB TEA, DECAF ICED TEA
Now the WAPF conference meals:
---
Weston A. Price Foundation Menu November 7 – 9, 2008
Friday Lunch – Buffet – Hispanic
Salmon Ceviche
Green Salad
Pulled Pork Enchilada Casserole with Lime Soaked Tortillas with Cheese on the Side
Refried Black Beans w/ Lard
Sour Cream on Side
Fermented Cortido
Coconut Dried Fruit Bars
Tropical Fruit Salad
***************
Friday Dinner – Buffet – Home Cookin'
Waldorf Type Salad
Roasted Turkey with Giblet Gravy
Sliced Sweet Potatoes
Mashed Potatoes
Green Vegetable
Fermented Sauerkraut
Warm Cranberry/Apple Crumble
*******************
Saturday Lunch – Buffet – Farmhouse Lunch
Beet Salad, Green Salad
Sourdough Bread and Butter
Turkey Soup with Wild Rice and Cubed Root Vegetables (also without the wild rice)
Fermented Sauerkraut
Miso (on the side)
Weston A. Price Foundation Cheesecake
Saturday Dinner – Banquet Plated – Asian Fusion
Butternut Squash Soup with Crème Fraiche and Chives
Skirt Steak in Asian Marinade
Soy sauce – on the side Mushrooms and/or Root Veggies
Sautéed Bok Choy
Fermented Kimchi
Persimmon Ice Cream with Fresh Mint and Crispy Pancake Adornments
**********************
Sunday Lunch – Buffet – Grateful Harvest
Raw Milk Cheeses
Artisan Sourdough, Sprouted Breads and Butter
Lavosh Crackers
Chicken Liver Pate
Beet Salad
Pickles and Assorted Fermented Veggies
Whole Fruit
Macaroons
*******************
Fundraiser Breakfast Buffet – Friday, Saturday and Sunday
Soaked Oatmeal – with fixings bar
Milk, Cream, Maple Syrup, Butter, Coconut Butter, Raisins, Honey, Cinnamon
Whole Fresh Fruit
Boiled Pastured Eggs
So which one looks more nourishing and satisfying to you?
Photo credit above: corporate monkey