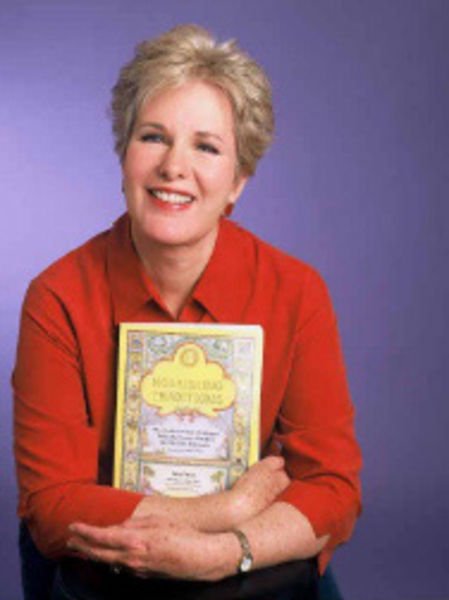 A couple deaf readers requested that I transcribe last week's audio interview with Sally Fallon Morell.  Before I had a chance to do it, a super sweet reader friend, Fatima, did it for me out of the kindness of her heart!
I'm a frequent reader of your blog and really enjoyed your recent interview with Sally Fallon. I noticed a couple of readers had left comments on your interview post requesting a transcript of the interview since they are unable to hear. I know you have a lot on your hands and you had mentioned it might take you a while to get to writing up a transcript. Well I had some free time today and worked on writing a transcript for the interview. It's attached to this email."
Is that cool or what?  Have I mentioned lately that I really truly have the best readers in the world?  Thank you so much, Fatima!
First, have you read the post on the very first time I ever met Sally?!  Such fun.  🙂
Kelly: Sally Fallon, thank you so much for agreeing to talk to me today.
Sally Fallon: Well thank you for having me.
K: The main thing I'm wondering is more about your background and how the Weston Price Foundation began in the very beginning. So before we get to that specific part of the story, could you maybe just tell us a little bit – like where did you grow up and you know, how did your mom cook, and what was your relationship like with food as you grew up and as a young adult.
SF: Well I grew up in California, and my mother was from Virginia. She was a very good cook. We ate at the table as a family every night, and she always cooked our meals. Now she wasn't particularly into health food, but she definitely did not use – for example she did not use margarine or spread. She always used butter, just because she didn't want to use fake foods. I can remember some conversations at the dinner table with my dad about fake foods – that you don't want to eat fake foods. So that was about as far as they went with the nutrition. But we ate real food, we had eggs and cheese and whole milk and butter and meats and all those good things. But we also had quite a bit of sugar in the diet, frequent desserts, and white flour. It was better than the standard American diet, but it wasn't perfect either. Both my parents grew up on raw milk and cod liver oil and had liver in their diet. And we had none of those things. We did not have raw milk, we didn't get cod liver oil, and we never ate liver in the house, so that was a big difference. And I can remember my dad sitting at the table saying, "I just don't understand it. How come your mom and I have perfect eyesight and all you kids need glasses, and how come your mom and I have straight teeth and all you kids need braces?" So he was asking those questions and probably because I heard those questions being asked, it sort of settled down in the subconscious and made me want to pursue this later on.
K: Isn't it interesting that even back then, people weren't questioning the connection?
SF: Yes my Dad said every time we have another baby, the orthodontist rubs his hands in glee because his wife's going to get a new fur coat. [laughing] That was kind of the joke.
K: And that's still the way it is today unfortunately.
SF: Yeah, right. But I always loved cooking. I started cooking at a very early age. Not anything particularly healthy, you know, just like most girls, it was cookies. But I tried other things as well. My mother sort of mentored young chefs, and she would invite them to come and do a dinner party or something like that. So I sort of was hanging around the kitchen and watched all this. And then a big thing was when Julia Childs came out with her cookbooks, and I was in college by then. I really learned a lot with those cookbooks, even though I don't think they're the best cookbooks around. I did a lot of recipes from those books.
K: I wish I could do those recipes a little better.
SF: They're actually not very good recipes.
K: Really?
SF: It's actually not a very good book, and not very well tested – in my opinion. I don't think even Julia Childs understood about the principle of reduction sauces and the right use of stock.
K: So did you try some of her recipes and not have good results?
SF: I did, yes.
K: Okay.
SF: Then I lived in France, and I took some cooking lessons there. I really learned a lot from those. Nothing formal, but just here and there.
K: And how long did you live in France?
SF: Well, I've lived in France twice. I went to college in France. And then in the '80s, we lived in France as a family for 3 years, and that's when I took the cooking classes that were really valuable. I really learned a lot from those.
K: Is that where you learned first about traditional foods?
SF:  The idea of the cookbook for traditional foods came in about 1990, so it was after that.
K: 1990, wow. And then it was published when?
SF: The first edition came out in 1996, and then the 2nd edition in 1999.
K: And what led to that in 1990 that gave you the idea to do that cookbook?
SF: Well it's kind of funny. We had been living in California and we moved to the East Coast — we moved to Washington D.C. We put a fax in our home office and I had a good friend in Los Angeles who I had done a lot of cooking with, and I let her know our fax number and the first fax that we got was this friend of mine saying "Sally, I think we should write a cookbook together." And I turned the paper over and I said, "Are you crazy? There are thousands of cookbooks out there." [laughing] "Who needs another cookbook?" and I faxed it back to her. But she planted the seed and I became obsessed with this idea of writing a cookbook. If I did a cookbook, how would I do it? And I realized that if I did a cookbook, I would want to put the research of Dr. Price into practical form. And then I got the idea of the sidebars and then I thought well, we need to look into the grains and it just kind of grew like that. I wanted to include stuff on broth, which I didn't think anyone who was in the health field had really focused on. So finally I called her up. I said, "You know, I am going to do a cookbook, but I don't want to do one with you because you do lots of sweets and pasta and chocolate and I want to still be friends with you when this is over with [laughing] and she was fine with it. And we're still friends, so that's good.
K: So you knew about Dr. Price even before 1990?
SF: Yes, I read Dr. Price's book in the early '70s. That's when I was starting my own family, and I basically raised them according to these principles. And I'm very grateful because it kept me on the right path and from going wrong, as this low fat propaganda became more and more shrill and more and more persistent. And I thought, these people are just wrong. And fortunately I met Mary Enig in '93 or '94, and she had the same concerns I did. What happens when you put children on a low fat diet? You ruin their whole life; you're denying them what they need to grow during this formative period. And you can't go back and you know – you can do some things going back later in life, but you can't rebuild the body.
K: I want to hear more about how you met Mary Enig; but first, how in the world did you find Dr. Price's book in the '70s?
SF: It was out there, I think someone had recommended it to me and I picked it up in a store. We had a big health food store that sold all those books in Washington.
K: Oh okay. Wow, you think about that moment when you picked up that book, you had no idea how it would shape your whole life!
SF: Yeah, right, right.
K: So how did you meet Mary then?
SF: Okay, so I was working away and writing what I thought was right, and I became a little bogged down because I'm not a scientist. I knew where I was going with this, but I didn't quite know how to get there. I happened to read – there was an article – there was a little magazine whose name I can't remember anymore, but they had an article about Mary Enig and how she had gone against the industry and warned the public about trans fats and so forth. She lived nearby, so I contacted her, wrote her a letter and said, "I'm working on this manuscript and I would like to pay for you to read it and critique it for me." Well she called me up immediately, and I think the thing she was most impressed with was I wasn't asking her to do this for free. So many people had asked her for stuff for free. So I sent it to her, and she called me up right away and she said "You know where you're going, you're going in the right direction, but you need more science here and you don't understand the science. So why don't you come over to my office and I'll try to explain all of this to you." Which I did, and she sat me down; it was like this big lesson on fats and oils over a weekend. And she gave me all this material, and then we just started working together. We wrote a couple of articles together. She pointed me to the various libraries and what I should look for there. And it was at that time we also stumbled on all the soy stuff. I went down to the Library of Congress and found these notes from the first soy conference and what they were actually saying. They were talking about the problems they had getting the toxins out of the soy, and how they were going to market the soy to the upscale consumer. So it was very revealing.
K: Wow where is that? Is that something you've put on the website before?
SF: You know, we really should scan in those documents and put them on the website. They're in our files.
K: So then how did all this lead to the Weston Price Foundation?
SF: So the book came out in early 1999, and I had been on the board of the Price-Pottenger Nutrition Foundation, and just became increasingly frustrated with the lack of energy there. It was an older board, and I wanted to get out and change the world, you know, and publish materials and explain all this to the public. And I felt that that organization was just too shy about all of that. So I left that board and decided to set up an organization here on the East Coast. That happened at the end of '99. Our first journal was spring of 2000 and our first conference was spring of 2000.
K: Wow you did all that fast!
SF: Yeah we plunged in. I did not want to do a conference, but we had a board member who was just insistent that we do a conference [laughing] so we did a conference.
K: And it was in D.C., right?
SF: It was in D.C.; it was in a church basement. Seventy five people came.
K: Wow!
SF: All the speakers cancelled at the last minute.
[laughter]
K: So did you do the speaking?
SF: Well, Ken Morehead, bless his heart, and I don't know how I had contacted him. I called him like 3 days before, and said "Could you come and give a talk?" And he came, and then I did the other talks.
K: Now how did you find a board, and how did you do everything so quickly?
SF: Well, I had already been in touch with Tom Cowan because he read the first edition, and then I had done some speaking for him, and had gotten a slide show organized. Tom was on the board, Mary, myself, Geoffrey – my now husband, was on the board, and Cherie Calvert was an original board member. And then we had a couple others who are no longer board members. People were just interested in doing it.
K:  That's great. It must have been refreshing for you. Just like it is for me now when I hang around with people who get it; it's like when I go to the conference and I'm not the weirdo there, you know?
SF: Yes, right, right.
K: When you hung out with those people, it must've been like that.
SF: Well, not when my kids were growing up, you know – I was a weirdo. In fact, one day I was in the car with my three boys, and the oldest boy who was kind of a trouble maker in a sense, he said, "Mom we figured out that you're really weird." I said, "You know what Nick, I'm the only mom you've got! So you're just going to have to live with that."
[laughter]
K: And now he's probably thankful that you were weird.
SF: Well I guess, I don't know.
K: You know, because he's probably pretty healthy.
SF: Yeah, they're all very healthy. But I mean I went through the same thing everybody else went through. I'm the only mom that I knew who was really trying to be careful with my kids' diets and nobody else even cared and saw the connection. And you know the foods that these children ate were just appalling.
K: Now did your kids complain like mine do, about the foods sometimes?
SF: Well you know, we started that way, and I always tried to make the food delicious. You know, I think one of the things that sets Nourishing Traditions apart is that's where it's coming from. It's coming from "This food has to be good. It has to taste good." And so they were used to getting eggs and bacon or eggs and sausage, and we made French toast with whole grain bread. I did a lot of Mexican foods with them growing up, and they loved that. Tacos, enchiladas and stuff. Good places to hide organ meats, you know. [laughter] We just ate food that was normal but that was home cooked.
K: Right, it's not that hard. Dinners are not that tricky for me. It's the breakfast and lunch that took some time to figure out more.
SF: Yeah, yeah.
K: Well back to the early days of the Weston Price Foundation. Back when you were first starting, what were some of the biggest struggles back then for you?
SF: Well you know, everything actually went quite smoothly. We had some nice donations right at the beginning. We started off in our house, and really there hasn't been any crisis. It's just been a very slow and gradual increase in membership. An increase in budget. An increase in the things that we've done. And I think that's the way it should be with an organization. If you're dependent on one or two great big grants, you know, those could always be cut off anytime. A big transition was when we moved to an office, and that was in 2003. We rented a little house in the neighborhood and got everything out of my house. That was a great relief. [laughter]
K: I bet, and you're still there, right?
SF: We're still there. And it's a really cute little house. It's very green you know. No fluorescent lights. And we have a kitchen which is great. And then I think the biggest challenge for me personally is just how do I use my time. And gradually divesting the things that I did off to somebody else. Like for years, I did all the bills and I don't have to do that anymore. I have a wonderful staff; I just can't say enough good things about them. I think another turning point for us is when we hired PTF Associates to do our conferences, because then the conference really started to grow. You know this year we had over 1500 people at the conference. And by the way, we never made money on the conference until this year. And the big challenge in the conference is the food. To put our money where our mouth is, we make sure that the people get really good food. I will say this, what exercises my mind the most is "How do we keep the Weston A. Price foundation on track through the years?" Because you know I'm not going to be here forever, and I feel that my greatest, my most important role as president is to keep us – you know on our mission statement which is nutrition education. It's really easy to get sidetracked, or to water down the message. So that does exercise my mind: How can we ensure that this is going to happen, generation after generation?
End of interview
I really like Sally, in case you can't tell.  She's just so real.  She's like that in person, too.  🙂