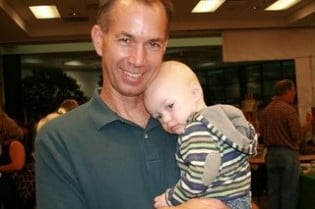 My heart is bursting, wanting to tell you everything about the Deidre Currie Festival. (Wait 'til you hear what advice Sally Fallon gave me…YES, I actually got to chat with Sally Fallon!)
If you want to skip to my notes on the talks, find those here:
First, I'll start with the reason we were all there…
What a perfect little face looking up at his Daddy
The morning began with a welcome from Archie, looking handsome, but sad, up on the stage holding he & Deidre's son, Jack, who is now 8 months old. As a Mom it especially ripped my heart out seeing Jack sleeping in his Daddy's arms, as Archie tearfully spoke about Dee and last year's conference, and how emotional this day was for he and Dee's family. Archie: "I can't think of anything more sad than a new mom dying before holding her first child."  (Read about how Archie was able to keep Jack on breastmilk throughout his babyhood.)

As God always does, He has taken a heartbreaker and brought some good from it. To honor Deidre's memory, Archie and many others (most who also knew and loved Dee) took on the huge job of putting on this conference, in hopes of getting the truth about traditional food out to more people – which was Dee's passion.
They all spoke my language!
It was great spending the weekend with Ann Marie from Los Angeles, and Diane from Maryland, my friend Julie who lives near Kalamazoo, more old friends, and some new ones too – many people introduced themselves and said they read my blog!
The best part was that everyone there "spoke my language" – not one person thought I was a weirdo. (Well, maybe they did…?) Normally I'm the only one (or one of a very few) in a room who care about the perils of things like GMO's and pasteurized dairy or who know the benefits of healthy fats and pasture-fed meat, this day was so refreshing!
Kelly, Julie, Valerie, Catherine, Diane, Ann Marie
BBQ at the Farmhouse
Then, GET THIS, because Ann Marie and I helped Archie a little with promoting the conference, he was sweet enough to invite us to dinner that evening at an Ann Arbor Bed & Breakfast in a neat old farmhouse where the speakers were staying. We were able to meet Dee's family (visiting from New Zealand), talk with the speakers and other friends of Archie's, and even get our picture taken with Sally Fallon: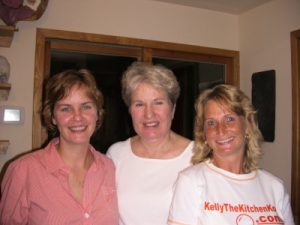 Miss photogenic herself is on the left (Ann Marie), Sally Fallon, and then me, miss NOT photogenic…

Guess what Sally suggested?
OK, so I'm actually drinking a cup of hazelnut coffee as I write this, if you want the truth, but Sally was telling me what a number coffee does on your adrenals. I asked, "Can I drink decaf?" "Well, it's better if you drink a dandy blend or something like that…" Just the night before at dinner, Ann Marie was giving me the same spiel. Oh fine, I'll read up on my adrenals, but that's as much as I'm promising right now. At least I only drink it 3-4 times a week. Talking to Karen Lubbers at dinner, she told me she drinks coffee three times a day, and she's healthy! (Another reason to love Karen: she also likes chocolate.) Yes, I know, I sound just like someone trying to justify their diet pop or some other nasty habit…
I learned so much!
If you're wondering about all the amazing talks I heard there and what I learned, over the next week or more I'll be posting all of my notes.  (See above links.)
If you were at the Deidre Currie Festival, please comment below and tell everyone about your experience there!
Both photos by Cheeseslave