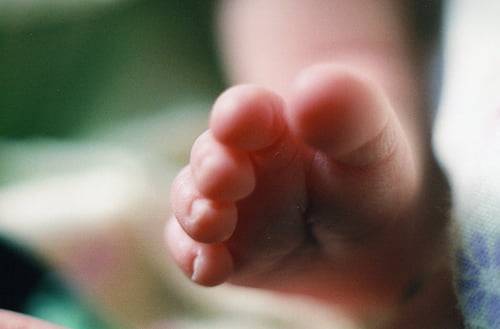 I agree with most of the information that was shared in tonight's Urban Homemaker phone seminar, but I do disagree with a few things. Be sure to take a look at that post first (at the link above), so you understand what prompted the following ramblings.
I totally agree that parents know what is best for their babies and that it is up to US to gather information, and most of all PRAY, so we are equipped to do what is right for our children.
I also agree that parents need to "run" the household, not children. But I'm referring more to toddlers and older kids, and I'm thinking of the families you see on those nanny shows, where the kids have the parents wrapped around their little fingers and the home is in chaos. Not good. Healthy discipline is necessary, period.
However, regarding getting them onto a schedule as newborns: we have four children, and our youngest is only 2 1/2, so a lot of this is still fairly fresh in my mind. I strongly advocate listening to your baby and meeting their needs, as that is what mothers (and fathers) are for! I never wanted to be tied down by schedules, and didn't see the reason for it. My baby went wherever I did for the first few months (which felt like a very natural way to mother a baby), and if he was hungry, I fed him. I never paid attention or cared about the clock. Did I JUMP every time my baby made a noise? No, especially not for our last one! But I always listened to him – mothers quickly learn all the different sounds our babies make and which ones mean you may need to let them fuss a little and which ones mean they need us. If I knew he needed me, I wanted to help him. That is our God-given instinct as mothers. If he was hungry after two hours instead of four, I'd feed him! Yes, it might throw me off with my to-do list for the moment, and it wasn't always easy, especially when they're really little, but I always knew how quickly this stage would pass and that it was the right thing to do. I also think it gives them a real sense of security in their world. Their little tummies can't always wait four hours (or overnight!) when they're so little, and I just didn't see any need to make him wait, when I knew I had exactly what he needed. That's not to say I could always go to him right when he needed me, but I did my best. And I didn't feel guilty if I was helping another child or in the middle of something and he had to cry for a little bit, but I certainly never made him wait just because it hadn't been the full four hours yet.
When it comes to Mom's being exhausted with newborns who wake up a lot in the night, I have a suggestion for a very natural way to mother your baby and be completely rested in the morning: let your baby sleep next to you and nurse them when needed. Now, I know this may not work for everyone, but it was great for us, and this is why:
My husband never moves much in the night, so I didn't have to worry about him rolling onto the baby. He hardly ever even woke up when we were nursing.  If you're not sure, probably don't try this just to be safe.
Kent also loved having our babies right next to us – I know what you're thinking, but there were plenty of other times we could be alone together.
I had the pillows arranged in a way that was very comfortable, and this way I could nurse him and sleep in a safe position that would prevent me from rolling if I got into a deep sleep – it was physically impossible the way I had the pillows and the position I was in.  Besides, the stories you hear of women who suffocate their babies are usually those who were under the influence of something.
I had a Co-Sleeper next to our bed (like a pack & play, but it attaches up even with your bed – it's expensive but well-worth the money for the sleep!), so if after he drifted back off to sleep I wanted to change positions, I'd just slide him over and go back to sleep. When he needed me again, I'd bring him back next to me, arrange my pillows, and we'd both go peacefully back to sleep. You'd be surprised how easy and effortless this became, so I hardly even woke up much, which is why I literally never felt tired during the day. I could wake up and be ready to take care of the baby, our other kids, my day care kids, and keep up with all the other stuff around the house, too!
I kept diapers nearby in case he filled one, but diapers are very absorbent, and usually one would last all night.
This was so much nicer than having to get up out of my warm bed, go get him, and by then he'd be really worked up and crying and wouldn't settle back down easily, then sit in a cold uncomfortable chair to nurse him for who knows how long, then try to get him to lay back down in bed without waking up again…what a pain all of that would be!
This always just felt so right, that's the best way I can describe it to you. Our baby was content, my husband and I were content, the other kids didn't have an exhausted, ornery Mom the next day.  It all just makes sense and worked for us.
I'm going to have to comment more on Dr. Denmark's food plan in another post (it's 1:25 am right now and I can't think straight anymore!), but as you probably guessed, I am in agreement with Marilyn about pasteurized dairy being the likely culprit with those health issues that go away when dairy is cut from the diet. Read more here on the benefits of raw milk and issues to do with its safety. Milk is so good for us and raw milk especially. When my son weaned himself (when HE was ready, which was about 14-16 months), he went to raw milk in a cup. I didn't give him solids until he was old enough to sit up and started acting interested in what we were eating (6-8 months). Then I'd give him gently cooked egg yolks (a superfood, especially from pastured chickens), or other soft or pureed foods of whatever we we eating. He had very little baby food from a jar, and if he did, it was only organic. It was a very natural process for him to slowly start eating table food, on his schedule, not mine, and it was all stress-free. Here's a great resource for healthy foods to give your baby and other children, too. And all I can tell you is that eating the way you'll read about at that link has been great for our family in many ways, but I definitely notice a difference in our youngest. (And we certainly don't eat perfectly, as I've mentioned here in the past.) All our kids have been fairly easy as babies, but we always told people that he "wins the prize" for the easiest, most good-natured baby of them all. I truly believe that their diets can make a world of difference in many areas.
I agree with most of what was said about vaccines, although I think they should be much older than 5 months before they get any shots (until their little brains are more developed), and even then only the ones you have researched and really think they need. That's a topic for another post, too, I struggled with that issue a lot when I was pregnant last, and I'll share what I came up with one of these days.  Update: How we came to our personal vaccination choices:  Part 1:  Vaccination safety issues and the 7 factors that led to our decisions.  Part 2:  Our 5-part plan for vaccinations and how do school exemptions work?
I'd love to hear what you think about all of this! Please comment below!
More you might like: