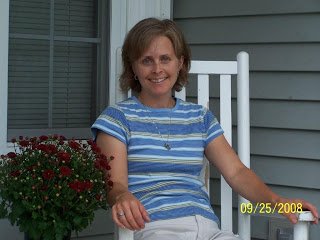 Be sure to visit this parenting post for a whole list of articles on natural, healthy parenting!
Thank you to my friend, Sue, for the following guest post on Natural / Healthy / Green Mothering.  Sue was a natural, healthy, green Mom LONG before I even thought about trying!
She'll cover information on:
The most comfortable and versatile Baby Carriers
What are the healthiest foods for your baby?
Super simple cloth diapering (Visit my resources page for where to buy cloth diapers and other baby care items!)
Here's Sue…
If there is one thing I have learned about Kelly, it's that if you have something important to say, be careful, because she just might ask you to write about it for her blog!
That's what happened to me. "Kelly," I said, between bites of London Broil while dining with her and a friend of ours at Kelly's favorite restaurant in Rockford, "I just bought a new baby carrier for Matthew the other day." (She had been impressed with my sling at last year's Christmas party so I knew she would be interested.) Not long after I told her, she said, "OK, write about your research and I'll put it in the section of my blog. Oh, and add some of your thoughts about natural feeding, too!" Now since I have 4 kids, ages 9, 6, 4, and 14 months, I questioned how on earth I would find the time to actually pull this off… as I type this at my kitchen counter, I am looking back at my milk that is coming up to temperature to culture my homemade yogurt, the boys are waiting for those eggs for breakfast, and I have the sprinklers going outside…..if Kelly can find the time to blog with her 4 kids, I can too!
[OK, so now it is 2-1/2 months later and reality has set in!!….]
Ever since my oldest was born, I knew I wanted to have my children close to me. Instinctively, I knew it was good for each of them and for me, in terms of bonding and feeling close. I also knew that it would make life easier around the house for those times when the baby wasn't ready to be put down, but I needed to "get things done". While I usually made sure my babies had naps in their cribs to help them become good nappers, I used either a sling, front carrier or backpack to carry them while on the go.
My Sling
It's funny how things evolve, too, in our lives. It hasn't been until this last year, after my fourth child was born, that I think I finally nailed down the most useful carriers.
A few months ago, a friend made me an adjustable ring sling that is modeled after a Maya Wrap – I LOVED that thing! The best part about it was being able to nurse in public very discreetly. He would be completely covered from about his waist up and I could use the "tail" (the extra fabric that hangs down after it is tightened) to drape over my shoulder if I needed to. Several times I even nursed while walking, and once in the mall! (Oh, the things I have learned to do as my family has gotten larger and we're more on the go!) Anyway, I looked in a dressing room mirror and it was completely a mystery as to what was going on under the fabric. (Is the baby just sleeping? As he got older and wasn't comfortable being cradled in the sling, it was nice to hold him on my hip and let the sling hold all the weight instead of my arm. He really liked being near me, and I have read that babies bond really well and are more secure if they are held for at least part of the day.
So, now we come to the new "fandangled" baby carrier I bought last month. Matthew was getting too big for the sling, and my framed backpack carrier was just too big and bulky. What I found is called Ergo baby carrier
and is actually very versatile. It can be a front carrier for infants, a side carrier, and a backpack. What is nice is it is lightweight, frameless, and packable. Furthermore, when the baby/toddler falls asleep there is a hood that the user can pull up over their head to cradle it from flopping from side to side. It fits my husband just as well as me, and our son really enjoys it. It can even go up to 40 pounds! It is tricky to get the child in there sometimes, but with practice it becomes easier. Kelly asked me if I like the ERGObaby carrier better than the Baby Bjorn, which she loved. I have never worn my baby on the front of me using the ERGO, so I can't say if it is more or less comfortable than the Baby Bjorn. However, here are some of my thoughts: the ERGO is much more versatile (front, side, back), however I don't think it allows a baby to face outward like the Bjorn. So to me it is a 50/50 answer.
Natural Feeding
Now on to the next topic Kelly asked me about: natural feeding. This, too, has been a process. I started with feeding my first two children solids (yes, all the run-of-the-mill baby food, AKA "crap" from the grocery store shelves at age 4 months…ugh!!) to feeding my third and fourth children mostly organic, homemade food at about 8-9 months. I had hoped to go right to finger food from the table, but the fact is that most babies will need to have smooth food at least for a little while. Also, foods, one at a time, should be introduced (although there are many who would disagree with me) to rule out possible allergies. Here are some tips on making your own baby food and some recipes:
Begin by reading this great article from Weston A. Price on feeding baby, I used it for my 4th baby; it really gives a lot of information as to what to feed baby first, last, and never!
Gather small glass jars with lids (put out an APB for friends to save baby food jars for you), and also ice cube trays.
Get a food processor or good blender, and an electric steamer or steel basket that fits into a pan.
Plan what you think you would like to make for your baby.
Buy as much organic as possible. Steam each vegetable and then puree until completely smooth (the texture may vary depending on the age of the child). Add homemade chicken stock or the water from steaming to thin it out and add a boost of nutrition.
Place what you think your child will eat in a day or two in the fridge, but freeze the rest in jars or ice cube trays (when frozen transfer to zip bags).
Never use a microwave oven.
Use a silver spoon; WAPF says, "The small amount of silver he will get really does help fight infection!"
Serve baby the same foods you are eating at the table by using a food mill. I used one by Munchkin that sells for about $7.50 in the store. It would grind the food and I would add liquid to thin it out to the appropriate consistency.
I received a great cookbook as a gift from my mom: Cooking for Baby: Wholesome, Homemade, Delicious Foods for 6 to 18 Months by Lisa Barnes. It goes through some cooking tips and has simple recipes that go from first foods all the way up to 18 months. While the philosophy isn't WAP, you can weed out what doesn't fit with what you believe to be true about eating, and use the recipes that do fit!
Have food, will travel: don't be afraid to take your homemade food with you on the go. When you plan ahead and freeze your quantities for travel in the old baby food jars, it is no different from traveling with stuff right off the shelves. I just pack the jars in one of those small coolers with an ice pack made for storing breast milk that I received in the hospital at his birth. When he was into finger food, I would steam carrot sticks and green beans and then freeze them in a baby food jar. I would also take chunked cheese, and always have a banana on me. These snacks were a far cry from the O's cereal pieces I fed my other babies, but how freeing it felt! I think my son was over one year before he even tasted one of those cereal bits!!
Cloth Diapering
And lastly, diapering baby. I have used cloth diapers for all of my children. With each one I started out using a diaper service for convenience, but then after a while I wash my own. I love using cloth diapers! They are so much better on baby's skin and the environment. I have used pre-folds with covers, and with pins and nylon pants. But, for my 4th child, a friend loaned me her FuzziBunz. I found luxury! They are pocket diapers that have thick, micro-terry inserts. They are also fleece lined (so they take the moisture away). They are moisture proof on the outside, so no need to put a nylon pant over the top. The plastic snap fastening system allows for perfect fit.
To wash:
I dump the solid waste in the toilet before the diaper goes in the dry pail. I wash about every 2-3 days.
Put a small amount of detergent (nothing with fabric softener, dyes, perfumes, etc.) into the washer and begin filling with cold water. Add a bit of Borax and then soak for 30+ minutes.
Finish the cycle, and then begin the washer again, this time with hot water. Add another small amount of detergent, Borax again, and vinegar in a rinse aid ball or the fabric softener compartment as a disinfectant. Add a second rinse.
I dry my FuzziBunz covers only for about 30 minutes on low (or I let them air dry). I dry the rest on high (to further disinfect).
I know one day my four little ones will be out of the house, and perhaps making families of their own. Until then, I will hold my children close, and do the best job I can in taking care of these precious gifts God has given us!
THANKS SUE!!!