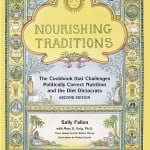 Where would many of us be without the Weston Price Foundation?  If you've read my "Food Conversion" story, you know what a huge role the WAPF has played in my life and when I switched over to a traditional foods diet, or a Weston Price diet, everything changed.  (The two books pictured here are must-reads:  Nutrition & Physical Degeneration and Nourishing Traditions.)
I'm sure many of you have a similar story!  And what about how people are finally starting to catch on about the benefits of butter, and the dangers of mystery meats and processed foods?!  That didn't just happen, and they need our membership support to continue making a difference…
Why would you join the Weston Price Foundation?
Because you have noticed that the media is saying things like 'Why Butter is Back' and other new ideas.  (That are actually old ones.)  And you want to support a group that is helping make these changes happen plus learn more yourself.  WAPF educates you on why to eat nutrient-dense foods AND then helps you locate those foods.
Because they need your support. 60% of their funds come from our low membership fees ($25 – $50). With a paid staff of four, their funds are used wisely for projects that support their mission.
Because you want what they are working towards – greater access to nutrient-dense foods like real milk, grass-fed meat, eggs and dairy, and wild seafood; as well as wide education about the value of these foods and others like fermented foods, saturated fats, properly prepared grains and bone broth.  There are also educating people about the dangers of certain foods like soy.
Because you get the 120+ page quarterly journal which many people say is the one magazine they read cover to cover.
Because they are educating the public at exhibits, conferences, through their large website and print publications.
Because they frankly are changing the way people eat.  They have played a significant role in bringing back to the table bone broth, fermented foods, healthy fats and oils and pastured animal products.
Because they produce an annual shopping guide resulting from hours of research into products that fit with their dietary principles, which do not sway with the fads.  The shopping guide is larger each year which is a testimony to how many new producers there are as a result of the greater demand for these nutrient dense foods.
Because they strongly support the education about and access to real milk — unpasteurized, healthy milk that has been a healthy addition to many people lives.
The journal is loaded with science-based articles and practical help plus great ads, letters, healthy baby photos and more.
Because they have a system of 600 volunteers worldwide who help people in their area find local, nutrient-dense foods.  These Chapter Leaders do the leg work to find the good foods and share it with people in their area – helping the eaters and producers.  Some of them have meetings and organize rallies and legislative hearing participation as needed to help promote these great foods.
Your membership fees are being put to good use in supporting these many projects:
Hosting and maintaining a huge website
Publication and mailing of 100+ page quarterly journal
Publication of brochures and Healthy 4 Life booklet – often given away for free
Legislative work and updates by Judith McGeary
Financial support to Farm-to-Consumer Legal Defense Fund and other organizations
A registered nurse on call to answer baby questions
Phone and email correspondence to answer countless inquiries
Action alerts sent for events and legislative issues
Raw milk project for education and access
Over 100 exhibits per year, registration fees and materials
Research on traditional foods
Maintaining the WAPF office and its four paid employees
Shopping Guide research and publication
Offering inexpensive advertising in our quarterly journal
Financing a PBS program about traditional foods
Hosting conferences
FB and blogs
Soy lawsuit
Advertising in other publications
A publicist doing press releases and arranging media interviews
Future restaurant rating project

Thank you for standing with me to support the organization that has done and is still doing so much for the health of our families and our nation.  🙂