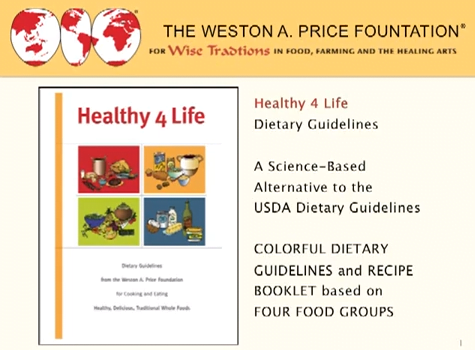 Read excerpts from Sally Fallon Morell's recent press conference on the USDA dietary guidelines vs. the new Weston Price Foundation Healthy 4 Life dietary guidelines.
When we listened in on the webinars of the dietary guidelines committee they often referred to nutrient dense foods, and for them nutrient dense foods are fruits and vegetables.  Now, we're not against fruits and vegetables, but we should not be calling these foods nutrient dense. They are lovely foods to have in our diets but compared to meat and organ meats such as liver they are very poor in the key nutrients we need for growth and health."

"A very interesting study out of Sweden found that children put on low fat diets ended up fatter than children on normal diets and they ended up having greater insulin resistance and eating more sugar."

"Another study from this country found that women who consumed low fat dairy products had much more trouble getting pregnant, so whole fat dairy products support fertility.  And in women, consumption of whole fat dairy products were associated with lower levels of weight gain than those trying to restrict their fat consumption."

"The famous Framingham Heart Study was used to promote margarine and other foods that did not contain saturated fat, but in fact this study found that those who ate the most saturated fat, the most cholesterol, and even the most calories, weighed the least, had lower levels of serum cholesterol and were the most physically active. So the three biggest risk factors, or what we consider risk factors, were lower in those consuming more saturated fat."

The following video (part 1) is only 8 minutes long and worth watching:

Download the new Healthy 4 Life booklet or use this order form
Read all about the updated WAPF site!