Now and then Kent and I still talk about how good our school hot lunches were in the small Michigan town we both grew up in, and most kids felt the same.  There were at least six lunch ladies working in the kitchen, they started in the morning and still cooked most things from scratch.  One of the lunches I loved was called, "pizza on bun".  The other day it was 5:00 pm and after a day of running all over the place, once again I didn't know what was for dinner.  Yes, I KNOW I should be meal planning, but I still just haven't gotten back into the groove yet.  I pulled it off with these though, and had everything on hand.  It's also a great lunch for a big group if you're having a bunch of your kids' friends over.  Friday after the last day of school for the kids (half day for them), there were 12 of us here and between a couple friends and I we whipped these up in just a few minutes, including making the homemade pizza sauce!  I'll be making "pizza on bun" a lot this summer.  🙂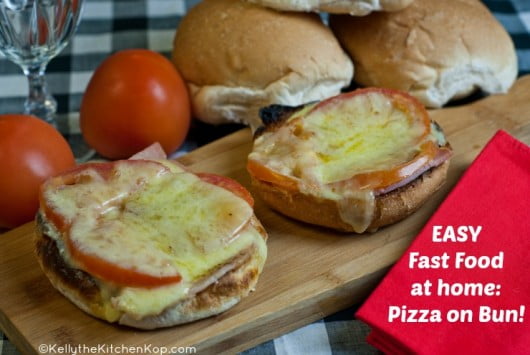 Print
Pizza on Bun
Instructions
Slice, butter and lightly toast the buns.  I did it under the broiler in the oven – watch it closely!  (If you skip this step the sauce will make your buns soggy.)
Spread a little pizza sauce over the top of each bun or a slice of tomato.
Add any meats or toppings.
Top with mozzarella cheese.
Pop them back into the oven or under the broiler until the cheese melts and toppings are hot.
Did you make a real food recipe?
I want to see it! Tag @KitchenKop on Instagram and hashtag it #KitchenKopRecipes OR share anything you know I'll love by tagging @KitchenKop and hashtag #KitchenKop -- see you over there!
Kids and adults love these, they're easy, and FAST.
I'm curious, did you like hot lunch as a kid?
If so, what was your favorite meal the lunch ladies made?  If not, what did you like to bring for cold lunch?  I need to start now gathering new ideas for the kids' cold lunches for fall!