These healthy salad bar ideas, with all the varying ingredients you can try, come together and taste like a dance party in your mouth.  They're so full of flavor and you can just taste the nutrition!  There are many different ideas, so I'll list all the options I can think of for you to choose from, and bolded to make it easier for you skimmers.
If you know of others ingredients you like or have more healthy salad bar ideas that I forgot, be sure to comment below. 🙂
Healthy Salad Bar Ideas:
Always start with the best greens you can find. I rarely use iceberg, the darker greens have more nutrients. I always choose organic, as salad greens are often highly sprayed with chemicals. I love it when I can get local organic lettuce at our farm market in the summer–I'll usually choose a couple of different varieties for more flavor and nutrients. In the winter I'll use the organic greens from the grocery store.  You could also use napa cabbage or regular cabbage instead of greens.
Fresh fruits in season are always delicious: apples, blueberries, strawberries, raspberries…
Other fruits that are never in season near us, but I'll use them at times: mangos, orange slices, grapes, pineapple.
I love something crisp in my salad, so here are some options for that:

Nuts like crispy pecans, almonds, or cashews.
Try these candied pecans (or almonds or walnuts)!
Also, try these rosemary walnuts.  
Try lightly baking or frying the noodles (in butter & sea salt) from the organic Ramen packages if you can find them.  Check the ingredient label first though to make sure there isn't canola or soy oil or anyting else gross in there.  Obviously when you open it, immediately toss out that soy cracker thing if there is one and the packet of soup flavorings–even organic that's likely not good.  Be careful to heat slowly because these will burn!
I often make homemade croutons from the bread ends that no one around here wants to eat!  It's so easy:  cut bread into cubes, toss in plenty of melted butter, some sea salt, and some herbs or garlic powder if you'd like, spread out on a parchment paper-lined baking sheet, and bake at 350* until they're crisp.  You'll need to keep checking it and the smaller ones will be done first.  Once cool, I put them into a baggie and keep in the freezer to grab them anytime.
Fresh veggies in season, so many options: chopped cucumbers, peppers, tomatoes, shredded carrots, green onion, regular onion, chives, whatever you like.  If I have cabbage, broccoli, or celery in the fridge I'll chop that small and add it, too.
Lately I love freshly grated parmesan cheese on everything, especially my salads!  Others like cheddar, feta, or goat cheese is always good!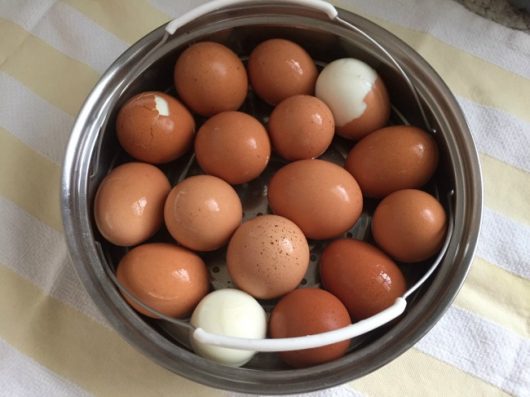 I don't like mushrooms on a salad, but you might…
Different meats like:  Cooked & crumbled bacon–from a local farm if possible, or any other type of meat like shredded seasoned chicken or beef, shrimp, etc.  If you have any leftover meat in the fridge, that's nice and easy to throw in there.
Anything goes when it comes to healthy salad bar ideas! 
Experiment and let us know in the comments if you find something new and yummy.
Homemade Salad Dressings
There are many great homemade salad dressing recipes out there and they really are simple, just throw ingredients in and stir!  Here are three of my favorites. Keep in mind, amounts may not be exact, I often play around with the recipe and taste-test to get it just right.
Berry Vinaigrette: mix together 2 heaping T. of jam (preferably organic or homemade so it has no high fructose corn syrup), 1/2 c. virgin olive oil and/or avocado oil for a lighter flavor, 1/4 c. balsamic vinegar, 1 T. poppy seeds. Makes over a cup of dressing. (Approximately)
Garlic Vinaigrette: (Warning: this has a really strong garlic flavor that I love, but Kent can't stand it!) 1/2 cup olive oil and/or avocado oil for a lighter flavor, 1/3 cup sugar (organic cane sugar), 1/3 cup raw apple cider vinegar, 1 Tablespoon poppy seeds, 1 Tablespoon garlic powder, 1/2 Tablespoon mustard seed, 1/2 teaspoon sea salt. (For this one serve it with lettuce, grapes, bacon, cucumbers, parmesan & almonds–it's SO good, even though it doesn't sound like it would be!)
Raspberry Vinaigrette: (A variation from #1) 1 c. olive oil and/or avocado oil for a lighter flavor, 3/4 c. raspberry vinegar, 1 t. sea salt, 1/2 c. sugar (I use organic cane sugar, or you could use local honey.)
Easy Citrus Dressing: If I'm in a hurry, I'll make this super easy dressing for my salad-on-the-go.  Squeeze lime (or lemon) juice over your salad along with the juice from one can of pineapple bits — make sure you get the kind with ONLY pineapple.  Drizzle a little olive oil and/or avocado oil for a lighter flavor (or sesame oil) over the top.  I also add a dash or two of sea salt.
Creamy Lime Dressing (for a yummy cucumber tomato salad, or for any lettuce salad!)
Now just mix and match whichever ingredients and dressings above you think your family will like – enjoy!
More posts you may have missed:
Read all the ways the Bosch makes my life easier!
What kind of milk should you buy?
What healthy salad bar ideas did I miss?