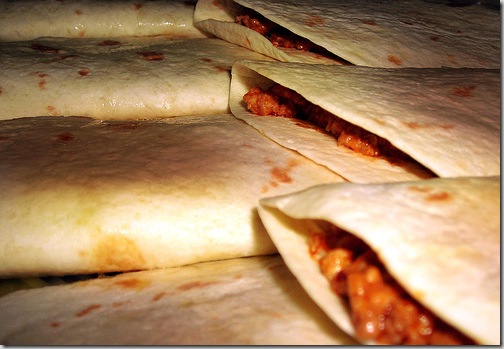 For Cinco de Mayo these grassfed beef burritos probably aren't very authentic, but they sure were good.  I made some grassfed beef burritos for dinner recently, and of course I had to tell you all about it, even if I did just post a grass fed meatloaf recipe last week.  It was so fast and easy, in fact, that I'm adding it to my "fast foods" list.  Not only that, even the younger kids put these away and asked for more, so I'll add it to our "family favorite meals" list, too.  What a bonus, when a recipe makes both lists!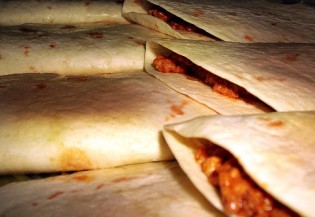 Print
Grassfed Beef Burritos
Instructions
Brown ground beef and onions.  When brown add in water and half packet of taco seasoning.  Stir in ketchup or tomato sauce and mix well.  Then add in your refried beans and stir to combine.
Now you have your meat mixture all ready to put into tortillas with anything else you like – organic ingredients are best:  lettuce, cheese, sour cream, chopped avocado, salsa, Kent likes Spanish rice inside his burritos, also try the probiotic salsa I told you about on Friday!
Did you make a real food recipe?
I want to see it! Tag @KitchenKop on Instagram and hashtag it #KitchenKopRecipes OR share anything you know I'll love by tagging @KitchenKop and hashtag #KitchenKop -- see you over there!
Tortillas:
Try to find some tortillas with a short ingredient label (preferably without soybean/vegetable oil, trans fats, or HFCS…yeah right), or even better, make your own tortillas!  
To make these grassfed beef burritos them even better:
I almost forgot, if you want to make them even more dreamy, then fill your tortillas, wrap it up as good as you can, and fry the sides in a pan with butter – it gives it a nice crisp!  You could even make them into chimichangas if you have lard – just put enough in the pan to cover the bottom and when it's hot, fry both sides until golden and crispy.  Remember, traditional fats like butter and lard are good for you – it's hard to believe, but true, and thank God!  Read more at this page with posts on healthy fats.
Photo:  Geomangio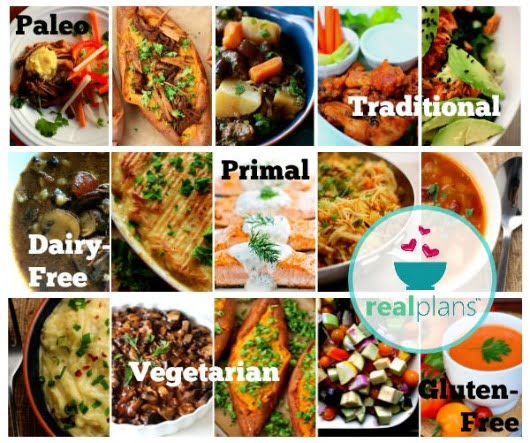 Meal Planning Help!
Sick of planning meals and answering the question, "What am I going to feed these people?"  No matter what kind of eater you are…   Check out these affordable interactive easy-to-use meal plans where the work is done for you!   Also read over my review to see what I thought of it.