This post includes a recipe for creamy stovetop macaroni and cheese, as well as a link to a recipe for my Mom's homemade baked macaroni and cheese…
Remember when we were told to avoid Mac and Cheese because of all those "dangerous" fats?  Fear no more!  All the fats in this dish are good for us.  And thank goodness they are, because nothing says comfort food like a serving of Mac and Cheese.
Macaroni and Cheese is a big deal for Moms, because it's usually one of the few meals all kids like! In the post, "My Dark Secrets", I had mentioned that I'd like to get away from boxed foods as much as possible, but this is a slow process for me, I still find myself getting the kids organic boxed macaroni & cheese now and then, but sometimes I have trouble sprinkling that powdered cheese into the pan, somehow it just doesn't seem all that natural!  So I went on a quest to find a healthy and quick alternative to the boxed macaroni and cheese.
They loved it!
I needed a fast, easy, and healthy creamy stovetop macaroni and cheese and THEN I had to get it to fly with the kids… Success! I fed it to 2 of my kids and 4 day care kids for lunch recently, and they ALL had seconds or even thirds, even my pickiest eater had 2 helpings!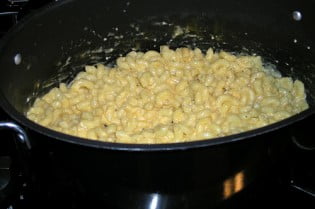 Print
Creamy Stove-top Macaroni and Cheese
Ingredients
About 16 ounces (1 pound) pasta of your choice, preferably organic.  (My favorite now is spelt pasta or einkorn pasta!)
2 Tablespoons real olive oil
4 Tablespoons butter, pastured butter is best
About 3-4 Tablespoons flour, I use einkorn flour mostly now
3 cups whole milk, read about healthy milk choices here.
8 ounces of your favorite cheese, we use organic cheddar, shredded
Sea salt and pepper to your taste
Seasoned bread crumbs, optional   (I save the bread ends that no one wants or crackers that may have gone a little stale and every now and then I'll put them through the food processor and add a little garlic powder, sea salt, pepper, maybe some Italian herbs and keep it all in a baggie in the freezer to use on quick meals like this.)
Instructions
Boil pasta with a olive oil and 1 Tablespoon sea salt.  Now make a basic cheese sauce while the pasta is cooking…  Melt butter in a medium sized saucepan. When it's hot, add flour and whisk it well; keep whisking while it cooks for 2 minutes or so, but keep the heat on low-medium and don't let it burn. Add milk slowly and keep whisking, it'll start to thicken. Once you have it all stirred in (again, keep whisking and don't have your heat too high or it will stick and burn), add the cheese. Keep whisking as it melts and add some pepper and plenty of sea salt to give it a great taste – do some taste testing to get it right. (This cheese sauce is also great on steamed veggies and it's the same sauce I use for my ham & escalloped potatoes.)  When the pasta is cooked, stir it all together, and you're done!  Sprinkle on some bread crumbs mixed with melted butter if you'd like, this makes it extra yummy in my opinion.
Sometimes for more of a dinner type dish, I put it all into a buttered baking dish, add extra cheese on top, and/or seasoned bread crumbs, then bake till it's hot and golden at about 350*.  (My Mom makes this baked macaroni & cheese, the kind without making a cheese sauce first.)
Did you make a real food recipe?
I want to see it! Tag @KitchenKop on Instagram and hashtag it #KitchenKopRecipes OR share anything you know I'll love by tagging @KitchenKop and hashtag #KitchenKop -- see you over there!
I hope this goes over for your kids as well as it did for mine!
***NOTE: See the comments below from a reader who shares her Mom's recipe for an easy one-pan stove-top mac & cheese!
More posts you might like: