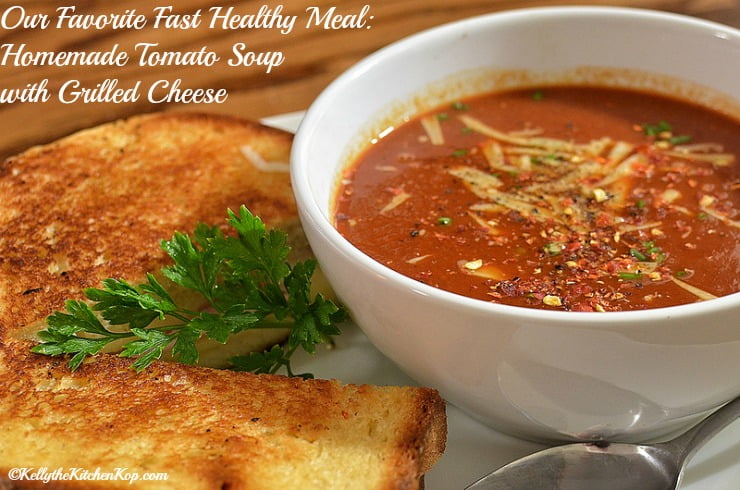 Our Favorite Fast Healthy Meal:  Homemade Tomato Soup Recipe with Grilled Cheese
Last night I had planned to make one thing, but then didn't have all the ingredients I needed (I stink at planning ahead!), so rather than calling our neighbor friends to borrow something like I normally would, I decided to switch gears and make something less time-consuming anyway. This fast healthy meal literally took me less than 20 minutes from start to finish.  It's a pretty basic recipe, but these days it's our favorite version of "fast food", because it's inexpensive, simple, fast, and also…
The amazing thing about this meal is the way our kids actually cheer when I tell them what we're having.  It's basically just a homemade tomato soup recipe, but my friend, Sonia, suggested we call it, "ketchup soup".  There's no ketchup in there (unless you want to add some or use it to replace the tomato paste), but I needed to make it sound more palatable for my day care kids that I took care of at the time, as they did tend to be picky, and it worked!  We sometimes serve it in different colored little ceramic bowls and the kids love to dunk their grilled cheese in.  Kent and I do too, actually.  🙂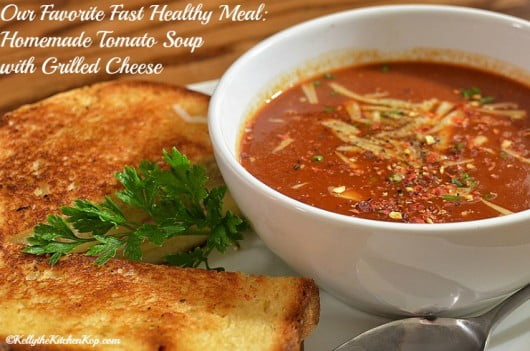 Print
Homemade Tomato Soup Recipe
Ingredients
For the grilled cheese…
For the tomato soup…
8 Tablespoons butter, again, pastured butter is best
8 Tablespoons flour, I like to use einkorn flour or spelt flour, or even unbleached wheat flour
About 3-4 cups milk (sometimes I use part milk, part cream, other times I also add in part homemade chicken broth for even more nutrients!) — read about why to NEVER use ultra-pasteurized dairy — also at that post I explain how you can tell.  Also, I now know how quick and simple pressure cooker broth is so I can make some mineral-rich broth more quickly in a pinch.  If you just don't think you will make it or want some on hand for when you're really crunched for time, try this bone broth — it's 100% grass-fed with a bunch of gelatin, organic ingredients, and it's shelf stable!  I love keeping their beef and chicken broth on-hand for quick recipes because they make it just like I do here, and without the nasty msg-like ingredients, additives, or preservatives that store-bought has.
One can of organic tomato paste
28 ounce can of crushed tomatoes (Or fresh tomatoes from the farm market or from your garden!)
If desired, sometimes I also add fresh chopped or dried onions or onion powder, or other spices like thyme, basil, oregano, and maybe a bit of natural sugar.  Some also like a little red pepper to give it a kick
Instructions
Make a white sauce by melting butter in a medium saucepan on medium heat, add flour and whisk well, keeping heat high enough to make it bubble a little, but low enough not to burn. After it bubbles about a minute or two (and it looks like it's thicker), slowly add milk (or cream or broth) to make however much soup you think you'll need and to make it the consistency you like (some like it thicker, some like it thin). Keep whisking and add tomato paste and tomatoes.  Add sea salt and pepper to taste – this is the key to making it delicious.  Add in the other herbs or spices as you taste-test.
For the grilled cheese we use cast iron pans or if we're making a lot of sandwiches, we'll use my favorite pan because we can make so many at once.  I'm sure you know how to make grilled cheese, but just in case there's someone out there who doesn't (?), put cheese between two pieces of bread, generously butter the sides that are going onto the pan, and cook 'til golden, making sure to watch so they don't burn.  Time them to be done about when the soup is ready.
Serve together, of course, because nothing is better than dipping your grilled cheese into your tomato soup!
Did you make a real food recipe?
I want to see it! Tag @KitchenKop on Instagram and hashtag it #KitchenKopRecipes OR share anything you know I'll love by tagging @KitchenKop and hashtag #KitchenKop -- see you over there!
More you might like: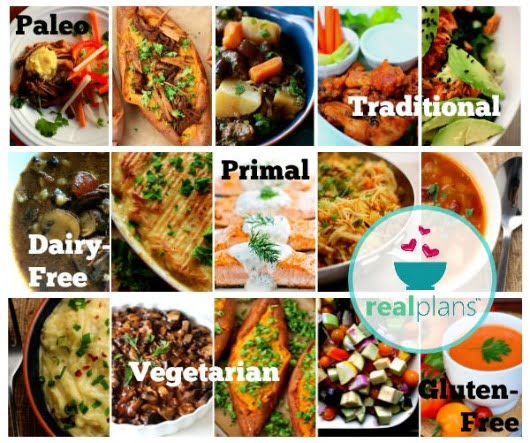 Meal Planning Help!
Sick of planning meals and answering the question, "What am I going to feed these people?"  No matter what kind of eater you are…   Check out these affordable interactive easy-to-use meal plans where the work is done for you!   Also read over my review to see what I thought of it.