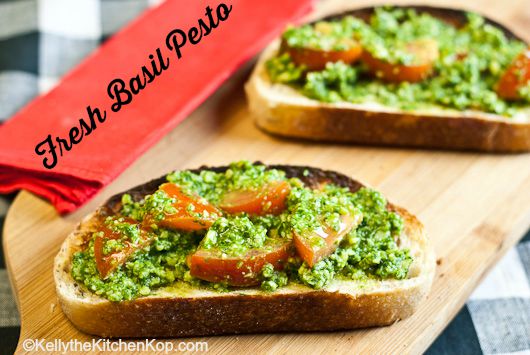 On Saturday we went downtown to check out the "Heirloom Tomato Festival" at Reds.  Kent went for the beer tent, but for me, it was all about the food.
I tried the Gazpacho, which I loved, but I don't remember ever having any I didn't like.  (In case you don't know, it's a cold soup that is out of this WORLD, loaded with flavor and enzymes, and here's my own Gazpacho recipe.)  Then I tried their Caprese salad and loved the way they did it:  instead of leaving their basil leaves whole, like I do in my Caprese salad, they grind it up like pesto, and then add the tomatoes and fresh mozzarella.  The flavors were amazing, and when I asked if they'd share the recipe the gal said jokingly, "No good chef gives out his recipes!"
So even though Chef Glenn has given out his recipes many times in the past, I didn't feel like waiting and did what any food blogger would do, I came home and figured out the recipe myself…and nailed it perfectly, if I do say so!
There are so many tasty ways to use this fresh basil pesto recipe:
Serve it on crusty bread (brushed with butter or olive oil & toasted) for bruschetta – doesn't everyone love bruschetta?
Eat it with a cracker.  (Have you tried these homemade sourdough crackers?  Otherwise these crackers are really good.)
Serve it over pasta for a quick dinner.  (Here's our favorite pasta.)
If it's too hot to cook, or you need a quick dinner, you could do a "picnic" with little dishes of many choices like the pesto recipe below, sourdough bread, liverwurst, deviled eggs, cheese, a salad and sliced fruit.  Fun!
Eat it plain as a Caprese salad for a low-carb option — here's how to make Caprese salad.
I also think I'll try it with this boursin cheese appetizer as a dip.
I'll bet it would be good mixed with a little sour cream for a creamy pesto veggie dip or salad dressing, too…the possibilities are endless!
A new one:  Amy's pesto cheese appetizer, and read that post for how to make it into a main dish, too.
Any other ideas?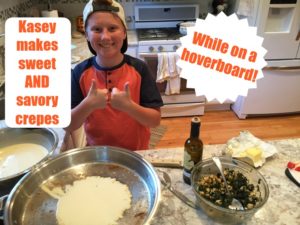 Print
Fresh Basil Pesto
Ingredients
One big handful of basil
A handful of parsley, if desired (I usually throw some in)
If you have a lemon balm plant in your yard like we do, you could add those leaves!
About 1 Tablespoon of your favorite balsamic vinegar (doesn't have to be exact) OR juice from one lemon
A couple glugs of olive oil, about 1/4 cup or so, depending on the consistency you want — remember some olive oil is NOT good for you, click here to read more about how to be sure you're getting the real thing
A few shakes of sea salt, about 1/4 teaspoon
3 cloves of fresh garlic
Optional:  chopped tomatoes (I used grape tomatoes from our garden)
Optional:  If you're making a a Caprese salad, add small pieces of fresh mozzarella (the soft kind from the deli section at the store), or if you're making bruschetta, add about 1/2 cup of shredded parmesan
Instructions
1.  First I grabbed a big handful of basil and parsley from our pots on the deck.  You'll need more than a handful for a bigger batch – I started small since I didn't know how it would turn out, and the amounts below are what I used for that one handful.  (Update, lately I'll make a BUNCH at once and keep using it in different ways as mentioned above!)
2.  I used my mini food processor to grind it up small, throw the garlic in there too.  (For bigger batches, use your regular sized food processor.)
3.  I transferred it to a bowl and added balsamic vinegar, olive oil, and sea salt.  Mix well.  (See my resources page for a quality brand and mild-tasting olive oil.)
4.  Add chopped tomatoes and mozzarella or if you're making bruschetta, shredded parmesan.
5.  Serve any of the ways mentioned above, and enjoy!  (Also, see the pesto we made for fish– so good!)
Did you make a real food recipe?
I want to see it! Tag @KitchenKop on Instagram and hashtag it #KitchenKopRecipes OR share anything you know I'll love by tagging @KitchenKop and hashtag #KitchenKop -- see you over there!
More posts you might like: