Are you looking for easy sourdough recipes?
Thanks to Lucinda, a friend from our local WAPF chapter, I've got all the goods for you today!
I haven't tried all of these recipes, but Lucinda brought her sourdough crackers to the demonstration meeting, and they're better than ANY cracker I've ever eaten, seriously.  They're tasty, thin, and crispy, but still hold up when you use it as a dipper.  (Doesn't it drive you crazy to dip a cracker and have it break apart?)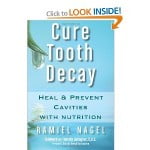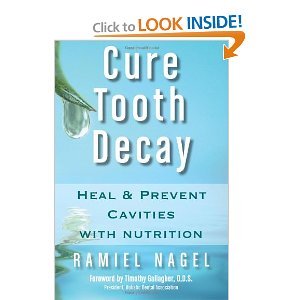 First, click here if you want the entire BEST sourdough bread recipe and if you want to learn why sourdough truly is the healthiest bread there is.  (This is not only according to Rami Nagel, author of Cure Tooth Decay, because many others agree, including the WAPF.)
Note that there are a lot of links below so you know exactly what ingredients and equipment to get to make the process easier, and so you know where you can find them, many of which are affiliate links.  My own notes below are in italics.
To begin, get some active sourdough starter from a friend, or click here to start one yourself using this packet of sourdough starter.  For more about which one to use, see Lucinda's comments at the original post.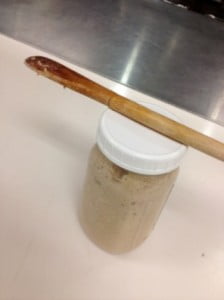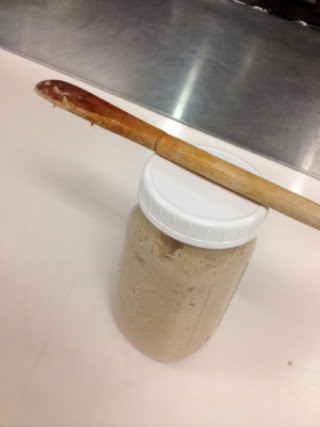 *All recipes call for starter that has been fed and risen to double.
Easy Sourdough Recipes
No-Knead Sourdough Pizza Crust
Ingredients:
Instructions:
In non-reactive bowl (no metal), add water, starter, and olive oil.  Stir with a sturdy wooden spoon.  Add half of the flour and stir to mix well.  Add remaining flour and salt and stir to mix well.  (Make sure bowl is large enough to hold the risen dough.)  Cover bowl.  Let sit on counter for 18 to 24 hours.
Place parchment paper sheets on four stainless steel cookie pans.  Pour 1 ½ teaspoons of olive oil on three sheets and 1 tablespoon olive oil on the fourth sheet.  Scrape dough onto fourth sheet, roll in olive oil to make it easy to handle.  Divide into fourths and place on each sheet.  Start flattening the dough, working for a minute or two on each pan.  Keep working from one pan to the next until the dough relaxes and stays as flat as you like.  For me, it usually takes 4 to 6 times through all the pans.  Top with your favorite toppings.
Preheat oven to 500 degrees F. for 30 minutes with pizza baking stone inside.  Wearing long sleeves and using long oven mitts, slide pizza using parchment paper onto baking stone.  Bake 10 to 12 minutes.  Remove using cookie pan or baking peel and cool on rack.  Repeat with remaining pizzas.  Makes 4 pizza crusts.
Ingredients:
Instructions:
Mix milk, starter, and softened fat in non-reactive bowl (no metal) with half of the flour.  Stir well.  Add remaining flour and salt and mix well to form a stiff dough.  Cover and let sit for 20 to 24 hours, then refrigerate for at least 6 hours…or until you get time to bake!
Preheat oven to 350 degrees F.  Pinch off a small amount of dough and put remaining dough back into fridge.  Place pinched off dough on a lightly floured piece of parchment paper.  Roll out very thin, adding flour as needed to keep dough from sticking to rolling pin. Sprinkle with more salt and lightly roll over dough with rolling pin to help salt stick to dough.  Score with sharp knife, pressing lightly to avoid cutting paper or counter.  Transfer to oven using a baking peel.  Bake for 10 minutes, checking often to make sure crackers are not getting over done.  Remove crackers from oven  when golden and cool in a big baking dish (I think a 9×13 would be big enough, but Lucinda will have to clarify for us!).  Continue baking until all dough is used.  Set oven to 200 degrees F. and crisp crackers in the baking dish pan for 1 hour.  Store in airtight container.  Makes a lot of crackers!!
Sourdough Waffles
Initial dough ingredients:
Instructions:
Mix together in non-reactive bowl (no metal) to form a thick dough.  Cover tightly and let sit for 12 to 18 hours.
Final batter ingredients:
Instructions:
Add to initial dough and mix together.  Bake in preheated waffle iron using ½ to ¾ cups of batter per waffle.  Cook for 3 to 5 minutes or until crisp and golden.  Cool extra waffles completely before freezing for later use.  Frozen waffles may be reheated in a toaster.  Makes about 12 waffles.
Sourdough Pancakes
Initial dough ingredients:
Instructions:
Mix together in non-reactive bowl (no metal) until well combined.  Cover tightly and let sit for 12 to 18 hours.
Final batter ingredients:
Instructions:
Add to initial dough and mix together.  Thin with a little milk if needed.  Preheat skillet or griddle and coat with butter or coconut oil to keep pancakes from sticking.  Spoon ¼ cup amounts of batter into pan.  Let cook for 2 to 3 minutes per side.  Flip when bubbles begin to rise to the surface.  Continue cooking, adding more butter or coconut oil as needed to keep the pancakes from sticking.  Makes about 18 pancakes.
Sourdough English Muffins
Initial dough ingredients:
Instructions:
Mix together in non-reactive bowl large enough to handle risen dough.  Cover and let sit for 14 to 18 hours.
Final dough ingredients:
Instructions:
Mix all ingredients together with initial dough.  Stir until combined.  Dough should still be soft and a little sticky.  Scrape dough out onto well-floured counter and knead for 2 to 3 minutes or just until dough can be worked.  Pat dough out to ½ thickness.  Cut into circles with a 3 inch biscuit cutter.  Dust each circle with flour and place on parchment paper.  Allow to rise for 1 hour.
Heat dry skillet or griddle to medium-low heat (on my stove, 6 is medium and 4 is the right temp)  for 4 to 5 minutes.  Place as many muffins in pan or griddle as will comfortably fit and cook about 7 minutes per side.  Cool on wire rack.  Do not cut until cool.  Store extra English Muffins in freezer.  Makes about 20.
Quick-view Sourdough Shopping:
Sourdough Baking Equipment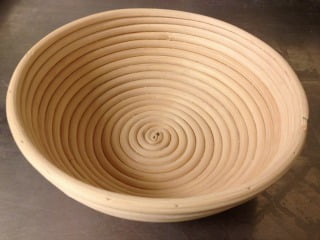 Not all of these are absolutely necessary, but they make things easier…
Stainless steel cookie pans with no edges for slipping off the pan easily
Baking peel for slipping the dough off pans easily
Baker's Couche—flax cloth for folding dough or proofing oblong loaves
Flour storage containers – Lucinda uses 5 – 10 gallon tubs with lids
Kitchen scale—flour measurements are most accurate when weighed
Sturdy wooden spoon—best to have a thick handle as this bread dough can be hard to stir
1 quart wide mouth glass jar with plastic lids for starter
Sourdough Baking Ingredients (I copied the info from above to make it easy to find here.)
Sourdough starter from a friend or click here to start one yourself using this packet of sourdough starter.
Well or spring water—faucet or room temp, NON-chlorinated water.  If you use reverse osmosis water like we do (to remove Fluoride, chlorine, pharmaceutical residue, pesticide toxins, etc.), then Lucinda said to just add some mineral drops to it like these Concentrace drops.  This may be why my sourdough bread hasn't been successful in the past, because I was using dead RO water!  (By the way, if we had it to do over, we'd buy this water filtering system instead.  You can read more about water filtering here.)
Whole wheat flour, freshly ground if possible, but you may want to sift out big pieces of the bran.  Lucinda uses whole wheat, which you can get here, but I like using alternative grains when I can, such as spelt.  She said this is fine, but it may take a little more, go by how it feels.  (She said not to use Rye, though, as she hasn't had good luck with it.  Which is too bad since according to Rami in this article, that's the best grain to use in sourdough to break down the most anti-nutrients…)  I'm growing my starter now with spelt, so I'll keep you posted.  Spelt is another type of wheat, but more traditional and tends to not cause problems in some who are sensitive to regular wheat.  Although, the sourdough process itself helps minimize those issues as well, as mentioned above.  Read more about using alternative grains here.  If you're not planning to grind it fresh, you can get whole spelt flour here.  If you DO plan to grind it yourself, you can get spelt berries here or try the einkorn berries here.  And here's the grain mill I use and more about why I love this one.   (Is that enough links for you?!)  Remember I haven't done this successfully yet, so you may want to follow Lucinda's instructions exactly to be sure you'll have good luck!
Unbleached, un-enriched all-purpose white flour – Lucinda uses Natural Way Mills Gold n White Flour—available from Country Life www.clnf.org and UNFI www.unfi.com, or click here for the kind I use.  You could also try this einkorn all-purpose flour.
Finely ground sea salt
Thanks for these recipes, Lucinda!
I asked Lucinda to tell us a little about herself:
I grew up baking yeast bread starting from as far back as I can remember.  I was blessed to grow up in a family that believed in making their own food.  We lived on a farm and even had our own milk cow.  When I was a little older, we moved to Togo, West Africa, where I got to eat wonderful European style artisan breads baked in clay ovens.  I also got to do a lot of experimenting with making different types of yeast bread.  I started playing with sourdough recipes in the late 90's after falling in love with the sourdough bread from Zingerman's Bakery.  My bread was ok, but it never had that chewy crumb I wanted.  Later in the early 2000's I tried again for a couple of years, but no matter what I did, the bread still wasn't right.  Finally early last year, I decided to get some starter from a friend and try again, this time with a no-knead version.  Finally the bread had the chewy crumb I was after!  I spent the last year and a half experimenting with the recipe to get the bread I have today.