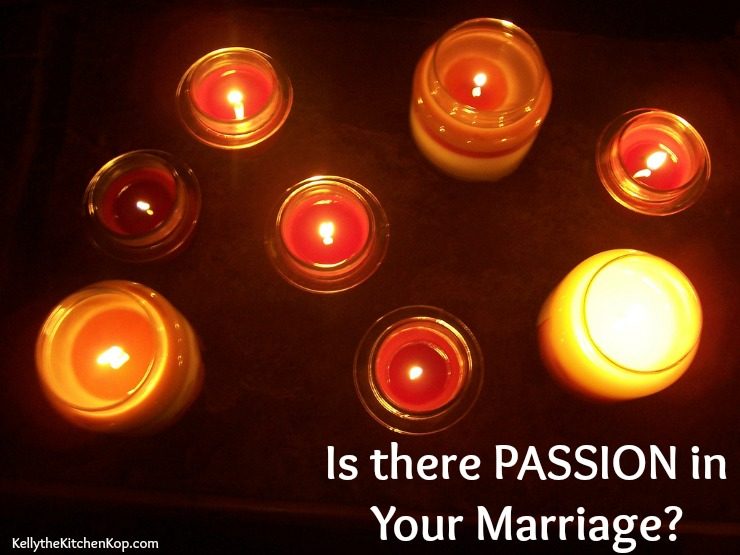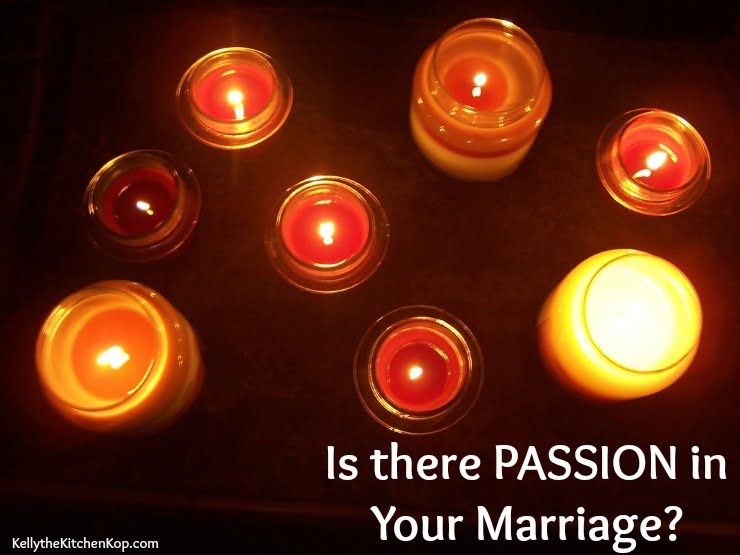 Is there still passion in your marriage?  
Before we begin, I think we should cover something I hear about a lot from friends – they feel guilty somehow if they enjoy sex, as if that's wrong somehow. How sad!  You've probably been asked this before, but guess who invented sex? And He didn't invent it only for making babies, as amazing as that part of it is. He's smart, He knows that in a healthy marriage, it can be powerful and fun and a beautiful way to keep spouses close and families strong in this world that often beats up on us.  If you've ever heard of Pope John Paul II's Theology of the Body (or watch this shorter explanation), you know that there is even more to it than most of us ever tap into — it's meant to be a special, holy way for spouses to give themselves to each other and to keep their relationship strong.
Have you settled for a marriage with no spice or fun?
If you and your spouse are both fine with that (and you're sure that's true for you both, and one of you isn't just "playing the martyr" about very little or no passion in your marriage), then that's up to you I guess.
But what if there's something more?
What if it could be really great between you, and the only thing holding you back is the commitment to do just a little work toward that goal? Wait until you read the following excerpt, it all makes so much sense…
Here's an excerpt from the Fox News article on passion:
Passionate love has been found to suppress activity in the areas of the brain that control critical thought. But the areas activated during passionate love are identical to those fired up during other euphoric states, such as with cocaine use and sexual arousal. So how does this "drug addiction" of sexual desire help you and your relationship?

Passion …

— helps you get closer to one another. There's less of a need to critically analyze one's character and personality. This love-is-blind component helps you tolerate your lover's faults and get along better.
— motivates you to work harder for the relationship. It increases areas of the brain associated with euphoria and reward.
— fulfills your needs, e.g., self-esteem, nurturance, dominance, submission and self-actualization, making it even more of a personal investment.
— keeps you happier, decreasing levels of brain activity associated with distress and depression.
— is the ultimate aphrodisiac. Research continues to find that passionate love and sexual arousal are tightly linked."
By the way:
The above excerpt is another reason why sex or passion outside of marriage isn't a good idea. Before getting married you shouldn't be suppressing the areas of your brain responsible for critical thinking–this would be shutting down important warning signs and red flags!  You don't want the "love is blind" component or the extra bonding that passion brings until you're sure this is the right person to spend the rest of your life with.
Another excerpt later in the article:
Unless you're perfectly fine with a ho-hum relationship (and I suppose some people are), don't brush it off as "it's just not there." Don't let what everyone — and what research — dictates as a time cap on passion become a self-fulfilling prophecy. You can stay passionately mad about each other. It just takes work!"  Read the rest of the article.
I also found this: Secrets of rekindling romance and passion in your marriage.  Here's one more:  Married, with Passion: "Marriage is an exercise in mutual submission.  Admittedly, there are times you're too pooped to whoop; but if you're the only one too pooped, you may be willing to whoop anyway because you know that will please your spouse."
Passion in your marriage…what passion?
Now, if you're one of those who would say, "We never had passion in the first place", don't try to use that as an excuse to settle. I heard Dr. Phil use this great quote a few years ago, "Sometimes we make the right decisions, and sometimes we make the decision right." Imagine if people lived by that and didn't give up so easily!
Love and passion is a lot like running:
It's much much more about what we are telling ourselves than anything else.  I know someone whose voice in her brain is constantly saying, "I'm not attracted to him", or "He doesn't know what he's doing in bed", and even, "I've never loved him", then of course things are going to be horrible in the relationship and in the bedroom!  Instead, start looking at and dwelling on the things you love about your spouse; if you can't find any, then look in the mirror and face your own negativity. Ask yourself what is your payback for continuing to live like this and not making the effort to get things better? What are you getting out of it that you're hanging onto?
(Be sure to see the resources and then the comments below if you are in a "sex-starved" marriage, it's much more common than you think, and not just men who suffer as society tells us.)
For Kent and I…
I'm not saying that everyday is always going to be hot and romantic. Kent and I will sometimes go a few days where it seems like we've hardly even talked, let alone touched, amidst all the kids' shuttles, school work, dishes, laundry, errands, etc., but we usually miss each other and feel disconnected so we make a point to get back on track.  😉  We stay playful when the kids aren't looking, or sometimes when they are!  We definitely have enough great times together to keep the spark alive.  We've always been fairly good at communicating, and NFP has played a big role in our marriage–it keeps things interesting, ha!  We also make sure to plan date nights–it's amazing what speaking in full sentences can do for a marriage.  All of these things are important.
Here's another great article on keeping the heat and passion in your marriage amidst everyday life:  Habits of Hot Marriages:
We still vie for a hot marriage. I actually think about it. I see him through the kitchen window mowing the lawn, shirt off, hot and sticky, flecks of mud and grass stuck to his chest. And I think "hmmm…." He walks in from a long day of work, tie loose at his throat, and sits with our little girl and reads with her. It's just plain sexy.

But then dinner boils over and milk is spilled at the table, I scrub pots and pans, mop up messes, call out Science lab terms to my 6th grader, turn over a load of laundry and remind someone to feed the dog again. I walk outside to dump half-empty water bottles into my pots of wilted flowers and I'm greeted with the foul odor of the septic system. My husband heads out to Home Depot for chemicals because some things that stink just can't wait. I'm left to do baths and devotions and by the time he returns, I can hardly keep my eyes open. Tomorrow is filled with much of the same, a lesson here, a church group there… life has a way of going from Monday to Thursday in a snap and I can hardly remember that hot guy mowing the lawn.

I can confirm the temperature because I have known the extremes: a cold marriage, filled with contempt and misery. A lukewarm marriage, perhaps the worst, filled with idle days, stagnant affection and distant intimacy.

We have lived every season — from unemployment to sickness to grief to sheer joy. Our favorite by far: White hot. It's also the most difficult to maintain.
Some suggestions for getting back the passion in your marriage
I know life is sometimes very difficult, and I know that some spouses are very difficult to live with.  What I'm talking about here won't apply to everyone or every circumstance. But for most people a few things could make a big difference:
A no-brainer: you MUST learn to communicate better with each other, whether it's about your needs, your pet-peeves, the good, the bad, all of the above.  Get some good counseling if necessary. (Many insurance plans cover it.)  Kent and I sometimes get over our blow-ups via email or texts, it keeps things calm and you can think before you say something.  🙂
Look at yourself and how YOU could change. It's amazing how this softens the heart in the other spouse and makes them want to change, too.  Analyze your own selfishness issues – we all have them. Read this Gary Smalley book. (But only read the section for you, not the part for your spouse…trust me on this.)  Here's another one a friend recommended:  Love & Respect: The Love She Most Desires; The Respect He Desperately Needs.
Most importantly, ask God for help. One of my favorite verses: "Nothing is impossible with God" Luke 1:37. He wants your marriage to be strong and healthy even more than you do. I remember a time when I thought there was NO WAY things could ever be good between Kent and I again, there were just TOO many "issues". It wasn't very long after I'd had that thought that almost everything was resolved…only God could pull that off. (Read more about that here.)
Don't settle!
Do NOT settle for less than what your marriage could be. If you have kids you must know that they are watching you. Is this the marriage you would want for them? If not, then give them a solid example of what a healthy marriage looks like.
Bottom line
Passion in your marriage = closer relationship = better marriage = stronger families = happier and less stressful lives = healthier bodies and peaceful souls!
More that might help you:
***Read more: Are Purity and Abstinence possible?