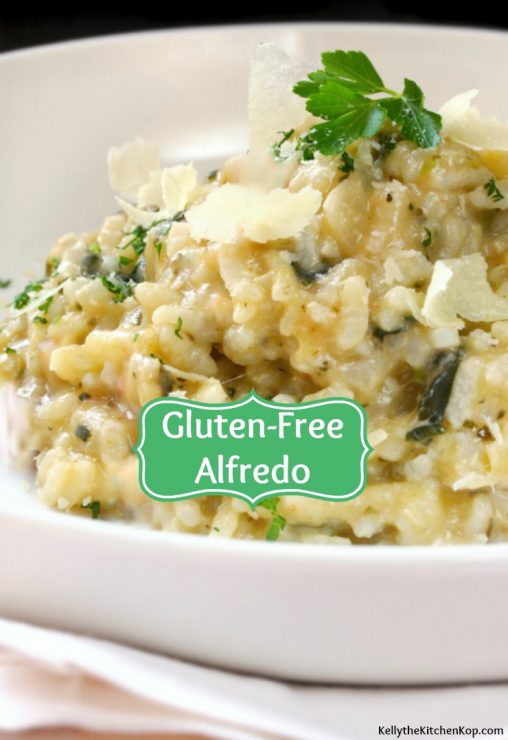 We enjoy grain-free meals around here sometimes, but by no means do we eat that way every day and it's not my specialty.  So recently when my friend Nancy, who eats grain-free, was sick and said alfredo sounded good, I knew I needed to be a big girl and figure out a gluten-free alfredo sauce recipe!
Regular fettuccine alfredo, and any recipe with a creamy white sauce or cheese sauce as a base, is my specialty, but I always use my favorite thickening agent:  Einkorn flour, so instead I grabbed what I'd had good luck with in the past as a gluten-free sauce thickener:  arrowroot flour.  I also grabbed some turkey broth and turkey that I had in the freezer and went to work.  Thankfully it turned out really delicious!  I made a double batch so I could take one to our friends and feed our family the other one.
By the way, have you seen this video:  Special Diets Screwing Up Dinner Parties Everywhere!  Or this post:  Could THIS be the answer to the gluten sensitivity epidemic?!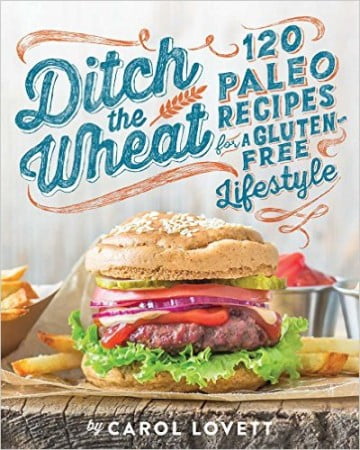 And also, I'm enjoying this new beautifully photographed paleo cookbook:  Ditch the Wheat.  I can't wait to dig in and try some of these recipes that look SO good like the chicken fingers (our son's favorite), or the onion fries, which are like onion rings only made with arrowroot flour.  I can't believe how much easier it is to eat paleo these days than it was even a couple of years ago!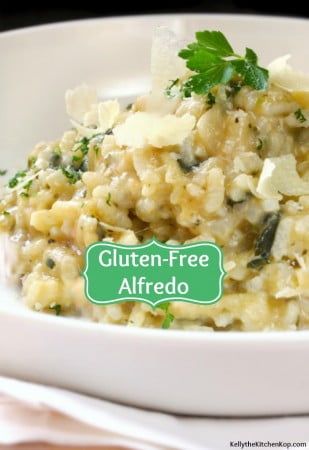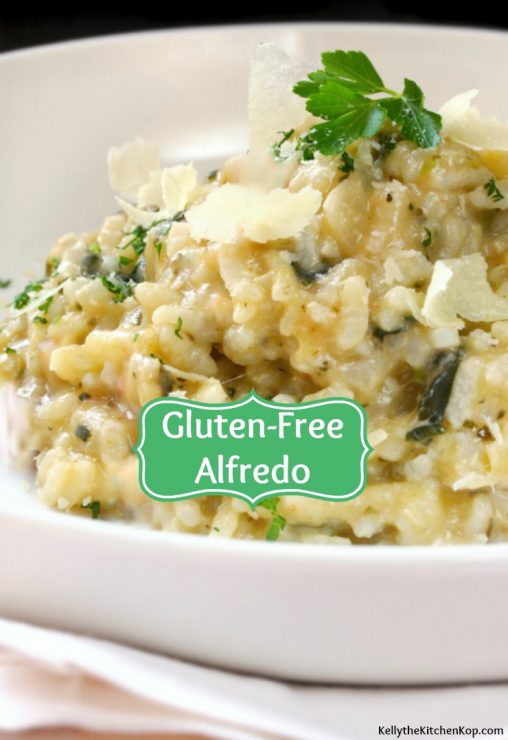 Print
Gluten-Free Alfredo (with rice)
Ingredients
About 4 cups turkey or chicken broth (doesn't have to be exact)
1 1/2 cup of your favorite uncooked rice
8 Tablespoons (1/2 cup) butter
1/2 onion, chopped (or 1/2 teaspoon onion powder)
1/4-1/2 teaspoon (or more to your taste) any of these optional seasonings:  oregano, parsley, Italian seasonings, paprika
1/2 cup arrowroot flour
1/2 cup water
1 cup cream or milk
1/2 teaspoon sea salt
1/2 teaspoon pepper
1/2 cup shredded Parmesan cheese (not pre-shredded — those always have lots of icky preservatives in there)
2 cups cooked and chopped chicken or turkey
More Parmesan and/or mozzarella cheese for the top
Instructions
Start cooking the rice according to the timing on the package directions, but use the amounts of rice and broth above (you want extra liquid when you're done).
Melt butter in a medium sized saucepan.  If you're using fresh onion and garlic, add it to the butter and sauté.  In the meantime, stir the water into the arrowroot flour in a separate bowl, whisk well, and then whisk into the melted butter once the garlic and onion are lightly golden.  Add the milk slowly and keep whisking, it should thicken a little, but not as much as when you use flour in your white sauce (also called a "roux").  Add cheese, sea salt and pepper, and dried garlic and onion (if you didn't use fresh) and any optional seasonings.  If it looks like it's curdling a little, don't fret, mine did that too, but it comes out great in the end.  Once it's mixed well, pull it off the heat and let set.
When the rice is soft, stir the white sauce into the rice and broth, and add cooked chicken or turkey.  Stir a few minutes and as it thickens a little, check the flavor.  Keep taste-testing (I use 2 spoons so I'm not double-dipping!) until it's so dreamy you can't stay out of it, that's how you know it's ready.  It may need more garlic powder, or more sea salt and pepper.  I added quite a bit more of all of those, but it's all just to your own taste.  If you want it a little creamier, add more cream or milk.
You can serve it like it is now, in bowls with extra parmesan on the top, OR to make it extra tasty, spoon it into a buttered 9×13 baking dish, top it with a bunch of mozzarella and more parmesan, and bake just until it's hot and the cheese is melted and a little golden on the top, and you've got yourself a HIT for dinner
Did you make a real food recipe?
I want to see it! Tag @KitchenKop on Instagram and hashtag it #KitchenKopRecipes OR share anything you know I'll love by tagging @KitchenKop and hashtag #KitchenKop -- see you over there!
(p.s.  Sounds as if I may have been over-thinking this recipe a tad, be sure to check out the comments below for another way to make it; and to highlight my poor memory issues, apparently this was already pointed out to me in the comments at my other alfredo post!)
Related posts: