We saw something similar to this barbecue ranch chicken nachos recipe on Diners, Drive-ins, and Dives, but I'm sure these were MUCH better because of all the real food ingredients.  Just sayin'…  We scarfed these down and had to get another pan into the oven.  And once we tried this sauce (I just threw it together and nailed it, if I do say so), we have since used it for all sorts of other things, like on homemade sub sandwiches, as a vegetable dip, or…  I'm eating sorta low-carb these days, so I just put all the veggies onto a bed of lettuce and used the barbecue ranch as a salad dressing.  Oh. My. Gosh.  It was super flavorful and satisfying.  🙂
Barbecue Ranch Chicken Nachos
Ingredients:
Boneless, skinless chicken breasts, about 4 or 5, depending on how many you're feeding, preferably from a farmer you know and trust to raise his chickens humanely — if you don't have a good local source for safe, healthy meat, you can order it here.  (Kitchen tip:  Make extra of this chicken and freeze some for a quick dinner another day!)
Sauce:
Cheddar Cheese, shredded
Lettuce, cut into shreds or bite-sized pieces
Tomatoes, cut into bite-sized pieces
Limes, if desired
Instructions:
Start by throwing some frozen boneless, skinless chicken in a crock pot in the morning with some bone broth from the freezer.  (You always have a bunch of that in the freezer, too, right?)  Also add the onions and/or garlic if you want to, for extra flavor.  About an hour before it's time to eat, it should be falling apart, so just shred it with a fork and stir in the cumin and sea salt.  Mix the sauce ingredients together and do your chopping.  Preheat the oven to 350*, and now it's time to assemble:
Line a cookie sheet with parchment paper for easier clean-up, trust me.  🙂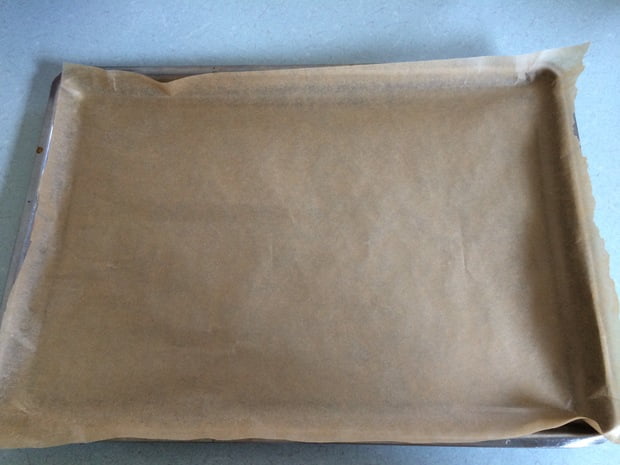 Spread out the nacho chips.
Spread the chicken over the chips.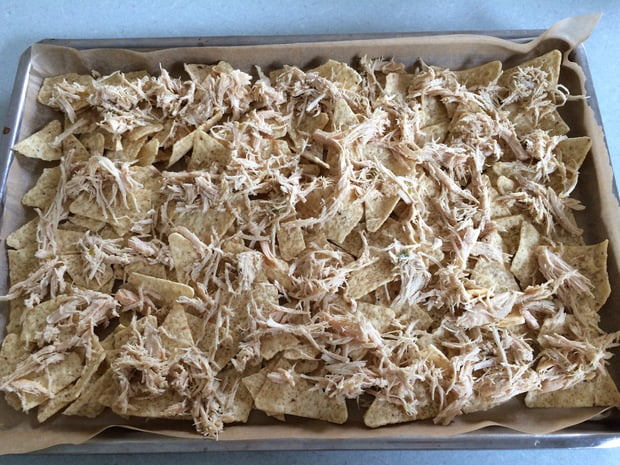 This step I didn't get a picture of because the phone rang and I was gabbing, but just dollop the sauce around the whole pan.  Next sprinkle the cheese around.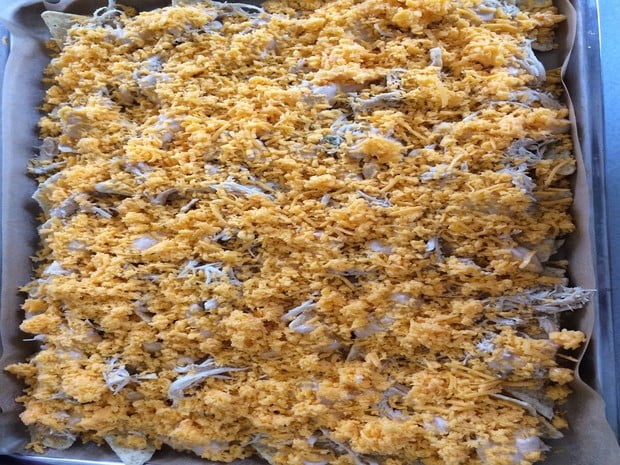 Bake for about 10 minutes, or until the cheese is melted and the chips are getting a little brown on the edges.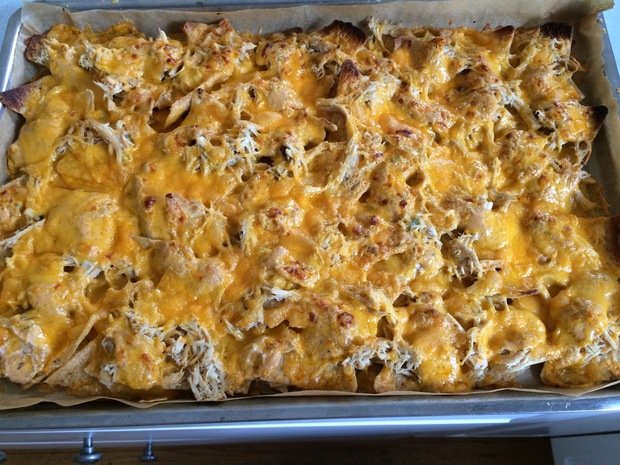 Sprinkle on any of the extras that your heart desires.  I only had some parsley and cilantro from our pots on the deck.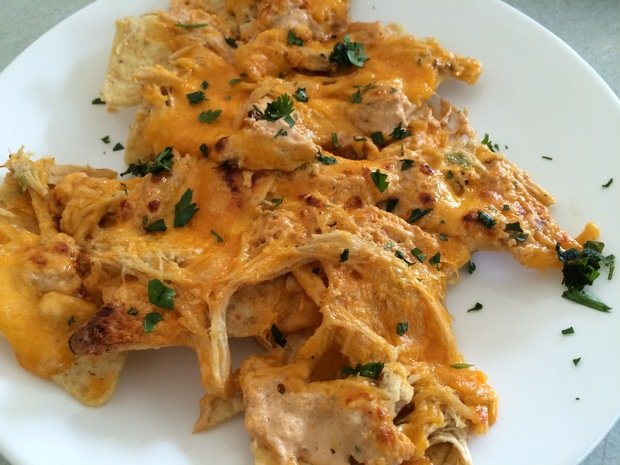 Add some lettuce…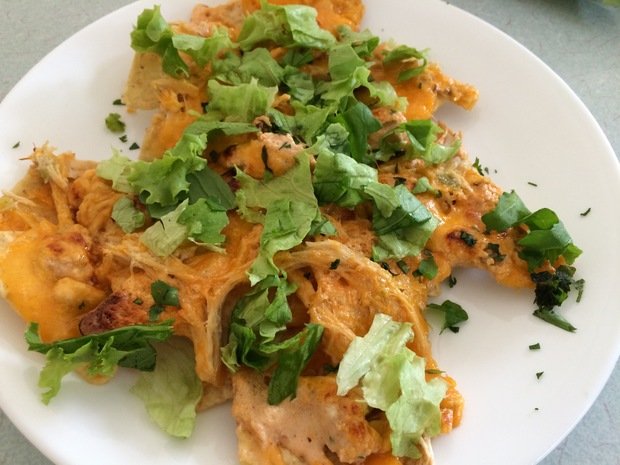 Then throw on tomatoes, preferably fresh from your garden or farmer's market.  🙂  Add extra sauce on the side for dipping and squeeze some lime juice over the top if you love it as much as we do!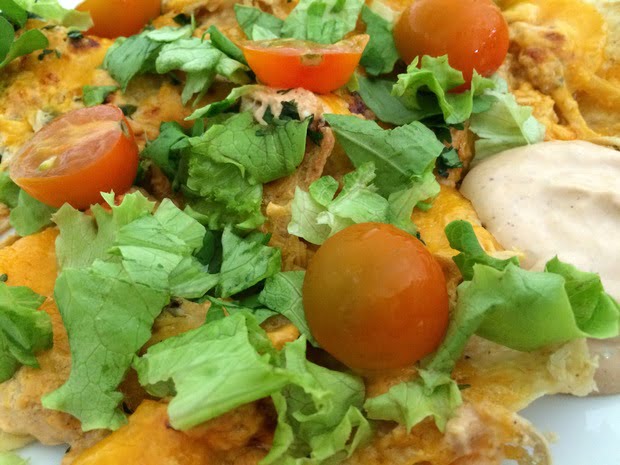 Now dig in, and let me know what you think of all this deliciousness!
While I was waiting for these to bake, I threw some chicken and tomatoes on a piece of lettuce and drizzled sauce over top for a YUMMY lettuce wrap: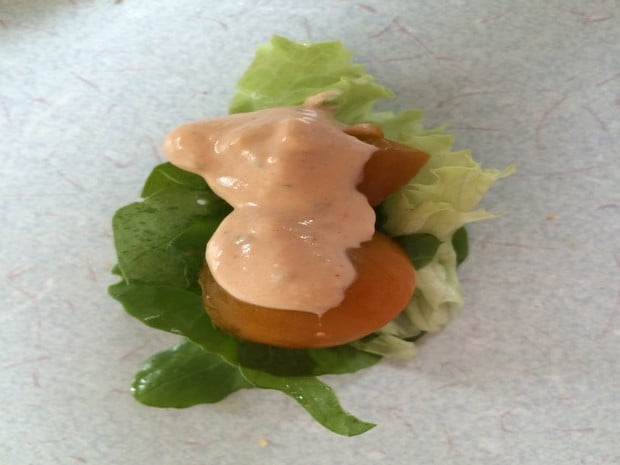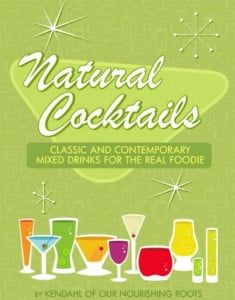 You could serve these with:
Meal Planning Help!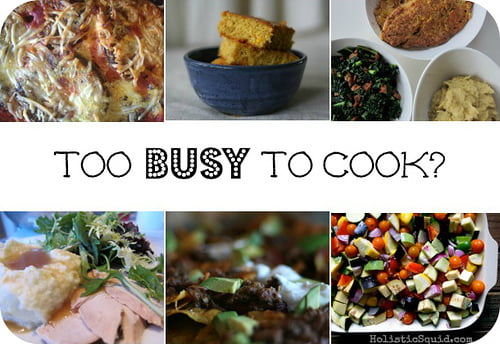 Sick of planning meals and answering the question, "What am I going to feed these people?" No matter what kind of eater you are (traditional, GF, paleo, vegetarian)… Check out these affordable interactive easy-to-use meal plans where the work is done for you.  NOW recipes also available from Nom Nom Paleo, The Paleo Mom, and Wellness Mama all in one spot!  You can read over my review here.