Do you or someone you love struggle with anxiety and/or depression?
One of my most visited pages here on the blog is a guest post written by my friend, Jill, about How to Fight Depression and Anxiety Naturally.  It's bad enough when an adult struggles with this, but when it's our teens or preteens, well that can be even more heartbreaking.
Recently a reader in this situation emailed asking Jill for advice, so I wanted to share the conversation below in case it can help any of you going through something similar…
I visited your page today on healing anxiety naturally.  I am a father of an 11 year old son who is showing some of these signs along with panic attacks, and I want to help him get over his fears and anxiety.  Is there is a way to get in touch with Jill for some advice?  She seems to be doing good for many years and is a great inspiration.  Thank you so much for your help.  You bring hope to a lot of people who go through this and want to get over it without using prescription drugs."
Before Jill's reply, I've got a few ideas you could also try: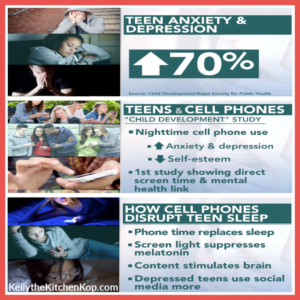 Keep in mind that all of the technology our kids have at their fingertips has not been helpful, as most of us know.  Watch the video here that goes with the photo above.
Here's Jill's response:
Kelly sent me your email address and the message you sent her about your 11 year old son who is experiencing anxiety. All I can share is my own experience and observation with that type of thing, since, as you know, I'm not a doctor and can't give medical advice.
My husband and I noticed a similar issue in our own kids when they were about the same age as your son. They both experienced anxiety and depression, though being very different personalities, and one being a boy and the other a girl, it was expressed a little differently. My daughter is the older of the two, and the first to go through that difficult stage. An online search of panic attacks and anxiety in young teens led me to an interesting bit of information about that (if I recall correctly it was on a Focus On the Family website).
I read that low blood sugar can be a problem at that age, and can trigger anxiety.
So we began to observe more carefully and noticed that if she ate a bunch of junk food or sugar, she tended to have an episode of anxiety about 30 minutes later! If she skipped a meal it also tended to occur. We experimented and found, at least for her, when she started to feel symptoms (shakiness, nausea, anxiety, etc…) that if she had a protein shake/smoothie it would usually go away! Of course, I can't say that would help in your situation, but it might be interesting to try. For a couple years she carried a juice box and a bag of almonds with her wherever she went so that if she started to feel bad when she was away from home, she could eat a snack quickly, bringing her blood sugar up, and it would usually work well for her. We knew a couple other families at the time whose young teens (both girls and boys) had the same symptoms that also improved the same way. As a matter of fact, when we learned that our friend's daughter, who was her age, was experiencing the same thing, we encouraged the two to talk to each other about it. It helped them both to feel better knowing they were in good company and were able to understand and support each other!
My son, on the other hand, just seemed to have a rough go at puberty, but didn't necessarily have the same type of low blood sugar symptoms that my daughter did.
It is such a difficult age, I think for most kids. Hormones are changing quickly, they are transitioning from childhood into adolescence, their understanding of the world grows and changes, peer pressures and challenges… So much so quickly. And it seems that kids that age (heck, even us adults) don't share with each other about those struggles, so as common as it is, most of them probably think they are the only ones. We encouraged him to talk with us (which seemed helpful), and tried to be as supportive and encouraging as we could.
The basic recommendations in the article I wrote for Kelly (click that link to read it) are probably good to apply to young people as well–eating healthfully, getting exercise and sunshine, adequate sleep. None of those approaches could hurt, that's for sure. There are some good websites–like Focus on the Family–that have great advice for parents with teens.
You probably know your son better than anyone else, so if you feel like his situation is more serious than common puberty difficulties, it might be a good idea to talk with a counselor–maybe a counselor at his school if you know of one you like and trust–or your son's doctor. I hope some of that is helpful. So sorry your son is struggling. It is painful for us parents to watch our children suffer. Bless you both!   Jill
p.s.  Rescue Remedy is a very safe, natural supplement for episodes of anxiety that is popular for all ages, and even animals.  You might want to give it a try! 
Jill, thank you so much for your help again!
Also, a similar conversation came up recently on Facebook, so if you want to check out the conversation there, you might learn more that way, too.
I would also suggest seeking help from a natural-minded doctor if necessary, and maybe you could get help finding one at your local WAPF chapter?
We could use your help!
If you have a teen who has struggled with this, would you be willing to share a little of your story in the comments below and what helped you??  Thank you!
Lastly, I'm starting to learn more about homeopathy these days, and I'm sure Joette also has some good options for anxiety and depression in her Cure Yourself kit.