Today I have an example of what I pulled off last week with some leftovers, along with this homemade biscuits recipe — these were so delicious!
It started with a pork loin in the crock pot.  We had that for dinner one night.  A couple days later I saw the leftover pork in the fridge, and since we spend so much on healthy meat, I surely never let it go to waste.  So I threw that into a pot full of chicken and beef stock that I'd had in the freezer, seasoned it (a crucial part), added veggies, and we had soup that night.
I made too much, as usual, so I decided to make "Pork Ala King" for dinner.  This can be "Chicken Ala King", "Beef Ala King", or "Ala-whatever you want".  I thickened my soup (with a flour/cold water paste — equal parts, about 1/3 cup, and stir well), and served it over homemade biscuits.
Three meals from one night's meat – not bad!
Homemade Biscuits Recipe



These biscuits don't follow Sally Fallon's recipe in Nourishing Traditions (I didn't think they were as good as these), but they are "cheater biscuits" as she calls hers, because there is some white flour.  I've tried all whole wheat and they didn't turn out well at all.  So I compromise and use part organic unbleached white flour, and part whole wheat pastry flour. ("Pastry flour" means it was ground from soft wheat berries, as opposed to hard wheat berries, which you generally only use in yeast breads.  Sprouted grains are even better — have you seen the post about why sprouted grains are so nutritious?)
I'm going to double these amounts from now on so it'll make about a dozen thick biscuits…
Ingredients:
3 cups of your favorite flour — I use a lot of Einkorn these days — you could also use 1 cup sprouted flour (see note below if you don't have sprouted flour) + 2 cups organic white unbleached flour
2 Tablespoons baking powder (without aluminum)
2 Tablespoons sugar
3/4 teaspoon cream of tartar
3/4 teaspoon sea salt
3/4 cup shortening (I use this shortening)  (***Next time I'm going to try cutting this to 1/2 cup shortening and adding in 1/4-1/2 cup pea-sized hunks of cold, maybe even frozen, pastured butter.  I want to see if this will add a nice buttery flavor as it melts while baking.)
1 cup milk — maybe a little more so the dough isn't dry (See below for buttermilk variation and other variations too)
Instructions:
Stir together the first 6 ingredients by hand (they're better that way), then add the milk.  Stir just until dough clings together, if you over knead they won't be good.  If it feels too dry, add a bit more milk.  Now you can either roll them out onto a floured counter and cut them into circles, or if you want the easy way, like I do, then grab some, roll a ball in your hand, and flatten onto a buttered cookie sheet (not Teflon).  Don't make them too thin or they'll get hard when they bake.  I make a ball a little smaller than a tennis ball and then flatten only a little, this way they come out thick and fluffy!
Bake at 375* for 12-15 minutes or until golden brown.
My Better Homes & Garden's cookbook had some variations to try for this homemade biscuits recipe:
–For buttermilk biscuits (I think I'll try this next time) add 1/2 teaspoon baking soda and substitute  1 1/4 cups buttermilk for the milk. (Here's how to make buttermilk.)
–For cornmeal biscuits replace 3/4 cup cornmeal flour for some of the other flour.
–For garden biscuits add in 2 Tablespoons finely chopped carrot, 1 Tablespoon finely chopped parsley, and 1 teaspoon finely chopped green onion to the mixture.
–For sour cream biscuits replace 1 1/2 cup sour cream and only 3 Tablespoons milk.
If anyone has tried these variations, let us know how they come out.  I've always heard of "buttermilk biscuits", but don't know how they are different than the regular ones.  Are they fluffier?
UPDATE 5/09:
I just made these using part sprouted spelt and with the buttermilk variation – they were better – more light and flaky!  ***Also, be sure to read the comments for some GREAT tips!
Note – if you don't have sprouted flour but want a "soaked" flour recipe: Start making these at least 7 hours ahead (up to 12 hours is even better) so they have time to soak, and instead of sprouted flour, use regular pastry flour (from soft wheat, not hard wheat), and instead of milk, use yogurt, whey, or buttermilk.  Mix just those two ingredients together and let set at least 7 hours (or as long as you've got, anything is better than nothing).  Later add the other ingredients and finish the recipe.  Now you'll have at least some of the phytic acid in the whole grain broken down and more nutrients available for your body to use.
Please share examples of how you got creative with leftovers, or let us know of any "general" tips you know of for using up what you've got, too!
Meal Planning Help!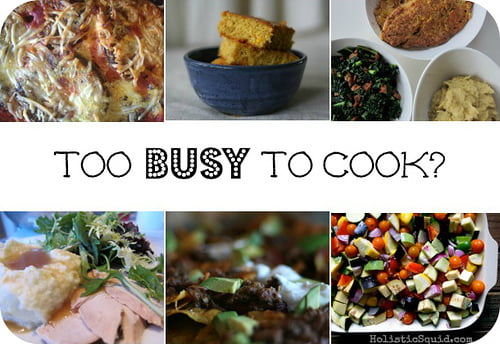 Sick of planning meals and answering the question, "What am I going to feed these people?" No matter what kind of eater you are (traditional, GF, paleo, vegetarian)… Check out these affordable interactive easy-to-use meal plans where the work is done for you.  NOW recipes also available from Nom Nom Paleo, The Paleo Mom, and Wellness Mama all in one spot!  You can read over my review here.