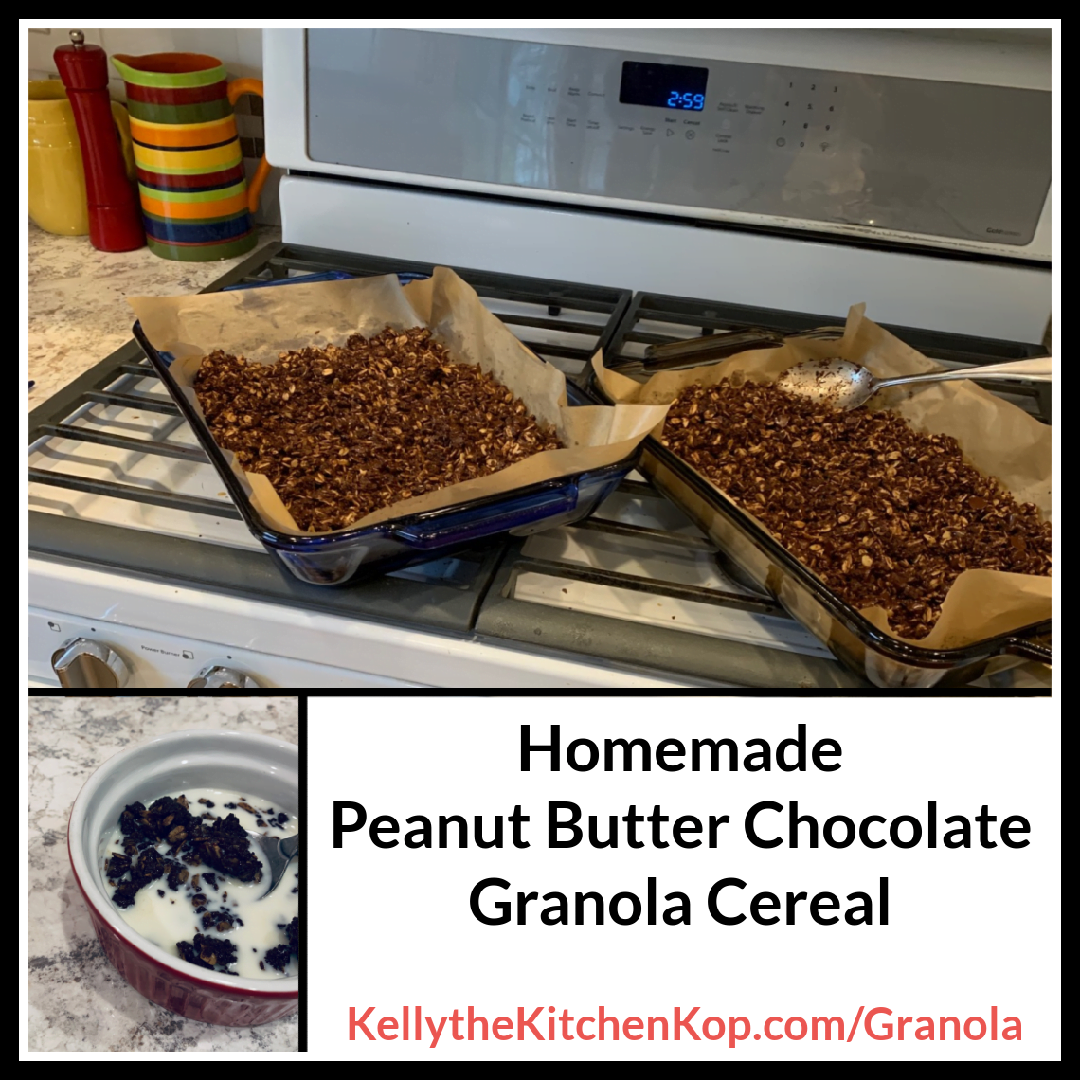 My friend Patti cuts my hair and one day when I was over there, she had me try the granola recipe she was playing around with.  It was so good!  So I used her recipe and Nourishing-Traditionized it a bit, then made my own peanut butter chocolate version with some superfood add-ins.  It was a hit and the kids love it with our fresh raw milk from the farm.  This makes a nutrient-dense breakfast, loaded with all good things, and the best part is that I found this sprouted organic oatmeal, so there's no need to soak or prepare the oats ahead of time!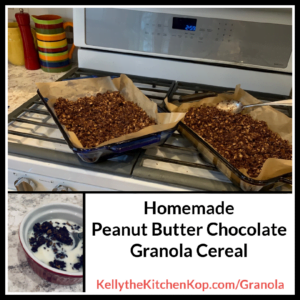 Print
Peanut Butter Chocolate Granola Cereal
Yield About 6.5 cups
This peanut butter granola cereal is good with milk, over yogurt, or just by the handful!  The best part is all of the superfood add-ins and how it tastes a bit like no-bake cookies!
Instructions
Preheat oven to 350*.
In a large saucepan add the peanut butter, coconut oil, syrup, sugar, cocoa powder, salt, colostrum, and collagen powder--heat and whisk until it's all mixed well together.
Remove from heat and stir in the vanilla.
Stir in the oats, then spread into 2-9x13 baking pans lined with parchment paper for easy clean up.  I LOVE these pre-cut parchment sheets.
Bake for 15 minutes, stir.  Bake another 15 minutes, stir.  Turn your oven down to 200*, sprinkle a half bag of chocolate chips around each pan, and bake another 15 minutes--check to see if it's starting to crisp up.  This timing was perfect for my oven, but you may want to bake it a bit longer--you want it crispy but not hard and burnt.  It'll crisp up more as it cools too.
Let it cool then break it up a bit and store it in a sealed container or baggie in the fridge to keep it fresh longer, although ours doesn't last long.
Serve with raw milk or if you don't have that, at the LEAST always use whole milk and never ever ultra-pasteurized.  (Read more about healthy milk options here.)  You could also serve over yogurt or just eat it by the handful.  🙂
Did you make a real food recipe?
I want to see it! Tag @KitchenKop on Instagram and hashtag it #KitchenKopRecipes OR share anything you know I'll love by tagging @KitchenKop and hashtag #KitchenKop -- see you over there!
More you might like: