Are Keurig Coffee Makers Safe?  Hint: Did you ever think about the plastic in Keurig coffee makers?
We all know that keeping heat away from plastic is the biggest way to avoid plastic toxins in your life.  However, if you're a little slow like me, maybe it took you a while to make the hot coffee and plastic connection…
First, what's so bad about plastic?
Read this Plastic Dangers post to learn more — also there you'll also find out which safe water bottles we use for the kids to take to school or practice, etc., and get 5 plastic safety tips.  (This link lists the different plastics with information about each — Okay ones: #2,#4,#5; Avoid: #1, #3,#6,#7.)
Is the Plastic in Keurig Coffee Makers Safe? 
Notice the picture above — I've never had one of those handy, but expensive, Keurig coffee makers, which uses pricey individual coffee refill packages made of plastic — can you say endocrine disruptors?  But we did have a typical coffee maker on the counter with plastic all through it, and I also used a plastic one-cup "pour-over" type of gadget for my everyday coffee.  When I began thinking more about this, I knew I had to do my research and here's what I ended up with…
What we use for coffee now, all plastic-free!
I love our new percolator coffeemaker, made of all stainless steel!  It's super easy too, now that I've got the insides figured out.  We only use this one on the weekends or when we have company over.  Some people say percolator coffee tastes better than coffee in a regular coffee pot, but I don't notice a difference.  It just feels good knowing that it's not touching any plastic.
I bought this new pour-over type one-cup coffee maker made of porcelain for everyday use, instead of making a whole pot in the percolator.  You just put the filter in, add coffee, pour hot water over the top and it drips into your cup.  There are others who say this is the only way they like their coffee, but again, I don't notice any difference.  (It all tastes good to me as long as it's not dark or acidic tasting like Starbucks, ick.)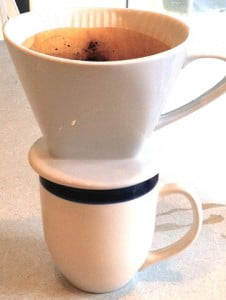 With the one-cup coffee maker above, I just use hot water from our hot tap at the sink (or a teapot), which I love. (Read how it helps me avoid using the microwave.)  But now we're on our third one.  This time, duh, I read the reviews and didn't get the Insta-hot again.  Instead I got this hot water dispenser, which had great reviews.
Notice the 'natural' filters that I found with no bleach.  I'm going to have me a darn good cup a coffee before I'm done with this whole ordeal!  Here are the unbleached filters OR I recently found these reusable cloth filters, but they're not as handy.
When I do get coffee from a coffee shop, I always bring my stainless steel refill cup so I don't have to use their nasty plastic or Styrofoam "chemical" cups.
So don't hate me for telling you to avoid the plastic in Keurig coffee makers.  
I'm really not a paranoid, super anal person… well, not as bad as this post is making me sound, anyway!  I just like to avoid the junk wherever I can.
Should we even drink coffee?
You may be wondering about this.  Read what my friend, Kristen, has to say in this balanced post:  Should you drink coffee, she basically says that a little may even be beneficial, as long as you have no issues from drinking it.  And here's a little more on that from Dr. Teplitsky:
"There is a persistent belief that tea (especially green tea) is good, but coffee is bad. Many think that coffee can cause high blood pressure and even increase the risk of heart disease and that in general it should be avoided. However, it is not true.  In fact, coffee is full of beneficial substances, especially antioxidants, that are just as good as those found in tea leaves."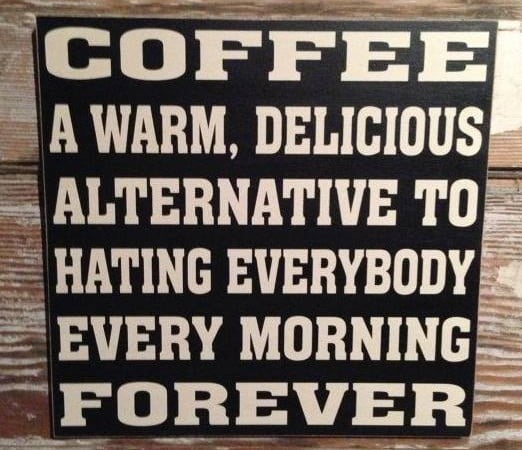 One more quote:
"According to WebMD, people who drink coffee are less likely to have diabetes, Parkinson's disease, and dementia. And they may have fewer cases of certain cancers, heart rhythm problems, and reduced risk of stroke."
(Read the rest of that article from Dr. Teplitsky.)
I don't drink it every single day, just most days.  I don't like it sweet, just black or with real cream.  So I'm not planning to stop anytime soon.  If I sound like the person justifying their one-pop-a-day habit, then I'll just say that a cup of unsweetened coffee a day is a MUCH better choice!  Those of you who drink a frou-frou, sugar-loaded, or sugar-free (just as bad), $4 a day cup of coffee, though……  Umm, you might want to get a new habit in place…I'm just sayin'…
Other hot drinks:
I like tea now and then if I've already had some coffee that day and want another hot drink (or a cold refreshing drink in the summer).  Here's where you can get a delicious and safe cup of tea.
I also just got some fresh ginger last week to try ginger tea, which Dr. Natasha Campbell-McBride recommends in the GAPS Diet.  (I'm also making more fermented ginger carrots this week, yum!  They're a great way to get more fermented foods into your diet.)  The tea will have to grow on me more, but I think I like it.
I looooove sipping on a hot cup of homemade broth on cold mornings.
Let me know what you think about all this, and what's your favorite hot bevie?