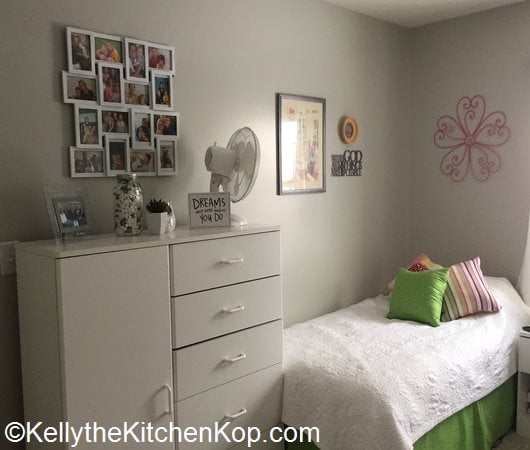 Hey friends, it's been a while since I've done a "Mix-up", where I share more personal stuff about what's been going on around here along with other random health info, because somehow it takes forever to pull together these posts, but I'm "feeling it" today, so here we go…
Even though it's not at all related to food or nutrition, today I'm sharing some pictures with you from our recent home remodeling projects that I thought you might like to see!  But if that doesn't grab you, scroll down to the other more health/blog-related stuff below.  🙂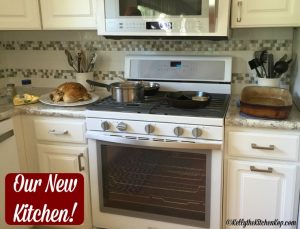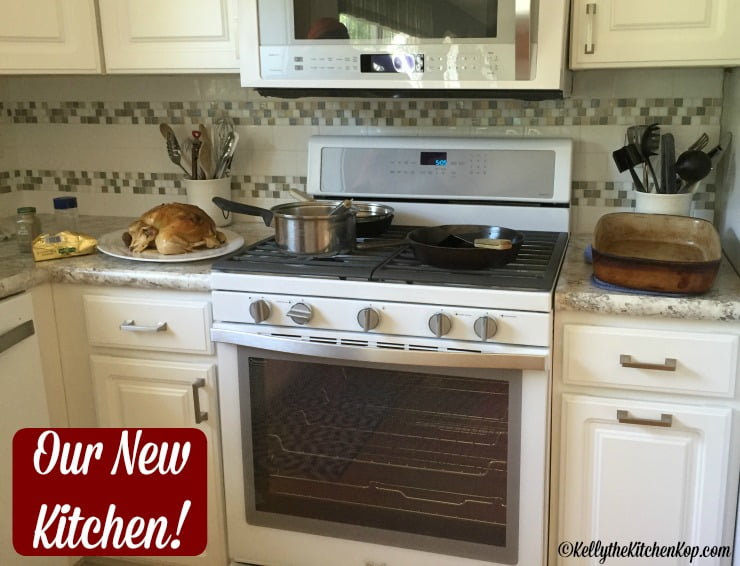 Remember last year we remodeled our kitchen?  
(See kitchen pictures and a video tour here.)  Next we started saving up to replace our deck.  (Update:  here are our new deck pics!) It's amazing how much falls apart after you've lived in a house for 20 years.  BUT our daughter has been asking forever to have her room redone, and she saved up a chunk toward it, so we were just going to have her room painted…
Well just like with our kitchen remodel and the book, "If You Give a Mouse a Cookie", somehow that turned into remodeling two bedrooms and 3 bathrooms.
"If we're going to have the painter paint her room, I may as well have the office painted.  If she's painting those two rooms, we may as well have her paint the kids' bath where we had to have those spots patched.  And I always hated the wrong yellow in the mudroom, so we may as well have that fixed…"  You get the idea.
So today I'll just show you my office and 2 bathrooms.  
Next time I'll show you our daughter's room and the other bathroom because those still need a couple more finishing touches.  (Update:  now you can scroll down at this post to see those pictures.)  Note that when Kent and I both get snoring (thanks a lot menopause), which is a lot lately, I also sleep in the office, so it's sort of my bedroom, too.
(In case you're wondering, here's where I found a lot of the items pictured below.)
Here are our before and after half-bath pictures… First our mudroom bath before: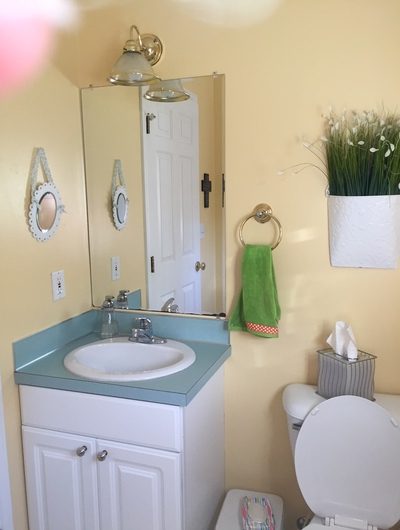 And after: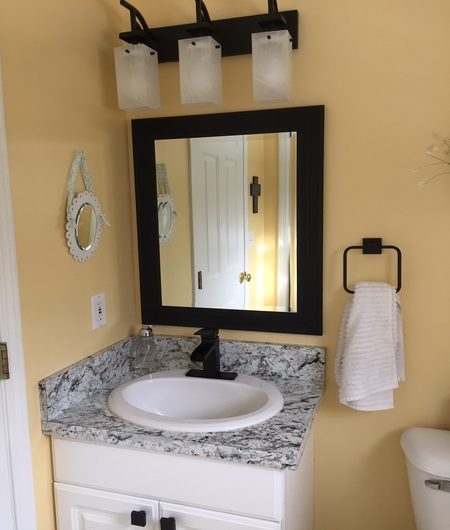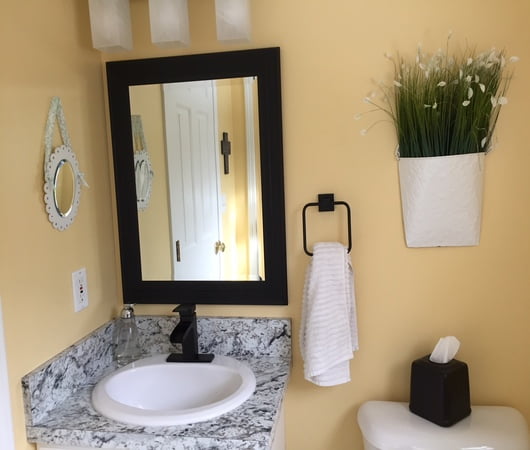 This is our downstairs half-bath, we just got a new mirror, new light, towel rack, and other accessories.  Before: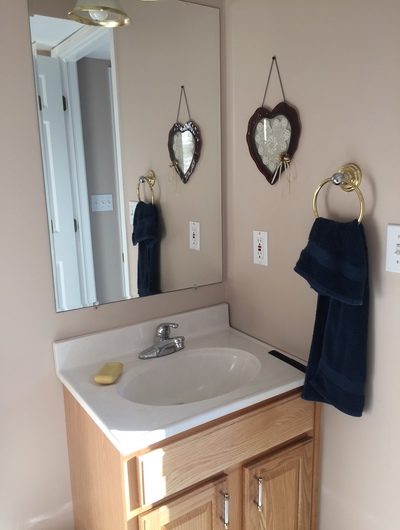 After: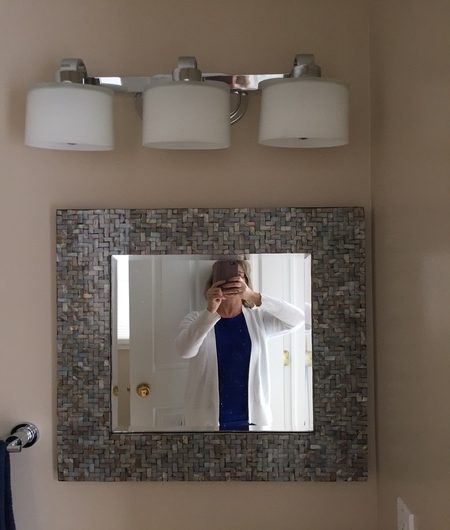 And in case you're wondering, yes, it does drive me crazy seeing this picture now and realizing the light fixture is not centered on the mirror.  Not sure how that happened………….. UGHHHHH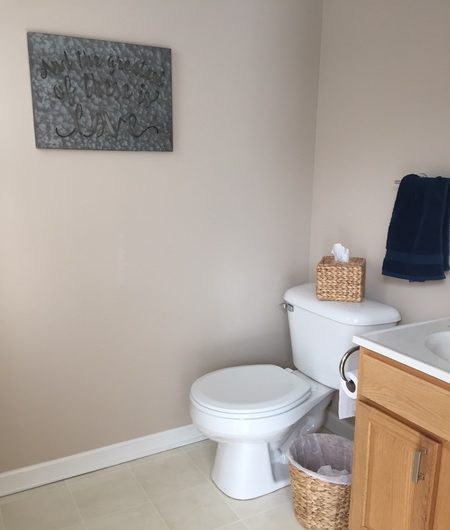 So nothing too exciting, but I love the new mirrors in both baths and the other new stuff.
Now for the really fun part:  my new office!  
I'm just throwing up a whole bunch of pics, so feel free to scroll right on past if this isn't your thing.  🙂
It's really sad when your kids start to grow up and leave home, BUT the only good thing is that it frees up another room to have my own space to work.  I'm finally getting around to making it cute in here.  My sisters helped me pull all of this together and even though our daughter told me that it reminds her of an ice cream shop (lol), I LOVE the pops of color and it's just what I wanted!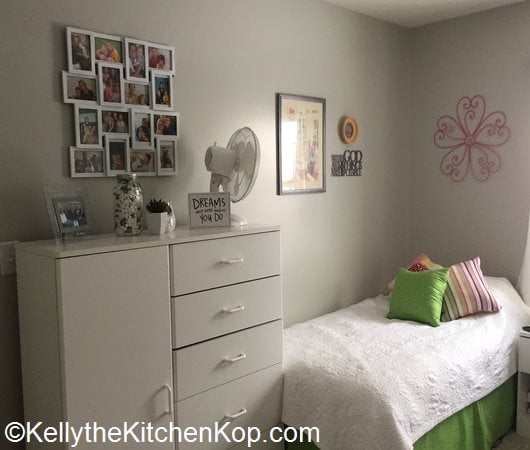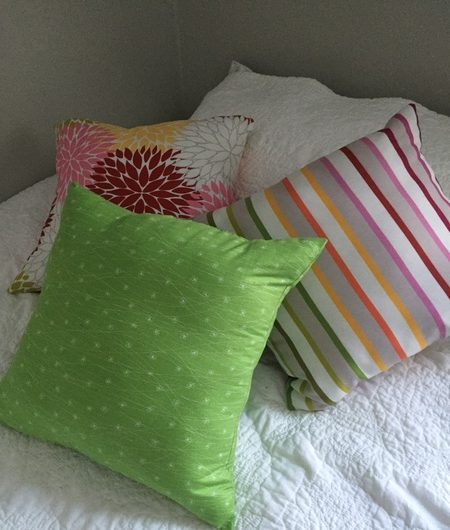 Notice the fan on the dresser below?  Well this remote control I bought for it (get it cheap here) is really nice for when you have a hot flash at night!  (Read more about hot flashes and menopause here, exciting stuff right?!)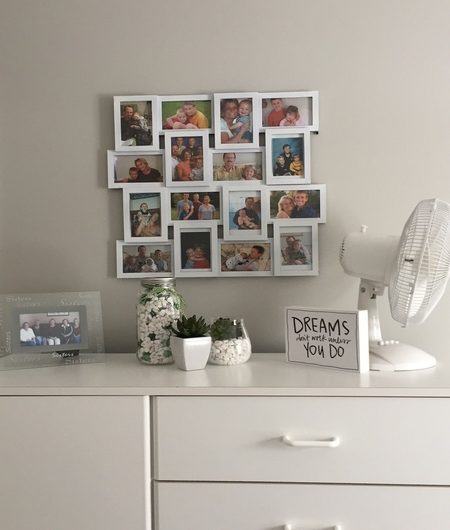 The whole room was based around this picture that came from my Mom's house: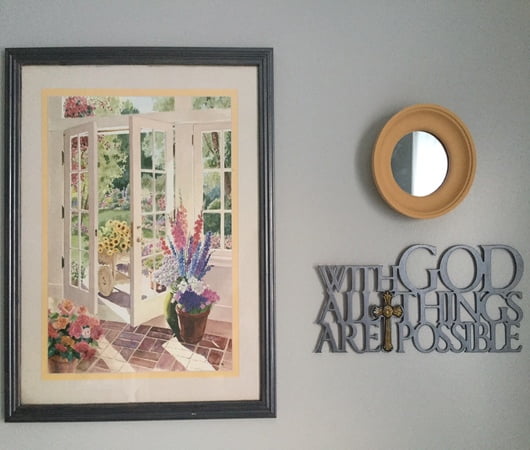 Another look at the bed because I wanted you to see the PERFECT bed skirt my sister made, I can't believe we found the exact color of green material that I wanted — "Kelly green", of course.  🙂  She also made me the other stuff to match:  pillow, footstool, table runner, etc…!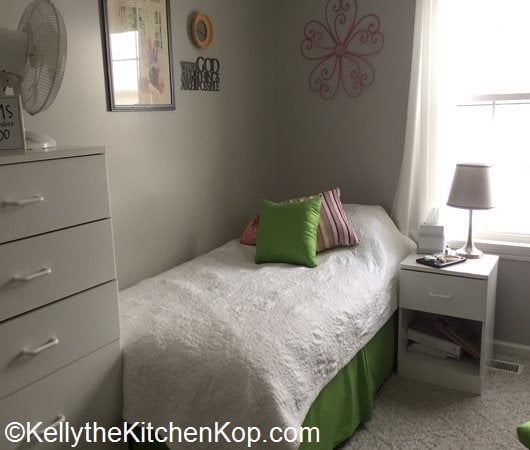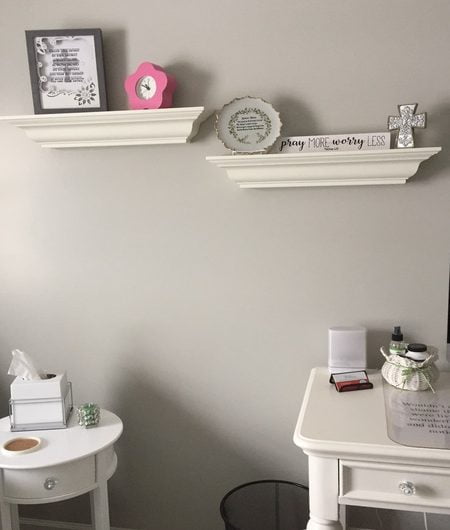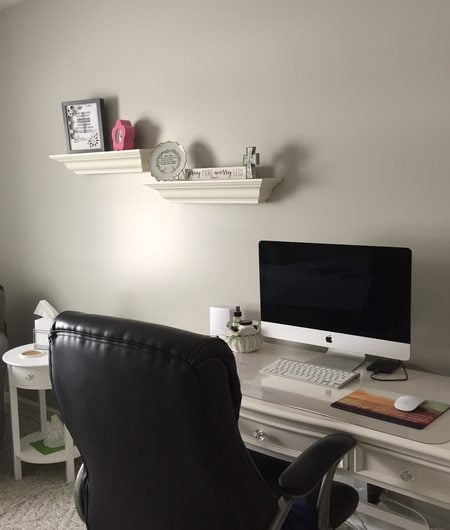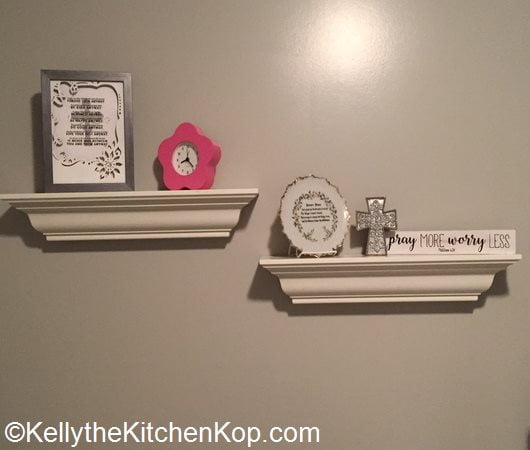 Isn't this saying from Mother Teresa neat??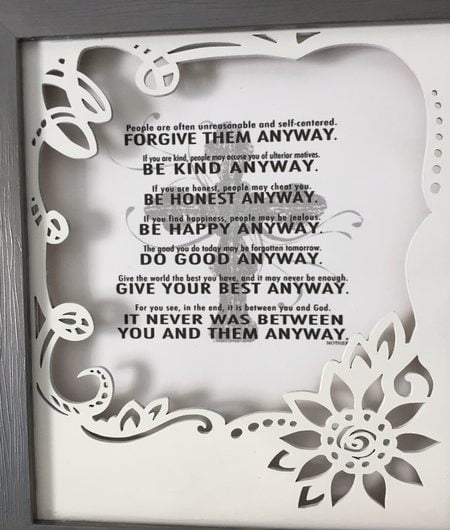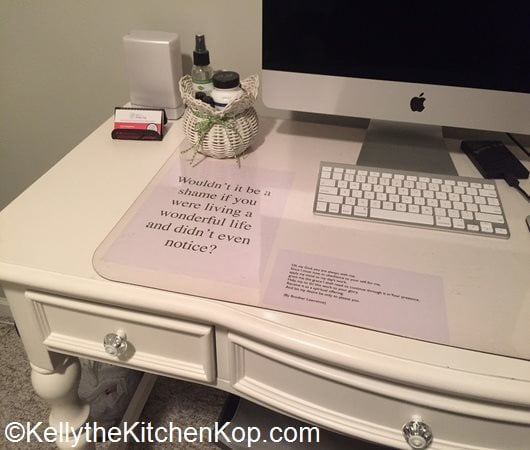 A close-up so you can read the reminders I keep on my desk…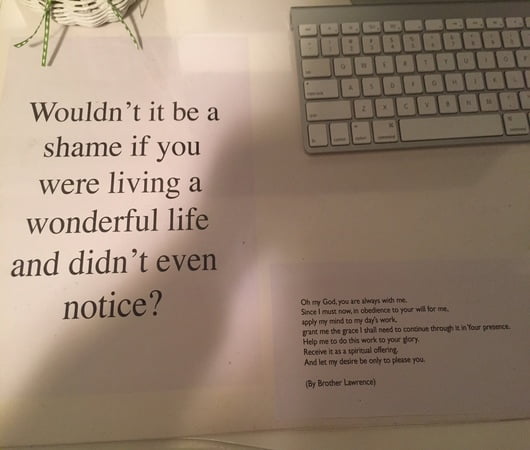 I love this little basket on my desk for odds and ends, with the cute green ribbon that matches my other green: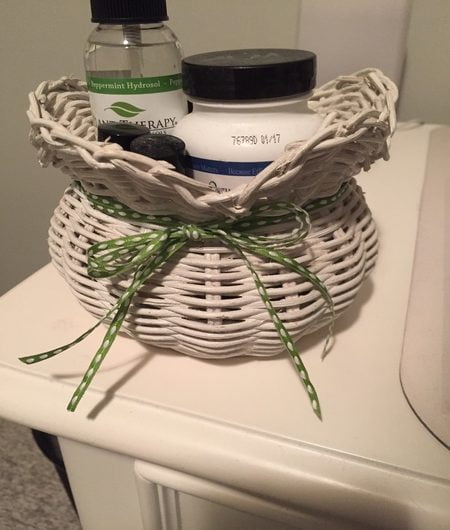 Besides the pops of color, my favorite part of the office is my new comfy chair that swivels and rocks (below).  And that gray throw you see there… oh. my. gosh.  It is the softest and most wonderful blanket EVER!  I already enjoyed waking up early to read my bible and work peacefully on the blog, hours before I have to get the kids up for school, but now it's even more lovely with my laptop and my cozy chair.  (Of course you need to picture me with a cup of coffee in-hand too…  Yes I'm blessed!  I love working at home, even though having my own business isn't always easy, I don't earn that much (until recently), and I don't know what I'm doing most of the time, but I get to help people, that's what I like best.)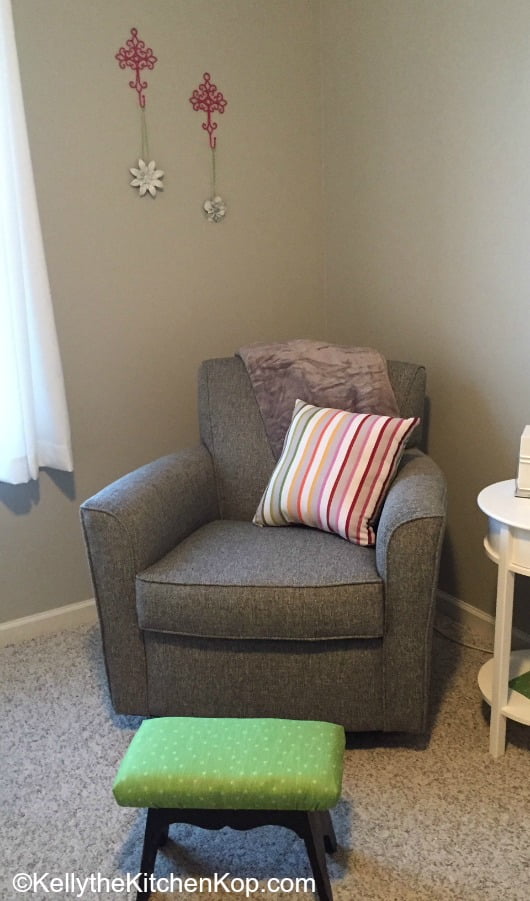 Oh and I love this little side table too, with Jesus andMary on the lower shelf.  (I got it at Target but put a new knob from Hobby Lobby on it to sort of match by desk knobs.)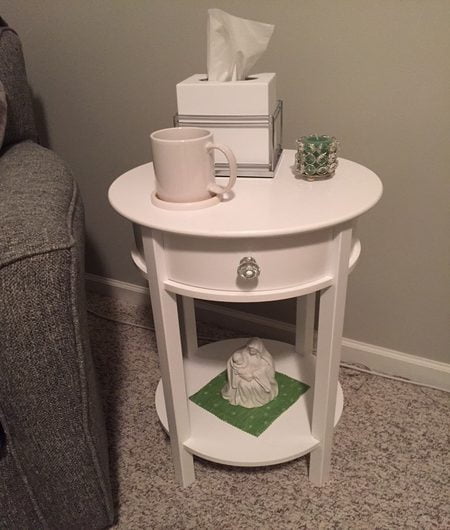 My sister tried to talk me into ditching this Colorado picture below (from our trip!), but it was taken when we were at the top of Pike's Peak and I think it's cool!  Next to the Mary picture is a picture of my Mom and Dad at Mom's 50th surprise party.  It's crazy that she was the same age that I am now.  (Yep, I turned 50 in the fall, yowza!)  Here's where the bookshelf came from, in case you're wondering.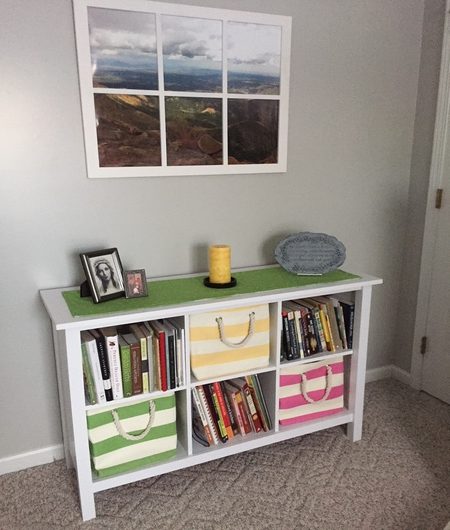 Here are more decorating posts/pics if you want to see them:
Okay that's all for redecorating pictures today, on to more random stuff you might like…
Our two oldest sons got new jobs nearby recently (yay!  This Mom is SO happy!) and neither of them eat much junk food at all (double yay!), but Kaden is especially good about packing his own lunch every night.  He's an electrician apprentice and last week on one of the frigid subzero windchill days that we've had here in Michigan he had to work outside all day!  So I got up early to make him a good breakfast.  I made him hot cocoa for his thermos along with some eggs benedict.  He's always so thankful no matter what I'm feeding him (even if it's days-old leftovers, he's glad he didn't have to make it himself!) — and always tells me how good it tastes then gives me a genuine, "Thanks Mom", so can you see why it's extra fun to cook for him?!
By the way, our youngest had a bunch of friends over the other day for an Odyssey of the Mind team building playdate and I said I'd make them hot cocoa and my yummy popcorn, but I wasn't sure if I'd have enough milk for regular homemade cocoa for everyone, so just this once I bought a cocoa mix.  It took some searching to find one that was organic so it didn't have any corn syrup or other nasties in there — I did find one and thankfully everyone loved it.  The powdered milk in there still isn't great, but this was a rare thing.  I did add some real cream to it.  (To find it at the best price, go here and search for "organic hot cocoa mix".)
Get this:  Remember I've told you a lot about how I love this affordable meal planning service where they do the work for you?  (It's good for those of us who are sick of answering the question, "What am I going to feed these people?!")  Well if you hurry and sign up by January 15, 2018 you'll also get a budget friendly recipe package FREE.  It has a built in shopping list and all the meals will work for your personal dietary restrictions, whatever they may be!  You'll get:
● Guides and video tutorials that introduce you to your new meal plan
● Live training and Q&A to help get started and stick with your new plan
● A private Facebook group for discussion and tips given by Real Plans gurus and other users just like you
Check out the video here and then sign up by January 18th!
Our daughter asked for the Downton Abbey series for Christmas and we've been having a blast watching an episode or two a few nights a week.  Anyone else love that show?
My nephew suggested I read this book, The Martian, so I got it right after Christmas and finished it within a few days, it was so good!  He also told me that the movie was really good and that since I thought that the book ended too abruptly, he said I'd like the movie ending better, so that's next.  🙂
Kent was off the week after Christmas and he cooked and did laundry all week so I could get caught up on the blog, it was awesome!  He made burgers, Guinness stew, pan-fried steaks (subzero temps=no grilling!) with these Brussels, and together we pulled off this homemade cream of mushroom soup that was amazing.  Try it and let me know what you think.
That's a wrap for this mix-up, have a great week everyone!