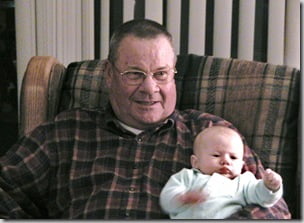 Alzheimers Disease and Coconut Oil
Many years ago Kent's Dad was diagnosed with Alzheimer's Disease and he entered into eternal life in 2012.  This was been heartbreaking, as you can imagine.
Side note…
If someone you love is in a nursing home, go see them. The nurses often commented about how unique Ron's family was because they came. Even though he had Alzheimer's and didn't remember who we were, or probably even that we were there after we left, his soul knows.  I'm convinced of this.  Our kids would send him pictures with "I love you Grandpa" all over them for the same reason.  He didn't "technically" known Mary Ellen in later years, but when visiting him (she was so faithful and went every day), she was the only one who he opened his arms wide for and said, "I've been hoping you'd come."  Once he said to her, "Where is my wife?!"  She said, "Who do you think I am?"  He answered, "I don't know, but you're sure one good-looking woman."  Isn't that the sweetest?!  It's so amazing how, just like God says, "the greatest of these is love" – even more powerful than our memory.  It's a sad, sick, twisted world at times, and I don't know why this stuff happens, but God probably hates it even more than we do.  As always, He brings something good from it.  Through it all Ron and Mary Ellen taught their sons and grandchildren about staying faithful when it's not easy, loving when you get nothing in return, and what a real marriage commitment looks like.  They're living examples of our Christian faith and of sacrificial love.
And by the way, because Mary Ellen was there every single day, I am convinced that Ron's care was better than the "norm" — all the nurses and aides knew and loved her, so they felt more of a connection with Ron, too.
Stupid genetics anyway…
Ron's Mom and also four of his six siblings had Alzheimer's, so obviously the next generation is hoping and praying it wasn't passed on.  Kent isn't one to just wait and see.  Thankfully, he's willing to do what he can right now, on the chance that it could make a difference later:
Alzheimer's Disease and Coconut Oil?
It was after Kent read the following articles that he began taking a tablespoon a day all on his own.  I never said a word, believe it or not!
Besides, he's heard me talk about the health benefits of coconut oil for years now, so he knows it's good for him in other ways, too.  (Wish I could swallow some, but getting my cod liver oil down is about all I can manage!)
Take a look at the article and see what you think.  I'd love to hear your thoughts.  And say a prayer for Ron & Mary Ellen if you think of it.
Update:  Read my post after Ron passed away in late 2012.  What a legacy!
More posts you may have missed: