Good morning friends!
In case anyone is interested, I thought it would be a good time for a kitchen remodeling update!
We're smack dab in the middle of it all right now and so far so good!  "Demo day" was last weekend when Kent and my brother tore everything out of here (except for the upper cabs which we're keeping because they're still in good shape), and then this past week we had our wood floors redone.  The picture above is a before and after shot.  If you're local and want to know more about the guy who did such a great job for us, click here for the FB update about it.  This weekend all the new stuff goes in, and I'm taking lots of pictures and videos to share with you after it's all done!  (Update:  yeah right, of course it wasn't that easy.)
I've been surprised at how well cooking in our bar area downstairs has gone, but it's because I have so many gadgets to make it easy.  Between the toaster oven, my favorite pan, and my pressure cooker (not to mention the sink and fridge we have down there), I can make almost any meal I normally would.  Here's what we had for dinner one night:  pork steaks on the grill (from the farm of course), seasoned green beans in my favorite pan, twice-baked potatoes in the pressure cooker – yum!!  (First I boiled the potatoes on sauté, drained, then mashed right in there & kept warm on slow-cook-low with all the other ingredients.)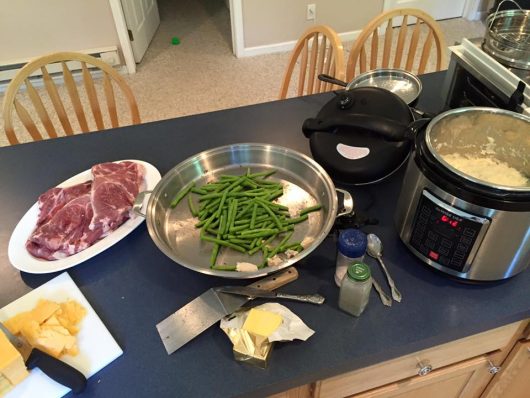 And here's how I made my coffee the other day with my pour-over coffee maker, my tea pot and hot plate: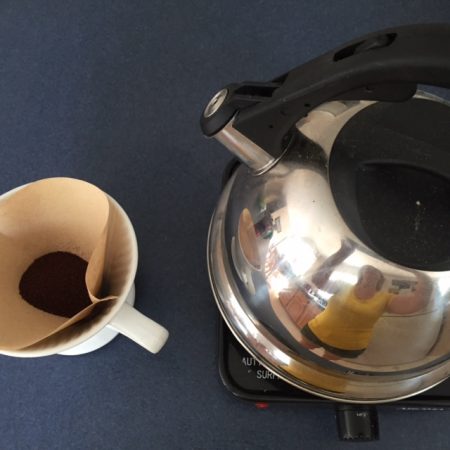 I really miss my hot water tap!  (And here's more about what we use these days for a better cup of coffee.)
Washing dishes is also getting a little old, but it's not too big of a deal.
That's the update so far!  Watch my Facebook page for more as it happens, and follow the blog for a post about the whole shebang soon — also at that link when you sign up you get a bunch of freebies!
UPDATE to this update–see it all done here: Our New Kitchen — Remodel Video from Start-to-Finish