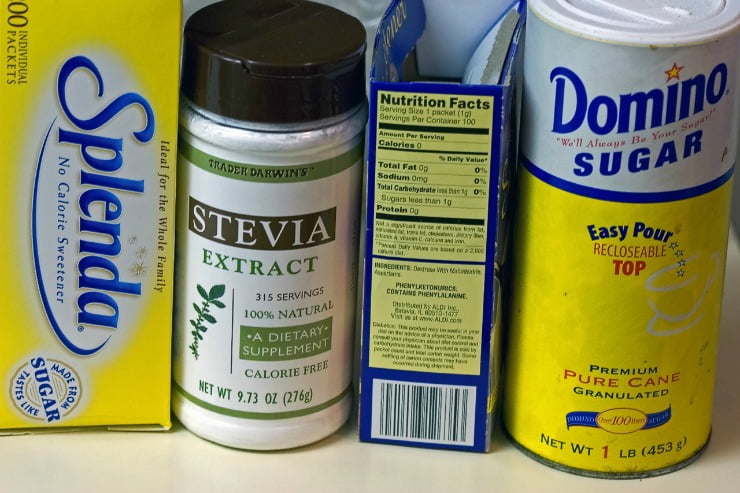 The comment section over at the "My Dark Secrets" post has still been busy with a discussion on the various sweeteners. A recent comment from Lauren got me looking into sweeteners like Erythritol & Xylitol ("Truvia" has erythritol in it), and I found out they are in a group categorized as "sugar alcohols".
I've never used them for baking, but have heard of others doing so with success. I also see Xylitol listed as the sweetener in certain brands of gum. Here's what Wikipedia says:
"One teaspoon (5 mL) of xylitol contains 9.6 calories, as compared to one teaspoon of sugar, which has 15 calories. Xylitol contains zero net effective carbohydrates,[citation needed] whereas sugar contains 4 grams per 5 mL. Xylitol has virtually no aftertaste, and is advertised as "safe for diabetics and individuals with hyperglycemia". This is because sugar-alcohols have less impact on a person's blood sugar than regular sugars[4]."
There are a couple links below for you to read over, but the best source of clear information I found was at the Weston A. Price site, on a page titled, Sugar-Free Blues–Everything You Wanted to Know About Artificial Sweeteners by Jim Earles. Toward the top it lists all the different sweeteners and what category they fall under. If you scroll almost halfway down the article, you'll find the information on sugar alcohols. (And past the ending of the article is an update with information on Stevia as a good choice for a healthy sweetener.)
Here is an excerpt from the section on sugar alcohols:
The final word on sugar alcohols as a group seems to be a mixed message. The evidence does seem to support the positive claims made on behalf of these sweeteners, and perhaps this gives them a valid place in certain applications. For example, given the choice between treating a child's ear infection with a course of antibiotics or with administration of a therapeutic dose of xylitol, the latter option would certainly be preferable. Of course, there may be even better options.
While sugar alcohols may indeed occur in nature, their usage as sweeteners also suffers from the same problem as many other sweeteners, pharmaceutical drugs and other substances today–one single factor from a natural food item is being isolated from its normal co-constituents and consumed at levels that are difficult to obtain when eating the food item itself. Rarely, if ever, does this situation lend itself to good health. While sugar alcohols are certainly the lesser of two evils when compared to the non-nutritive sweeteners, they should be consumed with prudence if at all. There are better choices.
The author, Jim Earles, closed with these comments:
Clearly, most artificial sweeteners in use today pose significant dangers. Mother Nature did not intend for us to suffer from the Sugar-Free Blues. There are many healthy alternatives to both refined sugar and artificial sweeteners, including maple syrup, dehydrated sugar cane juice (sold as Sucanat and Rapadura), date sugar, raw unfiltered honey and molasses. Consumed in moderation as part of a nutrient-dense diet that includes plenty of good quality fats, these mineral-rich, naturally sweet foods allow us to enjoy the sweet taste while nourishing the body at the same time. In strict moderation, they can even be used by diabetics in conjunction with a nutrient-dense, high-fat diet.
(End of excerpts)
I would also suggest that if you do use sugar alcohols, that you do what Lauren does, and use it in combination with another even better choice for a sweetener, like Stevia, so you're not getting a lot all at once. See her comment and lots of others at the "Dark Secrets" post mentioned up at the top.
WILL YOU COMMENT BELOW AND LET ME KNOW IF YOU USE SUGAR ALCOHOLS, AND IN WHAT? I'd be very curious to hear from all of you about this topic.