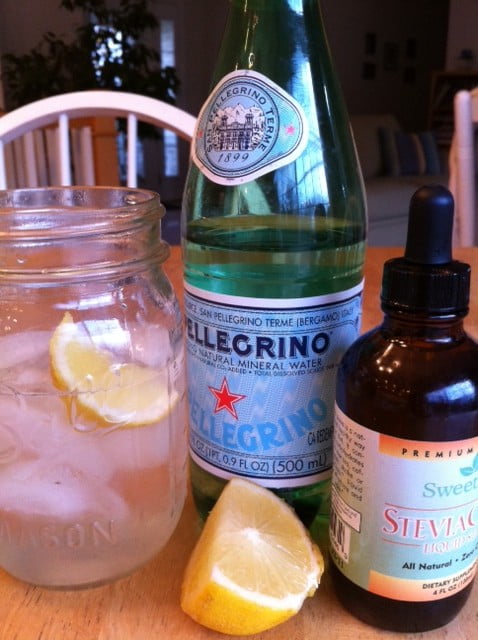 You have to try this sparkling lemonade!
Do you ever crave a fizzy beverage, but wouldn't touch a soda pop with a ten-foot pole? Yes, there are some sparkling juice drinks at the store, but they still have varying amounts of sugar.
Do you love a glass of wine now and then, but again, would rather not have so much sugar, even the natural kind from grapes?
Do you drink reverse osmosis water, which is completely stripped of all its life-giving minerals? (So do we, more about that in future posts…) Update:  Why we ditched RO water and what we got instead.
I've got just the thing for you
Recently I went to see my Naturopath friend, Kathy, and she suggested that I drink sparkling mineral water as an alternative to wine when Kent and I go out to dinner. I was willing to give it a try, but had a little better idea… I could also just cut the wine down with sparkling mineral water, and decrease the sugar that way. This would also add a refreshing fizz and minerals, too. Now I can still enjoy a glass of wine when I'm watching my sugar consumption, which is a nice part of the whole dinner out experience. (Other times I'll still have straight wine!)  OK, so a reader below in the comments tells me that DUH, this is called a spritzer.  But I always thought a spritzer was made with soda pop.  Shows what I know.  So it's not a brilliant new idea, but it is still a good one, LOL!
I also figured out a great way to make a quick refreshing lemonade…
Keep in mind that if you think ahead, you can make fermented lemonade punch, or some kefir soda pop, so you have a nice fizzy drink and probiotics to promote the good bacteria in your gut for natural immunity, but if you want a last-minute refreshing drink, this one is delicious and without any sugar.
Mineral-rich Sparkling Lemonade:
Ingredients and Instructions:
About 2 cups of sparkling mineral water  (***NOTE:  My friend, Stan, emailed me with some concerns about the brand shown in the picture above.  I asked him to comment below so you can read more there, basically there's a concern with store brands as far as Fluoride content and other scary stuff.  SO at some point I'd like to get a sparkling water maker like these and use our own filtered water that I know is safe!)
The juice of one organic lemon
About a half of a dropperful of Stevia liquid, or to your own taste – start small and you can always add more if needed. The brand really does matter, I've tried some that were really bad.
Let me know if you like this sparkling lemonade!
Variations:
Kathy's original suggestions for homemade sparkling lemonade included (instead of the lemon juice) a little lemon extract or for another twist, try vanilla extract. Do you have any more yummy ideas?