Sugar Addiction Help:  My Easy Tips for How to Curb a Sweet Tooth
If you think there's no sugar addiction help for you, or there's no way you can learn how to curb a sweet tooth, wait 'til you hear my tip.  I've been doing this for a few weeks now and it really works, I've even lost ten pounds!
I've always been a sweets freak. 
Once I switched over to real food (read about my "food conversion" story here), there was a drastic difference right away, because when your body is nourished, especially with enough healthy fats, then your cravings naturally decrease, but at times over the years I still ate too many desserts.
My new incentive program…
There's a LOT of diabetes in my family, so that, along with my Mom's cancer diagnosis, has given me a new desire to get on top of this problem, almost a feeling of urgency.  Maybe that's what has to happen in order for change to really kick in.  (Read about which factors lower the glycemic index of foods so it won't produce as high of an insulin response:  How to Eat Carbs Safely and Lower the Glycemic Index of the Foods You Love.)
I know that for me, though, giving up sweets forever won't happen.
I realize that many of you paleo peeps have done it (although most of you bake with almond flour or coconut flour and honey instead, which is still a sweet), but even though I eat much LESS than I ever have, I still like a treat now and then.  Since my Mom's diagnosis, it's a little scary hearing myself justify still eating any sweets, but I also know that I have to be realistic, and I've come up with what is a really doable plan that has worked well for me…
My simple tips for how to curb a sweet tooth:
I don't think Michael Pollan gets the whole picture yet when it comes to healthy fats, but I came up with this tip for controlling my sugar consumption when I saw the following Michael Pollan quote again recently:
So here's how I minimize sugar in my diet:
1.  Only eat sweets if you make it yourself — or if you're confident in the ingredients that were used to make it.  This works because later when I am at home, I don't have a ton of extra time for baking!  I'm assuming it's the same for most of us.  Once in a while when there is time, then we can just enjoy it.  No need for guilt when it's only once in a while and it's homemade.  🙂  Plus at home I can easily cut the amount of sugar in recipes, use more natural sugars, etc., and real food always tastes better anyway — check out my new book, Real Food for Rookies for help finding the right ingredients to stock in your kitchen.  🙂
2.  Make sure it's worth it.  Sometimes even if I know the ingredients are good, I still may not feel like indulging unless it's one of my very favorites.  Even just one bite can be plenty for me.  Having my tops fit nicely again feels too good to feast on just anything.  Not to mention watching what my Mom is going through.  🙁
3.  White wine is another sweet I really enjoy.  Lately instead of drinking a whole glass when we're out to dinner, I'll have half a glass with the rest sparkling water.  (Be sure not to ask for a "wine spritzer" at a restaurant, because for those they add Sprite!)  Especially now that I'm not eating as many sweets, this glass of wine still tastes sweet to my taste buds.
What else I've been doing besides minimizing sweets…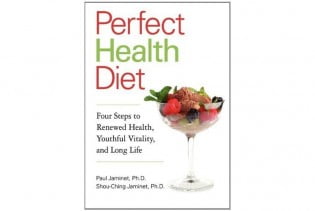 4. I'm also minimizing grains, mostly only eating our bread at home unless it's reeeeally worth it (at home it's either my homemade recipe or more often these days it's made by our favorite baker), and usually one or less servings a day.  I've gone back and forth on this issue, as my regular readers know (it's not easy figuring this stuff out!), but these days I don't think giving it up forever is best unless you have grain sensitivities, as long as you're eating the best grains possible.  (I use mostly sprouted spelt flour or einkorn flour in my kitchen.)  Note that I'm not minimizing carbs, just lowering grains a little.  I'm still eating fruit, potatoes, rice, etc., which is sort of in line with the Perfect Health Diet principles, but they say no grains at all.
5.  Working here on the blog keeps me so busy, along with homeschooling, and now taking care of Mom, that fitting in exercise is just so tricky lately!  My new strategy for that is to always move when I'm at home and talking or working on my phone – I either go outside and walk, or just start doing squats.  Then when I get back on the computer I don't feel like such a blob.  In the wintertime I like to use my computer on the treadmill.  My brother made ours, but I've heard good things about this treadmill desk, too.
Will this be enough to avoid diabetes or cancer?
Nobody knows, of course, but I have to at least TRY, right?  We can't control everything, but why not control what we CAN?!  I just don't understand why we wouldn't.  But many don't think that way.
My friend, Katie, said it well in her recent post:
Let's apply Pascal's wager to food: Does what we eat impact our health, or not?  Should we bother being cognizant about what we put in our mouths?

Either food impacts our health or it doesn't.
Everyone has to choose – everyone eats – to avoid the choice is to choose the latter.
If a someone who eats consciously is right, in the end, he wins (good health – hopefully – there are other factors like environment and genetics, of course, that impact our health). If he's wrong, he'll live the same long life that was always destined for him and never know the difference.
If a Standard American Eater, one who cares little about what goes in his mouth, is right, in the end, he won't believe that anything that happens to him is food-related and will never know the difference. He might live the same healthy 90+ years as the conscious eater, I suppose. But if he's wrong…he's a very sick man with many prescriptions…even though he'll never know why.
The only loss for a conscious eater is potentially some earthly pleasures (like doughnuts, ice cream, and time), but the possible gain of years of life.
Therefore any rational person should live as though food makes a difference and do research to determine the healthiest diet possible.

The logic doesn't transfer quite precisely, but in my book, the big picture is the same:

If I eat well and you don't, and you're right – I don't lose much.

If I eat well and you don't, and I'm right – what a bummer for you.

A rational person should pay attention to what they eat.
Read the rest of Katie's post here:  Does Pascals Wager Apply to Food?
The only place I'd disagree with Katie is in #5, I think that there really is NO loss for a conscious eater, because we can make the same treats at home, and since it takes time, it naturally won't happen as often!
My favorite healthier ingredient substitutions:
Here's where I need YOUR tips, though…
How do we get our kids to choose to turn a treat down when we're not at home?!  Should I stop fretting, knowing that at least they're getting a lot less junk now that we're homeschooling, and since what they get at home is minimal?
My friend David said it well the other day at bible study… 
Being fit is important to me, but I can't force our kids to have the same mentality as I do, whether it's fitness, eating right, or most importantly, their faith in God.  We just have to model it ourselves and pray."
What else?
What else do you suggest to help make healthy habits important to our kids?

photo credit (adapted)