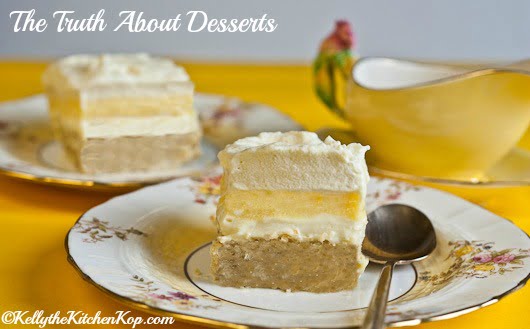 Today I'll share what I believe is the truth about desserts and other cheat foods…
If you're a regular reader, you probably know that I'm not paleo, gluten-free, or dairy-free, and I'm also not low-carb, although I do eat lower and better carbs at times when my weight creeps up.  (I've worn a size 6 since high school and when those jeans start to get tight, I know it's time to get back on track!)  I like to play around with all different types of recipes, though, including paleo recipes — I'm making these grain-free "Halloween" pancakes for the kids this morning — but as a general rule I eat dairy, mostly raw, I eat grains, some properly prepared and some not, and I even eat sweets, but not the icky processed ones, and not a lot.  There is definitely a place for limited diets, especially if you have any health issues.  Although I do believe that many people who cut out grains and dairy forever should explore the GAPS Diet to see if they can heal their gut and then reverse their food sensitivities.  It may not be possible for everyone, but I do think it's possible for many.  However, if you feel great, sleep well, and have good energy, I just don't think cutting out food groups is necessary for everyone.
Here's my theory as to why I can eat this way with no health issues:
1.  My sweets consumption is VERY different than it used to be.  I used to think nothing of eating a treat once a day!  Now we just don't have that food around here much, and the only time we do is when the kids want to whip up cookies or whatever, and then I'll indulge, but it's not often.  Or I'll also have a sweet now and then at a party or if we're out to eat.  Overall, it's nothing like it used to be.
2.  If I do have grains/carbs and/or sweets, they're always consumed with plenty of healthy fats.   I cook with a lot of pastured butter, beef tallow, coconut oil, olive oil, and bacon grease from pastured bacon.  I firmly believe that healthy fats mitigate the negative affects of your typical "cheat foods".  (Here's my post all about that: How to Eat Carbs Safely and Lower the Glycemic Index of the Foods You Love — Hint:  This is Why Dieting Backfires!)  You obviously still shouldn't go crazy with this and overeat, and you know what's too much.  (This is why I need to get myself back on track sometimes!)
3.  We eat only real food:  whole foods or foods with a pronounceable ingredient label, and we cook/bake mostly here at home.  (The exception is when we're out to eat or at others' homes, although when Kent and I have our date nights, we usually eat at higher end restaurants where they serve real food.)  I mentioned grains and sweets above, but again, these are homemade and with better ingredients like pastured butter, natural sugars, sprouted flour or einkorn flour depending on what I'm making, etc.  (See my Real Food Ingredient Guide for more help with making better choices.)  We don't eat fast food, instead if we're short on time, I find something on my healthy fast-foods list.  It saves money and saves your body from mystery food.
Will there come a day when my body processes these foods differently and I need to switch things up and limit certain foods? 
Maybe.  Plus there's diabetes in my family, so I'll need to watch carefully, but that's my current take on grains and sweets in a nutshell.  I'll freely admit that I'm figuring this out as I go, and I've gone back and forth on a few of these issues in the past, as my faithful readers know — we're all on a journey, right?  Never blindly follow what you read here or anywhere, do the research and find what is best for you.  So having said all that, I'm always open to learning more no matter what "camp" is doing the teaching, and I want to open up my thinking to see what I might be missing.
Please share!
More: