When I first received this Healthy Chocolate Mousse Recipe from a friend I was skeptical. The ingredients sounded too funky for it to turn out good, but I was feeling brave and hopeful. I'm glad I gave it a shot, it tastes like a rich chocolate pudding…well, just like a chocolate mousse, only this one is actually fairly good for you, especially with the avocados! (My teenager didn't like it, but the other kids and I loved it!)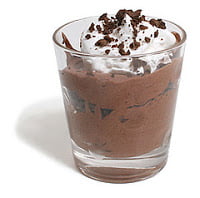 Print
Crystal's Healthy Chocolate Mousse Recipe
Instructions
Soak the dates in warm water for 20 minutes. Drain the water and blend together with the rest of the ingredients in a food processor until smooth. (Add cocoa last.) This keeps for several days in the fridge. You could spoon a little over fresh fruit, or it would make a great healthy frosting. The kids and I just ate spoonful after spoonful of it plain.
Did you make a real food recipe?
I want to see it! Tag @KitchenKop on Instagram and hashtag it #KitchenKopRecipes OR share anything you know I'll love by tagging @KitchenKop and hashtag #KitchenKop -- see you over there!
photo by rexipe