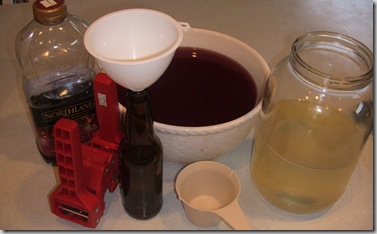 Before we compare Homemade Kefir Soda vs. Kombucha Tea, first I'll tell you what else is coming soon…
More Kefir Soda Pop posts are in the works:
How to make kefir soda pop. There are other recipes out there, but I need to post mine just so I have it recorded and don't forget exactly how I make it, how the family likes it after trying some different variations, and how I keep it simple – I have to have simple.  UPDATE – here it is: HOW to make kefir soda pop, WHY make kefir soda pop, and how does it taste?
I've got the results of my kitchen chemistry experiment, where I found the answer to the question that I'm sure has been nagging all of you for months and months:  "How much alcohol is really in kefir soda pop?"  Many have speculated, but I wanted to know for sure, that's just the twisted sort of mind you're dealing with here. I'll also tell you in this post why I had to know.
You'll need to know this before you make your kefir soda – where to get kefir grains. 
If I compare Homemade Kefir Soda vs. Kombucha Tea, I'm going with kefir soda pop lately, and here's why…
Kombucha tea is so inconsistent. One time it might be sweet and taste like apple pop, then the next time it would taste like vinegar.  This would turn the kids off so they wouldn't try it at all.
Kefir soda ferments in only 24 hours (compared to many days for Kombucha), and takes a lot less steps to make.  Even bottling is easy.
We just like the taste better. Kefir soda tastes like a not-as-sweet pop – enough that the kids and I love it, but not so sweet that I don't want them to have it.  Once bottled the kids are all over it since it's fizzy like a "real" pop.
There is no Kombucha "baby" to figure out what to do with after each batch.  Yes, it's fun sharing with friends, but it gets to be kind of a pain, and I felt guilty not doing something more with it than burying it in the garden.  (If your kefir grains multiply, you may still need to do something with them, but mine haven't done that yet, which I've read is still just fine.)
Kombucha is beneficial in some mysterious yet wonderful way.  Kefir soda is beneficial because it's a probiotic/lacto-fermented beverage that fills your gut with good bacteria – it's easier to wrap my brain around this and tell others about it without sounding hokey.  (Even though I do believe in the benefits of Kombucha, and if you drink both, that's even better!)
WHAT ABOUT YOU?  Which one do you like better, and why?
DON'T FREAK OUT if you haven't begun making either of these yet.  This traditional foods/REAL foods thing takes time.  If you're new at this, start with my Rookie Tips, and be sure to read this post if you're feeling overwhelmed.