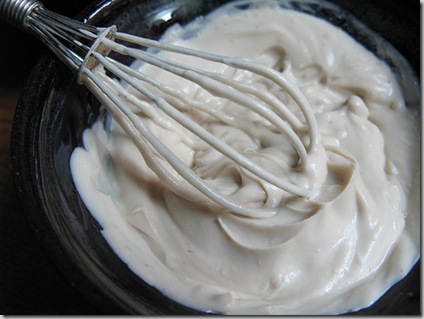 If you've never made real whipped cream before, you'll be surprised at how easy it is.  Knowing it isn't full of the rotten ingredients that tubbed whipped cream from the store has will make you feel great, too.  (Things like trans fats, high fructose corn syrup, food additives, etc.)  Besides it tastes much better, as all real foods do!  I like to make it in my Bosch mixer — a stick blender would work too but it's not hands-free that way.
My favorite way to enjoy whipped cream is on top of crème brûlée — try this crème brûlée recipe or this one!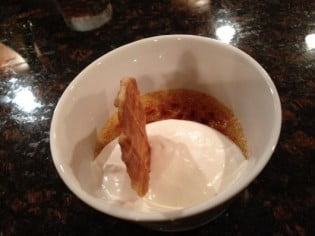 How to Make Real Whipped Cream
Ingredients:
Instructions:
In a mixing bowl, whip cream until it starts to thicken.  Using a cold bowl and cold beaters helps it to thicken more quickly.  Add the vanilla and powdered sugar and whip more until it's the consistency you want.  Taste test to see if it needs more sugar.  (See how little you can get by with and still have it taste good to your family – it will depend on what you're putting it on.)  This only takes a few minutes.  Do not over-whip or it will turn into butter.  Trust me.  Get it just to where it is nice and whipped, and turn the mixer off.
If you're using it in a recipe, not just as a dollop on top of a dessert, see the tip below about stiffening it up nicely so it holds its shape.
Powdered Sugar or no?
You know, I don't know why I've always used powdered sugar, maybe just because my Mom did?  (Although my Mom has since told me she didn't use that so who knows where I got that from!)  I assume you could easily substitute a better sweetener like palm or coconut sugar.  That's what everyone tells me anyway.  If you put the sugar in your food processor, I'll bet it would make it finer so the whipped cream stays lighter.  See the comments for more good information!
Stabilizer for dessert recipes?!

A commenter below suggested this for stiffening up the cream to use in recipes:
"Take 1 teaspoon of unflavored grass-fed gelatin and mix with 4 teaspoons of cold cream. Place briefly on the stove until dissolved. While beating the whipped cream, slowly add the gelatin (it does not have to be cold).  This helps to stabilize the whipped cream for cakes and mousse."
I'm so excited to try this in those layered dessert recipes that I haven't been able to make since avoiding the icky Cool Whip!
Don't have any cream?
Try this guy's method for making real whipped cream from whole milk!
photo:  quintanaroo