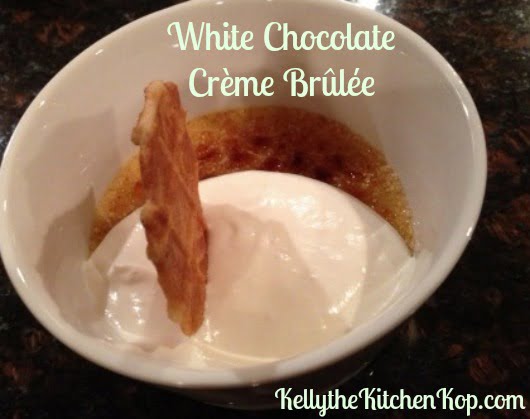 Is there anyone out there who does not love Creme Brulee?  And if you love that, wait'll you try this White Chocolate Creme Brulee!  At our magical dinner with the Bradys this was our dreamy dessert. And when I say dreamy, you know I wouldn't lie to you.
(Did you catch our appetizer recipe from that same dinner?  Butternut Squash Ravioli!  And here's the main dish:  Perfect Savory Salmon and Blackened Green Beans)
White Chocolate Crème Brûlée
Ingredients:
4 large egg yolks, at room temperature (preferably from pastured chickens so they're highest in nutrients!)

1/3 cup sugar

2 cups heavy cream (from pastured cows preferably)

4 ounces white chocolate baking bar, broken or chopped into 1-inch pieces

1/2 teaspoon pure vanilla extract
4 teaspoons  sugar
Instructions:
Preheat the oven to 300* F.  In a medium bowl, whisk egg yolks with 1/3 cup sugar until smooth.  In a medium saucepan, bring the cream to a simmer over medium-high heat.  Add the white chocolate. Turn off the heat and whisk until the white chocolate is melted.  Add 2 T. of the white chocolate mixture to the egg yolk mixture, whisking continually to prevent the eggs from scrambling.  Add the remaining white chocolate mixture to the egg yolk mixture. Whisk until smooth. Add the vanilla.
Pour into six ramekins or custard cups.  (I love these creme brule sets — some come with a handy tray to put them into the oven with.)
Place the cups in a 9 by 13-inch baking pan. Add enough hot water so the cups sit in 1 to 1 1/2 inches of water.  Bake for about 45 minutes, until set.  Allow to cool, then refrigerate the custards until chilled.
Before serving, sprinkle the tops of each ramekin with 1 tsp. of sugar and torch the sugar to melt and harden – just 'til the sugar is a nice golden brown.  (Here are some creme brulee torches
 if you're not sure what they're like.  I found the picture on the right at my other creme brulee post, but I probably torched it a little too long here – depends on how golden brown you like it.)
Rechill in refrigerator for 5 minutes before serving.  Top with fresh whipped cream.
Enjoy!  And David and Michelle, you're the BEST!!!