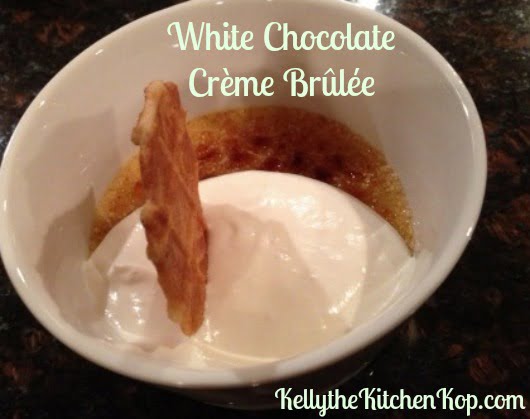 Is there anyone out there who does not love Creme Brulee?  And if you love that, wait'll you try this White Chocolate Creme Brulee!  
At our magical dinner with the Bradys this was our dreamy dessert. And when I say dreamy, you know I wouldn't lie to you.
(Did you catch our appetizer recipe from that same dinner?  Butternut Squash Ravioli!  And here's the main dish:  Perfect Savory Salmon and Blackened Green Beans)
Print
White Chocolate Crème Brûlée
Yield 6 Custard Cups
A yummy treat loaded with good fats!
Ingredients
4 large egg yolks, at room temperature (preferably from pastured chickens so they're highest in nutrients!)
1/3 cup sugar
2 cups heavy cream (from pastured cows preferably)
4 ounces white chocolate baking bar, broken or chopped into 1-inch pieces
1/2 teaspoon pure vanilla extract
4 teaspoons  sugar
Did you make a real food recipe?
I want to see it! Tag @KitchenKop on Instagram and hashtag it #KitchenKopRecipes OR share anything you know I'll love by tagging @KitchenKop and hashtag #KitchenKop -- see you over there!
Enjoy!  And David and Michelle, you're the BEST!!! 🙂