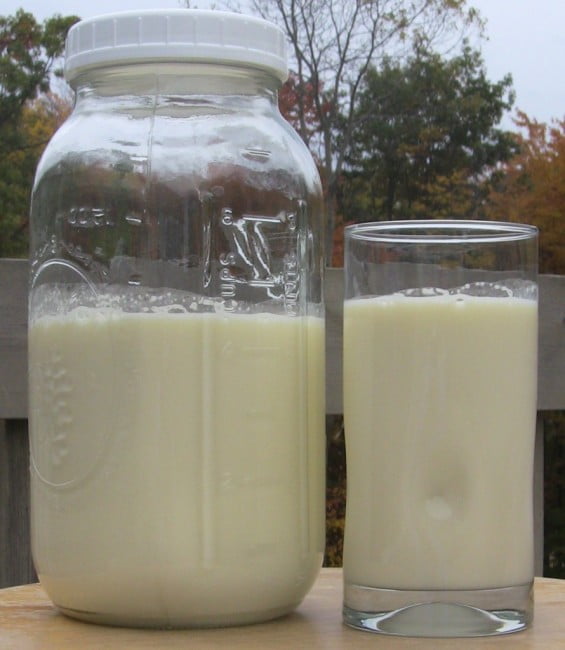 Katie at Kitchen Stewardship recently had a post on whether or not it was true that low-fat milks can contain dried milk powder without saying so on the label.  There are posts here on my blog with this claim, so I felt the need to look into it more since Katie said this information (not just on my blog but on other sites including the Weston A. Price website) is "incredibly outdated and plain wrong."  I'm all about finding the truth, so here goes…
Read an email exchange I embarked on, beginning with Sally Fallon Morell:
"Hi Sally, I'm just curious if you've seen this post from Kitchen Stewardship on dried milk powder and have any thoughts on it?"

Her reply:  "Non-fat dried milk (skim milk powder)  is not currently added to our, or any of our direct competitors lowfat or fat free milks (skim milk) and, any direct addition of a dried milk powder would require it to be included on the label to meet current United States labeling requirements.  This is not true.  Ellen Ussery looked into this quite a bit.  She found that dairies ARE adding powdered milk and the FDA regulations say that powdered milk could be labeled as "milk."  So "milk" on a label can include powdered milk.    Sally"
Sally gave me Ellen's email…
"Hi Ellen, I'm hoping you can shed some light on this issue. I'd love to know what you think. Thanks so much!"

"Hi Kelly, Wow, Sally has a good memory!  This was many years back.  The sum of the information was put into a letter to the editor of the Journal. I will try to find it and get back to you.As I recall it recounts my Kafkaesque experience trying to get a straight answer about this from one of the major milk companies.  All I got was double speak:  they used a great deal of circumlocution and would not say the specific words: no powdered milk. So it was Orwellian too and made me even more curious. I tried searching the FDA regs, but am not good at that sort of thing.Then I remembered an old classmate of mine had been an under secretary of something food related in the Clinton administration.  She was able to locate the precise page of the regulations on milk that said something like : dry milk, powdered milk and some other things may all be labeled as milk.  I believe I put the directions to locate that specific regulation in my letter to the Journal.It is possible that the regs have changed since then.  Also, if they haven't changed it is very likely that not ALL milk companies add powdered milk.  But if those regs are still in place, you cannot tell from the label and if they use the same kind of double speak you may not get the truth over the phone.Will get back to you when I find the letter I wrote.Keep up the good work, Ellen"

"Wonderful!!!  Once I hear back from you, could I share this info with my readers???  Thanks again, Kelly"

Kelly, "Here it is from the Winter 2005/Spring 2006 Journal.  Feel free to use it or any part of it you wish.  The thing is, unless regulations have changed in the last 5 years, they CAN indeed add powdered milk and not declare it.  I wouldn't take anyone's word for it either.  I would have to see the new regulations to believe there has been a change.  I will be watching your blog and the Kitchen Stewardship one.  But if you do find out anything that truly contradicts what I wrote I would love to hear about it.    Ellen"
Not on the Label
One thing I always tell people who think they are being so careful about their health and drinking low-fat milk is the fact that it may contain powdered milk and doesn't have to say so on the label because it is an industry standard. I got the distinct impression that the last person I told this to thought I was into conspiracy theories and so began my search for the the actual document wherein this is stated. I couldn't find it on the FDA website, but I am not too good at that kind of research. So I called the number on a carton of milk that my neighbor had to see what the producer's PR people would say. Talk about a Kafkaesque experience! After much skirting the issue the woman finally said that it's not powdered milk that's added but milk solids and that this is stated as such on the particular types of milk to which it is added. However she never did say whether there was such a regulation or not, thereby avoiding the question of whether it might in fact be in the other kinds of milk with no indication at all. When pushed she did explain that milk solids are from "fluid milk that has the liquid removed." After more prodding she did allow for how that was accomplished by heat. But still staunchly refused to call it powdered milk! This was followed by a series of phone calls trying to find the people who actually made these milk solids, which took me through the labyrinth of corporate dairy–many names of many companies, of a constantly moving shell game, but all connected and became apparent when one frustrated woman on my sixth phone call transferred me to good old Tiffany, the woman who answered my first phone call. Resorting to other means I finally found the actual regulations. They are in the Code of Federal Regulations, Title 21, Volume 6, Chapter 1, Subchapter E, Part 501. Item (3) states: Skim milk, concentrated skim milk, reconstituted skim milk and nonfat dry milk may be declared as "skim milk" or "nonfat milk. " Item (4) states: Milk, concentrated milk, reconstituted milk and dry whole milk may be declared as "milk." Ellen Ussery
Hume, Virginia
"Ellen, This is great information, thank you so much!  I'll just post this and if Katie or someone has time to research it further, great.  Thanks again Ellen!  Kelly"
Katie, if I know you, and I know you (!), you'll be all over this and if there is any more to learn or if you find out anything different, I'm sure I don't have to ask you to keep us all in the loop.  🙂
***UPDATE 6/10/11 I just spoke to a guy who is in charge of the facility that supplies milk for Dean and Meijer.  He said that he knows there are some companies who "fortify" their milk with dried milk powder to give it the creamier feel people are used to in milk, but they (the company he works for) haven't offered a fortified product in years.  Their milk meets the 'standard' amount of natural solids, so they don't need to fortify it.  The only thing in their milk is milk and added vitamins, which he assumes are synthetic, but he doesn't know for sure.  He said that companies have to label it as 'fortified' as well as putting it on the ingredient label if they add anything back in.  I asked if they could get around that and NOT label it since the milk powder is technically still 'milk'.  He didn't think so, but wasn't sure.