For a prettier and more updated list of GF recipes, click here.
(Scroll down to go right to the list of grain-free / gluten-free meal ideas and recipes.)
GLUTEN ALLERGIES ARE BECOMING MORE COMMON
Why? No one knows for sure, but some have speculated that it is because the grains we consume today are much different than the grains consumed long ago (more and more hybridized and then processed like crazy), and our bodies can't handle it. We weren't made to eat grains that way. Some argue that we weren't made to eat grain at all (scroll down there to read about that argument). Another group say it is just wheat that is the problem, and here's one more post on the dangers of wheat:  Lose your man boobs, your bagel butt and your wheat belly. Others say we should only eat properly prepared grains, and in fact, some who have been diagnosed with gluten allergies are able to eat properly prepared grains without problems.
Have you seen these grain-free meal plans?
BEWARE OF THE GLUTEN-FREE JUNK FOOD!
Because so many have been diagnosed with gluten sensitivities in recent years, as you would expect, the processed food manufacturers have jumped on that train and come up with all sorts of gluten-free boxed junk food.  Be careful not to fall into that trap, those boxes have long ingredient lists and loads of chemicals.
Have you seen this post:  Gluten-free is expensive!
Meal/Recipe Ideas:  (Be sure to check out my dessert recipes – many of them are gluten/grain-free!)
One of my favorites: Bunless burger bonanza!
Kent's Easy Asian Pork Loin – Low carb AND gluten-free!
This tasty Fried Fish with Fresh Lemon Garlic Pesto
This Yakisoba recipe is SOOOOO good with extra veggies instead of the noodles!
Kale Chips – these are amazingly delicious!
These stuffed jalepeno poppers are one of my favorite low-carb treats.
Another favorite are these roll-ups. I'll make cilantro ancho-chili lime mayo, spread it on a piece of ham (from the farm), then wrap up the broccoli for a nice crisp and tasty low-carb/grain-free treat.
I eat a lot of eggs when I'm watching the carbs – here are all different egg recipes, some with carbs and a few really yummy ones without.
Salads are always satisfying, especially if you add chicken or steak. I got fresh greens at the farm market the other day, and I may put a couple strawberries on top, a hard-boiled egg, a homemade dressing with less sugar than I'd normally use, some cucumbers, parmesan cheese, and a few crispy pecans.
Here's another good one that I love all the time: Caprese Salad
Even though it's been warm out and it's not really chili weather, we all still love it. Soon I'll make traditional chili and a white chicken chili– both are low-carb. (Update: last night I made chili and tonight we had leftovers on healthy hotdogs. The fam had the homemade buns I made, but I fried up a couple dogs, cut them up and ate them in a bowl of chili – it was so good!)
Here are more soup ideas, not all are low-carb, but most are or can be adapted. I don't know if it's listed, but a good beef vegetable soup is very satisfying. I usually use round steak (with a bone) for this and add lots of veggies and herbs to give it a great flavor.
I like to snack on celery and peanut butter – it's filling and sometimes I need the crunch. Or if I need a quick snack, I'll just grab a spoonful of peanut butter by itself.  (Make sure it has NO trans fats or corn syrup!  Read more about healthy peanut butter.
Here's a fairly low-carb dessert! Homemade chocolate or vanilla ice cream – there's not a lot of sugar in this, but if you're trying to lose weight, you may still want to steer clear. (However, if you're going to have a little treat, this is a good choice, because all the healthy fats in this recipe help slow down the insulin response from the sugar. Here's another good one for the same reason: Crème Brule.)
This pesto chicken or just cheesy chicken is SO easy, SO good and low-carb!
Fried cabbage is an easy, filling, tasty treat!
I know I'm odd, but I also love to chop up a whole onion and fry it in butter or ghee until nice and golden brown. A very satisfying snack, believe it or not. (I use a LOT of butter!)
Another idea from my sister: use the recipe above for lettuce wraps, but use cold shrimp instead of chicken, and just eat the filling. Delicious.
Shrimp cocktail – cold shrimp on a plate, drizzle balsamic vinegar over the top, and a little dab of fresh horseradish. Good flavor and nice bite, without the carbs in the ketchup. ZERO carbs! (My sister loves this.)
A great artichoke dip recipe I found through a Twitter friend, and there's even a link there for some no-carb cheese crisps for dippers!
No grain recipes from Sarah, the Healthy Home Economist
Try this Buffalo Dip recipe that you could eat with celery, yum!
This Indian Eggplant recipe from Sonia is SO flavorful that it makes a great low-carb dish (without the rice of course)
Thai Vegetable and Chicken or Beef Stir-Fry – sooooo delicious and grain-free!
Another version from my friend, Jill:  Pad Phet (a spicy Thai stir-fry) — a New Gluten-Free Main Dish Idea
***Crispy nuts – an extra healthy, yummy & easy way to prepare nuts. Or even better, try these chili lime almonds. (These are low-carb, but go easy, I've heard that cheese and nuts are the biggest threats to weight loss when doing low-carb.)
Halloween pancakes (super delicious: made with squash or pumpkin, and grain-free, too!)
Shepherd's Pie – just use Arrowroot Flour or coconut flour to replace the 2 T. of regular flour in this recipe.
Not all the recipes here are GF but many are: Healthy Egg Recipes
***For more gluten-free ideas, check out the list of low-carb recipes, because many are both gluten-free AND low-carb!
I love these sweet potato/squash popovers – recipe notes to myself:  1 batch is just enough for our family (they're not good leftover) – it made 16.  370* for 35 minutes, poke a hole, bake another 5-7 minutes.  We served with maple syrup heated with melted butter.  Tastes a bit like French toast.  (No matter how much butter or palm shortening I used, they still stuck and it was a pain to get the pan clean, will try muffin papers next time.)
Gluten-free flourless chocolate cake recipe
Many of these dessert recipes are also grain-free/gluten-free!
Sarah's grain free pizza crust was pretty darn good – not as good as "regular" pizza, but it did the trick when I felt like pizza.  Recipe notes to myself:  I doubled the recipe and put 2 pizzas each on 2 cookie sheets and this was just enough for 6 of us.  The temp at Sarah's post was too high for my oven, instead do 400* and watch it – make sure the middle is done or it won't be crispy enough once other toppings are added on top before baking it more.
Quick Quiche Cups – these can be made ahead!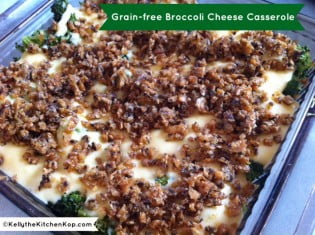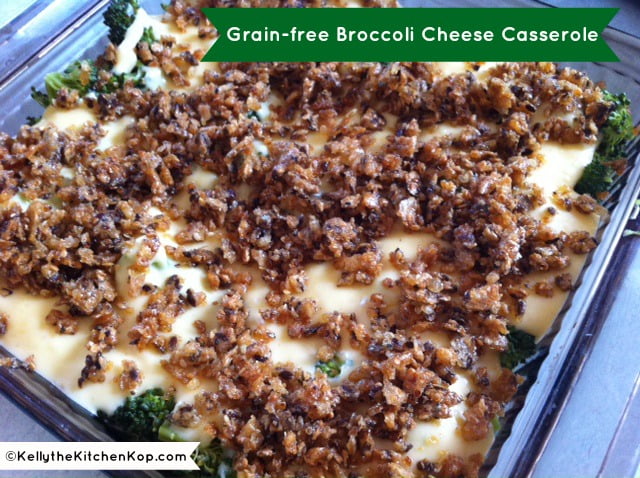 Please comment below if you have other grain-free ideas!
Read about my weekend at the Gluten Free Cooking Expo in Chicago.