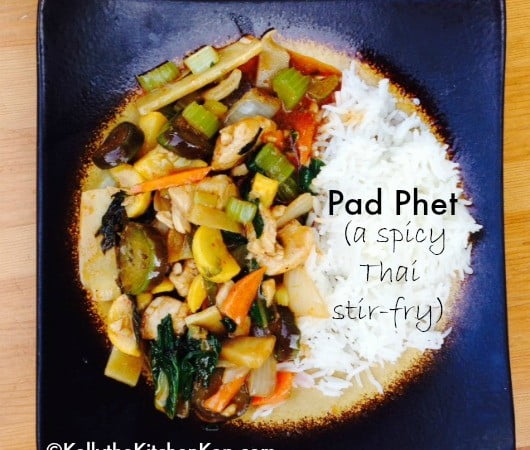 Do you love a good spicy Thai stir-fry now and then for something different that is bursting with flavor?  This gluten-free main dish can be made with beef, chicken or pork, whatever you have on hand!
My friend, Jill, has done it again — thanks for snapping a picture and sharing the recipe with us, Jill!  Here she is to tell you about it…
I adore Thai food but was only introduced to Pad Phet this year by my sister-in-law. Pad Phet is a spicy Thai stir-fry flavored with red curry paste. It is typically made with eggplant and bell peppers but I like to use a mix of veggies. As much as I love red, green, and yellow coconut curries (made with coconut milk), I think I like this even better. Plus it's nice to have another Thai dish in my repertoire.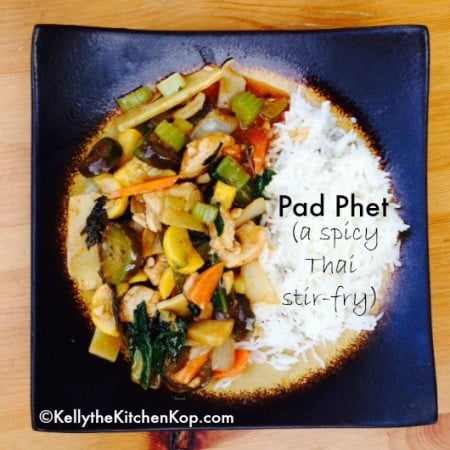 Print
Pad Phet
Yield 4 adult servings, plus leftovers (especially if served with rice).
Ingredients
1 pound thinly sliced organic or pastured chicken, beef, or pork — find healthy meathere.
4-8 cups washed and sliced or chunked veggies of choice. I used:

1 onion, cut into large chunks
4 small yellow summer squash, cut in thick half rounds
2 carrots, thinly sliced
3 celery stalks, sliced
2 baby bok choy, stalks sliced thick and greens cut into bite sized pieces
1 red bell pepper, seeded and cut into large chunks
3 small Japanese eggplants, sliced into thick rounds
1-8 ounce can bamboo shoots, drained (click for where to find bamboo shoots)

6 large garlic cloves, smashed and minced (or dried garlic if you don't have fresh)
2 inch chunk fresh ginger, grated
3 Tablespoons red curry paste (click for where to find red curry paste) — adjust according to heat preference–this brand is my favorite and was medium spicy.
1-2 Tablespoons fish sauce (click for where to find fish sauce) — don't be afraid of fish sauce–it adds incredible authentic Thai flavor!
1-2 Tablespoons palm sugar, or any natural sugar
4-8 ounces (1/2 to 1 cup) chicken broth or water, depending on how much liquid the veggies release  (Click for how to make real, simple, nourishing broth)
1 handful fresh basil leaves (or 1+ teaspoons dried basil), Thai basil has the best flavor for this dish but regular basil works too
Plenty of Coconut oil for sautéing (I used this virgin coconut oil for the subtle coconut flavor, but if you don't like coconut flavor use expeller pressed coconut oil with no taste.)
Rice to serve it with, if desired
Instructions
Wash and chop, slice, or grate the veggies, garlic, and ginger. Set everything aside in separate bowls (I kept the carrots and celery together because they cook at the same rate). The garlic and ginger can be in the same bowl. When the veggies are prepped, slice the meat and set it aside in its own bowl. Having everything ready before hand gives you better control and everything also comes together more quickly and easily.  Set up your work station by the stove with the raw ingredients in their bowls on one side of the stove, a large glass or stainless steel bowl to hold the sautéed ingredients on the other side, and your coconut oil within easy reach.
Start by heating 1-2 Tablespoons coconut oil in a wok or large skillet. When hot but not smoking (never heat oils to their smoke points), sauté one vegetable at a time and remove to the large bowl when it's *almost* as cooked as you'd like (it will continue cooking some in the bowl, so give it leeway). Proceed sautéing each veggie individually so you can control the done-ness of each one, adding more coconut oil to the pan each time, and removing each sautéed veggie to the large bowl with a slotted spoon or spatula as you go. Don't hesitate to use plenty of coconut oil–it's a healthy fat and also enhances the dish. (Don't sauté the garlic and ginger quite yet, and the bamboo shoots can just be added to the "sauté" bowl without sautéing.)
When veggies are done sauté your meat of choice in more coconut oil. Remove to the same bowl the veggies are in. Holding a large lid (from a skillet or stock pot) over the bowl of sautéed veggies and meat, tip the bowl and pour only the juices into a separate bowl. This will make up part of the sauce.
Add more coconut oil to the pan (about 2 tablespoons) and when it's hot add the garlic and ginger. Sauté briefly, then add the red curry paste. Stir it around in the oil to infuse the oil with the intoxicatingly-awesome flavors for a couple minutes. Add the liquid drained from the sautéed veggies and meat. Stir in more liquid–chicken broth or water–to reach the sauce consistency/thinness you want. Stir in the fish sauce, palm sugar, and basil.
Add the sautéed veggies and meat to the sauce in the wok or pan and stir to combine everything well. If the sauce is too thick, add more liquid. If it's too thin, stir in a slurry of 1 teaspoon arrowroot powder and 2 tablespoons water to thicken it up a little (it will need to simmer very briefly in the stir-fry to thicken). It should be salty enough from the curry paste, but if not, add salt or more curry paste if it also needs more heat.
Did you make a real food recipe?
I want to see it! Tag @KitchenKop on Instagram and hashtag it #KitchenKopRecipes OR share anything you know I'll love by tagging @KitchenKop and hashtag #KitchenKop -- see you over there!
Let us know what you think!
Make sure to check out my other Asian-inspired recipes.
Meal Planning Help!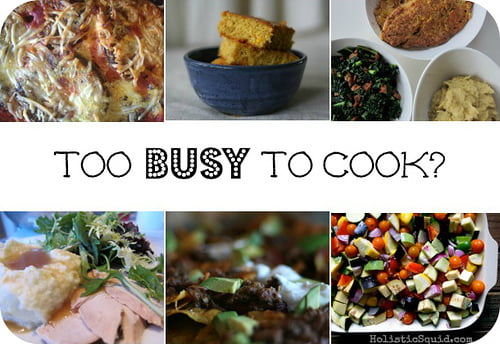 Sick of planning meals and answering the question, "What am I going to feed these people?" No matter what kind of eater you are (traditional, GF, paleo, vegetarian)… Check out these affordable interactive easy-to-use meal plans where the work is done for you.  NOW recipes also available from Nom Nom Paleo, The Paleo Mom, and Wellness Mama all in one spot!  You can read over my review here.