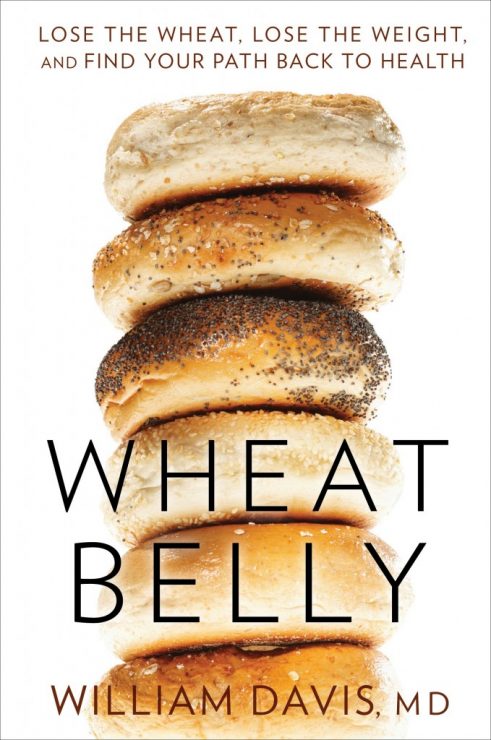 "Why eating more whole grains could be detrimental to your health."
The comments at part 1 of Lose your man boobs, your bagel butt and your wheat belly got very interesting, especially when Dr. Davis jumped in to clarify some of the questions that were being asked there.  He's agreed to do the same after today's Q & A post, to clear up anything more you're wondering about.  Pretty cool, huh?!  (He won't be able to do that indefinitely, though, so just be aware in case you visit this post later.)
Before we begin the questions and answers with Dr. Davis, in case you just want to buy the book, you can do that here:  "Wheat Belly: Lose the Wheat, Lose the Weight, and Find Your Path Back to Health".
WHEAT BELLY Q & A between Kelly the Kitchen Kop & Dr. William Davis: 
1.  Kelly:  We've all heard the 'politically correct' mantra on eating low-fat and 'fiber-rich whole grains.' Can you tell us what happens to our bodies when we eat like that?
WD: Low-fat unavoidably means high-carbohydrate. Reduce carbohydrate intake from, say, 40-50% to 20-30% or even lower, and the gap in calories is nearly always filled by carbohydrates. Health conscious people have been advised by "official" agencies like the USDA and Surgeon General's office to fill this gap with consumption of "fiber-rich whole grains," which for all practical purposes means foods made of wheat. Fiber intake does indeed increase over that of the average American diet, but other phenomena begin to emerge: weight gain, specifically deep visceral fat in the abdomen (what I call "wheat belly"); increased blood sugar, pre-diabetes, and diabetes; cholesterol measures associated with carbohydrate excess such as high triglycerides, low HDL cholesterol, and the appearance of small LDL particles, an incredibly common pattern today that increases risk for heart disease.
In other words, the conventional advice to cut fat and "eat more healthy whole grains," I believe, is not the solution to the obesity, diabetes, and health crisis for Americans—it is the cause.
2.  Kelly:  Can you address this: "But wheat and bread are in the Bible!"
Yes, indeed: Wheat and bread are mentioned repeatedly in the Bible. Wheat and bread are part of religious practice, such as taking the sacrament. Bread is often used in the Bible as metaphor for salvation. But that's not what you are eating. Let me explain.

The wheat of the Bible is emmer, a 28-chromosome wild-growing plant that grew in the Middle East in the time of Moses; it was the wheat that the Jews took with them, unleavened, in their flight from Egypt. Some of the wheat may have been einkorn, an even genetically simpler plant with 14 chromosomes, the original wheat that grew wild and was harvested by hand.
The wheat you are sold today is a 42-chromosome plant. Its distant ancestor was a natural hybrid of emmer wheat and a wild grass. But even bigger changes occurred 50 years ago, when substantial investment by the U.S. government and other governments, universities, and foundations were made to generate high-yield variants of 42-chromosome wheat. And, from a genetic viewpoint, they succeeded . . . beyond their wildest dreams.
The high-yield, semi-dwarf wheat plant was the result, a 2-foot tall wheat plant, a couple feet shorter than the "amber waves of grain" we all remember as kids. Virtually all the wheat grown in the world today is the high-yield semi-dwarf variant, since yield-per-acre is around 10-fold greater than the wheat of 50 years ago. And it did indeed make a large contribution to helping solve world hunger.
But there was a big miscalculation made: The effect on humans changed. For one, the composition of the gluten protein changed, making it more likely to trigger inflammatory diseases like celiac disease and nervous system degeneration. The gliadin protein was changed, making it a more potent stimulant of appetite. And, I believe, it changed in other ways that have not yet been fully sorted out. I make this last statement because, having witnessed thousands of people remove wheat from the diet, the whole seems to be greater than the sum of the parts: the benefits of removing wheat are greater than what you'd predict by adding up each problem ingredient.
When people eliminate modern wheat from their diets, I witness incredible weight loss—typically a pound a day for the first ten days, then tapering to 20 pounds over the first month. I witness turnarounds in asthma, acid reflux, irritable bowel syndrome, leg swelling, diabetes, pre-diabetes, arthritis, rheumatoid arthritis, and inflammatory bowel disease. I see improved mental clarity, mood, and deeper sleep. In short, I see lives transformed, often in dramatic ways, by doing nothing more than removing this modern, genetically-altered grain from the diet.
3.  Kelly:  You said in Jimmy's podcast that if someone found an old bag of flour from their Grandma's cabinet, while it wouldn't be ideal to consume, it would still be much better since it's not the same Frankenfood wheat that today's crop
has become.  Would you say the same thing about spelt, rye, millet, etc., are they at least better, especially for those of us with kids who may need to transition more slowly?
Provided you are not among those with extreme wheat/gluten intolerance (e.g., celiac disease), then these grains are indeed better, since they do not trigger appetite as much as modern wheat. They also lack the most dangerous "D" collection of genes that has been woven into the genetic code of modern wheat and has been the focus of most of the genetic manipulations made by geneticists.
Downside: They still trigger appetite, just not as sharply. They also raise blood sugar and trigger the formation of small LDL particles, the number one cause for heart disease in the U.S. They also (by way of the process of "glycation," or glucose-modification of proteins) contribute to cataracts, arthritis, and hypertension. So better does not necessarily mean good.
Theoretically, this makes sense: Use these less harmful grains to taper yourself off modern wheat. However, a word of warning: I've watched people try to do this, but it somehow just prolongs the agony, kind of like tempting an alcoholic with a weak drink. Sure, it might be better, but there's something overwhelming about the "pull" these grains exert on us, often leading us straight back in a path to wheat.
4.  Kelly:  I know that you recommend a wheat-free, low-carb/paleo-ish (+dairy) diet for everyone, so I'd love your opinion on which carbs are best.  Would that list just include milk, fruits & vegetables?  What about rice?  (Obviously that list would be different for a diabetic who needs to be more careful about fruits, and starchy vegetables/rice.)
Let me first set the stage for where we all find ourselves, circa 2011: The majority of us are overweight; 70-80% are diabetic or pre-diabetic, the remainder close on the heels of pre-diabetic patterns. In other words, we've got a mess on our hands.
This is not just about weight loss and fitting into a size 2 bikini or trousers with a 32-inch waist. This is about undoing the metabolic mess that most of us harbor in our bodies, thanks to 1) the misguided advice to "eat more healthy whole grains," with grains essentially meaning modern, semi-dwarf wheat, and 2) the proliferation of carbohydrates in the diet. The 50% of people expected to become diabetic in the coming few years will have, on average, 8 years less time to live on earth and/or a lifetime of multiple medications for diabetes and all the other diseases of carbohydrate excess. 20, 30, 40 years of excessive carbohydrate consumption leave us with damaged pancreatic beta cells, no longer able to keep up with the insulin demand we place on it. I liken this to making an 80-year old man hobbling along in a walker being asked to run a marathon: It ain't gonna happen; he'll collapse at the 100-feet mark and lose the race. But that's the sort of unrealistic expectation we place on our pancreases.
So it's not that carbohydrates are intrinsically bad. It's that we've created a situation where most of us are no longer capable of processing carbohydrates due to the pancreatic damage we've done with years and years of carbohydrate overconsumption. Unless you don't mind adding to the revenues of the drug industry, we've got to deal with this metabolically impaired situation we're in.
We do this by limiting carbohydrate intake. Any carbohydrate, regardless of glycemic index, increases blood sugar into unhealthy ranges. This includes fruit, millet, and sorghum, i.e., carbohydrates that most people regard as healthy. Rice, likewise, lacks many of the undesirable features of wheat, but is still a carbohydrate.
So limiting carbohydrates becomes necessary in a modern world populated with diabetic and pre-diabetic people. How much to limit carbohydrates is best decided on an individual basis. For diabetics, for instance, who wish to either minimize blood sugar "highs" and/or become non-diabetic, I advise 30 grams or less per day of carbohydrate. (One medium-sized banana contains around 30 grams; that blows it for the entire day.) For pre-diabetic people, I restrict carbohydrates to 40 grams per day. For people without either, but have small LDL particles, high triglycerides, hemoglobin A1c of less than 5.6%, and desire to lose weight, I limit carbohydrates to 50 grams per day. Many people say this is restrictive for the last group, but I see so many people like this who develop heart disease (from provocation of small LDL particles) and develop other health problems due to patterns they are triggering but are not even aware of.
5. 
Kelly:  My Wheat Belly book is on the way right now, so I couldn't check out your recipes except for what I found on your site.  While I don't agree that unfermented soy should be included in a healthy diet (read more on soy dangers), I was excited to see that your recipes include eggs and butter. You also told me when I asked on your website that you do think we should eat animal foods and animal fats.  (My addendum: only from non-conventionally raised animals!)  Can you comment more on this?
Yes, I agree with your stand on these issues. First of all, Wheat Belly was not intended to be a diet book. It was intended to be an exposé of this incredibly destructive Frankengrain called wheat. But I recognized that a solution has to be offered after pointing out the problem.
In diet, I've chosen to pick our battles and focus on the biggest problem sources. I don't believe that our diets have to be absolutely meticulous, 7 days a week. I just think we need to eat real, whole foods while avoiding the most destructive food sources. Obviously, wheat is at the top of my list, the worst of the worst. Next are carbohydrates like cornstarch, cornmeal, sugars, and oats, followed by other carbohydrate sources like millet, quinoa, beans, rice, and fruit. I agree that meats, whenever possible, should be humanely-raised, grass-fed, free-range, and not from factory farm-raised, warehoused chickens, cattle, and pigs. Soy, unfortunately, is changing due to 73% of it coming from genetically-modified sources and so represents an uncertainty in diet. I'm aware of the criticisms of soy, particularly non-fermented varieties, and I believe we should avoid the soy-as-processed-food-additive sort. One of the strategies I use in patients is to have everyone supplement with iodine, since iodine deficiency and even goiters are making a return, just like the early 20th century, since people are avoiding iodized salt; provided you are iodine-replete, the so-called goitrogenic, or thyroid-blocking action of soy, is eliminated. So I now tell people to use soy in only small quantities, preferably fermented forms, but do not allow it to dominate and, obviously, avoid it if soy allergy or sensitivities are present.
6.  Kelly:  You've said that wheat is very uniquely addictive, can you tell us more about that?
The gliadin protein of wheat is degraded to a class of polypeptides called exorphins that bind to morphine receptors in the brain. Wheat exorphins are responsible for appetite stimulation, as well as the behavioral outbursts in children with ADHD and autism, the paranoid delusions and auditory hallucinations in people with schizophrenia, and even trigger the manic phase of bipolar illness. Exorphins are also responsible for the withdrawal phenomenon that 30% of people experience when they stop consuming wheat, the mental "fog," fatigue, physical exhaustion, and even depression that usually lasts several days. You have, in effect, an addictive relationship due to the appetite stimulation effect and the awful withdrawal that results with cessation.
The effects of wheat exorphins—addiction, appetite stimulation—can be blocked with morphine- or opiate-blocking drugs. In fact, a drug company is trying to exploit this situation and has made application to the FDA for naltrexone, an oral opiate blocker, for a weight loss indication. Naltrexone is already on the market for heroine addiction at high-dose. At low-dose, naltrexone does indeed result in 22 pounds of weight loss when taken for six months—but why? Why would an opiate-blocking drug result in weight loss when there is only one food that is degraded to opiates in the bloodstream: wheat?
7.  Kelly:  Even though you said that MANY health issues are improved or cured when taking wheat out of the diet, what might the reason be as to why this might NOT work for some?  (Obviously removing sugar from the diet would be important, too, but what else could they try?)
Obviously, not all human illnesses are caused by exposure to wheat. And many conditions that are triggered by wheat can also be triggered by other factors. Rheumatoid arthritis, for instance, is not caused by wheat, but is substantially worsened by wheat; removing wheat usually allows someone with this condition less pain, better mobility, and reduced reliance on the nasty drugs used to treat it, but rarely does it lead to cure. By the way, the probable reason to account for any benefit is the removal of wheat lectins that increase intestinal permeability to foreign proteins that, in turn, promote inflammatory responses.
Likewise, inflammatory bowel diseases like ulcerative colitis and Crohn's. I've seen nearly everybody improve—less diarrhea and cramps, less bleeding, reduced need for medication, also borne out in clinical trials—but I've also seen cure—complete relief with no medication required. Why the difference? It's probably genetically-determined, relying on such factors as HLA DQ type, the genetic pattern that, to a large degree, determines the severity of inflammatory response to wheat gluten, glutenins, and gliadin. However, there are clearly factors outside of the known genetic markers, since I and others have seen severe, even life-threatening, wheat responses in people with all negative genetic and antibody markers.
There is plenty not known about this modern form of wheat created by geneticists, largely because they assumed all along that, no matter how extreme or bizarre the techniques used to generate new forms of the plant, it was always safe for human consumption. So we have no record of animal or human safety testing to document how, when, and why many of the varied adverse effects came about. It was just thrust into the market, sold to the public—no questions asked.
(Note from Kelly:  I forgot to ask Dr. Davis if he's heard of the GAPS Diet.  If you're struggling with a health issue, you really must learn more about GAPS.  Removing grains from the diet is part of the healing protocol, but it goes even further than that.)
8.  Kelly:  Can you tell us the story you shared with Jimmy about your feelings on food substitutions that help us eliminate wheat from our diets, such as almond or coconut flour?  (Apparently some say these are like 'smoking candy cigarettes'.)
First of all, let me point out that gluten-free foods are not the answer. Most gluten-free foods, as currently produced by most food manufacturers, are absolute health disasters. Yes, they lack the gluten, gliadin, amylopectin A, lectins, and other unhealthy components of wheat, but gluten-free foods are nearly always made using rice starch, cornstarch, potato starch, or tapioca starch. These powdered forms of starch increase blood sugars to very high levels, higher than even wheat, trigger small LDL particles, and cause accumulation of visceral fat and thereby make us diabetic.
So we've got to be smarter than this. There are healthier ingredients to use in making your own wheat- and gluten-free but limited carbohydrate recipes. I like ground almonds, pecans, walnuts, hazelnut, and sunflower seed; coconut flour; and ground flaxseed to create my own breads, scones, and cookies. Anyone who thinks they taste bad or think they are "smoking candy cigarettes" hasn't tried my recipes. You will find my carrot cake recipe, for instance, every bit as delicious as the "real" thing, but with none of the undesirable unhealthy aftermath. I had mocha chocolate cupcakes (my own recipe) for breakfast today; they were filling and delicious.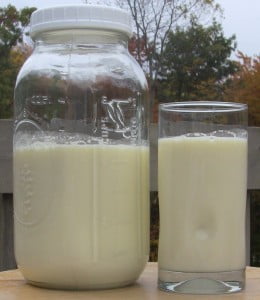 9.  Kelly:  Those who eat a paleo-type diet may wonder why dairy is OK in your book?  (Are you familiar with the benefits of raw milk, especially in comparison to conventional milk?)
I really have chosen to pick my battles. I recognize that we live in a world in which perfect choices are not always easy or possible. Children, for instance, may eat from a school cafeteria, eat at friends' houses and sleepovers, while Mom or Dad may have a job that means having lots of meals in airports or restaurants where a full menu is not available. Having advised a wheat-free, low-carbohydrate diet in thousands of people, while not imposing the strict Paleo-like limitations of no dairy, no nuts, no beans, has worked extremely well at a practical level.
With regards to dairy, I have limited concerns about the insulinotrophic action of the polypeptides in the whey fraction. As you know, I worry about the number of diabetics, pre-diabetics, and pre-pre-diabetics nationwide who have stressed their pancreases to unreasonable degrees. Dairy products have the peculiar effect of tripling insulin output from the pancreas, an effect many nutritionists regard as positive because it reduces the blood sugar effects of carbohydrates, but I view as negative because we do not need to further challenge our exhausted pancreases. So I advocate a limited exposure to dairy because of this effect, but I don't think it's so bad that we should absolutely eliminate it. Cheese, in particular, has many healthy components, such as vitamin K2, that really are important for health (reversal of osteoporosis and possibly heart disease and, no, it's not the calcium that's good for bones).
If I had complete trust in my dairy producer and was confident of clean conditions, then raw milk can be a great option, though with many of the same insulinotrophic limitations, since it, too, has the whey fraction of proteins in it. Personally, it makes me kind of nervous; I liken it to playing a slot machine at the casino where the odds of winning are 999 to 1, but if you lose they shoot you: great odds, but the price of losing is pretty awful.
(Another note from Kelly:  here's my post on finding clean, raw milk.)
10.  Kelly:  My Mom and 2 sisters have type II diabetes.  I'm especially interested in the cases you've seen where people can go off diabetes drugs and the disease is reversed.  Besides giving up wheat, what else do you suggest they do as far as their diet and exercise is concerned?
I have personally been cured of diabetes, along with many patients and online followers of my program. Elimination of wheat is the crucial first step, both to avoid its blood sugar-increasing effect as well as its appetite-stimulating gliadin effect.
Next, strictly limiting carbohydrates becomes necessary. Because diabetes is, by definition, a condition of high blood sugars, near-total elimination of carbohydrates becomes necessary to minimize or totally stop blood sugar rises. This means less than 30 grams ("net" carbs, or total carbohydrates minus fiber) per day. Exercise, including strength training, vitamin D supplementation, and magnesium supplementation are very important, also, in reversing diabetes. Having ideal thyroid function is important, given the frequency of thyroid dysfunction in modern people due to iodine deficiency and exposure to thyroid-blocking organochemicals.
People taking drugs like glipizide, glyburide, and glimepiride will have to be especially careful to avoid hypoglycemic episodes; as someone becomes less diabetic or non-diabetic but still takes these medications, hypoglycemia can result. This is therefore best undertaken under the supervision of an interested and knowledgeable healthcare provider. The sad truth is that 99% of my colleagues have no interest nor experience in reversing diabetes, so you may have to seek out a naturopath or other provider more willing to work with you.
11.  Kelly:  In your podcast with Jimmy you said that you've seen the crippled jog, and colon removal surgeries get canceled.  What are other conditions have you seen improved or healed when people give up wheat?
The list is varied and long. It includes inflammatory diseases like rheumatoid arthritis; multiple skin conditions including dermatitis herpetiformis, all varieties of rashes and blemishes, and acne; acid reflux and symptoms of irritable bowel syndrome are relieved in the majority; arthritis, particularly in the hands and wrists, often disappears completely, as does stiffness; leg edema and water retention improves or goes away entirely; better mood, less anxiety, and deeper sleep are very common; asthma and sinus infections and sinus congestion improve, sometimes disappear; allergies improve. Inflammatory bowel diseases like ulcerative colitis and Crohn's are nearly always improved, often leading to reduced reliance on medication.
When the visceral fat of the "wheat belly" are lost, the unhealthy consequences of it are reversed: blood sugars drop, insulin sensitivity improves, inflammatory markers improve, estrogen levels drop, prolactin levels drop in men (reducing breast size), triglycerides drop (since visceral fat is a repository for circulating triglycerides), HDL ("good") increases, small LDL particles (really "bad") drop. Arthritis, in particular, improves out of proportion to the weight lost.
Among some interesting, though preliminary, observations: improved erectile function in males and reduced premenstrual syndrome symptoms in females. A recent lesson that I've learned is, to my great surprise, improved kidney function in people with mild impairment due to longstanding diabetes and hypertension.
But the most consistent observation of all with wheat elimination after weight loss is 'I just feel better." I think that alone counts for a lot.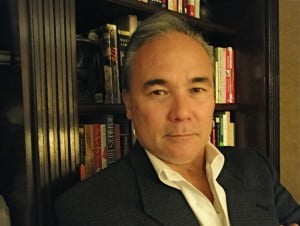 Now ask YOUR follow up questions in the comments below.  🙂
THANK YOU DR. DAVIS!