The BEST Grain Free Chocolate Chip Cookie EVER
Do you love the 'classic chocolate chip cookie' but need to eat grain-free?  Well I'm about to make you very happy…
The taste is SO close to the originals that my kids ate 3 or 4 and I never heard the 'what's different' question once!
There are many different reasons that you may be experimenting with grain-free recipes, but anyone who decides to go grain-free or dairy-free these days has it so much better than someone even a couple of years ago.  Now you have SO much support and an amazing number of recipes and ideas available to you!
We tried this chocolate chip cookie recipe yesterday and honestly have never liked a grain-free cookie recipe more.  Usually all you can taste is the nut flour or the coconut flour, but that wasn't the case in this recipe for some reason.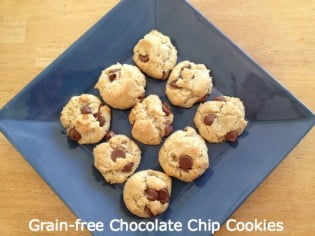 Print
Grain-free Chocolate Chip Cookies
Yield 24 cookies
Did you make a real food recipe?
I want to see it! Tag @KitchenKop on Instagram and hashtag it #KitchenKopRecipes OR share anything you know I'll love by tagging @KitchenKop and hashtag #KitchenKop -- see you over there!
That's it, so simple!
Or find more grain-free recipes and ideas here.