The BEST Grain Free Chocolate Chip Cookie EVER
Do you love the 'classic chocolate chip cookie' but need to eat grain-free?  Well I'm about to make you very happy…
The taste is SO close to the originals that my kids ate 3 or 4 and I never heard the 'what's different' question once!
There are many different reasons that you may be experimenting with grain-free recipes, but anyone who decides to go grain-free or dairy-free these days has it so much better than someone even a couple of years ago.  Now you have SO much support and an amazing number of recipes and ideas available to you!
We tried this chocolate chip cookie recipe yesterday and honestly have never liked a grain-free cookie recipe more.  Usually all you can taste is the nut flour or the coconut flour, but that wasn't the case in this recipe for some reason.
Chocolate Chip Cookies from Jenny @Nourished Kitchen:
(My recipe notes in italics)
Ingredients:
Instructions:
Preheat oven to 375* F.  Whisk almond flour and coconut flour with salt, baking soda and sugar.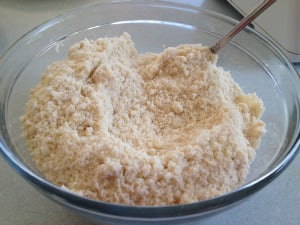 In a separate bowl (I used my Beloved Bosch! Here's where to find one), beat coconut oil, eggs and vanilla together.
Beat the wet ingredients with the dry ingredients, then fold in the chocolate chips.  (Don't skip the step of mixing the wet and dry ingredients separately before beating them together – this is especially important in grain-free recipes in my experience.)
Spoon the batter onto a parchment paper-lined baking sheet one tablespoon to two tablespoons at a time, and bake for 10 to 15 minutes until cooked through.  (Watch the bottom so they don't get too brown and turn the oven temp down a little if needed.)
Makes about 2 dozen.
That's it, so simple!
Or find more grain-free recipes and ideas here.