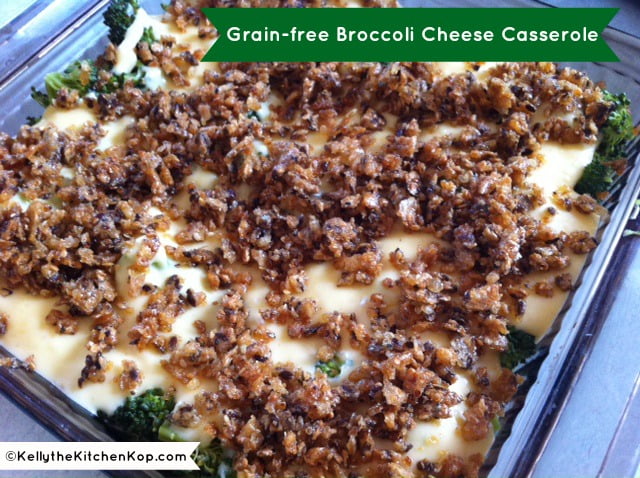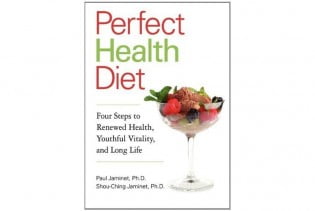 Does the mere thought of this Broccoli Cheese Casserole do crazy things to you like it does me?  (If you eat grains, you'll want to try that recipe, trust me.)  But maybe you want to avoid grains like I am more and more these days, especially since I've read The Perfect Health Diet (more on that in an upcoming post).
Well wait 'til you see what I've got for you…It's pretty easy, too, because I'm not an elaborate recipe person, as you know by now.  It's got a nice satisfying crunch with a creamy cheese sauce that'll make you happy.
Grain-free Cheesy Broccoli Casserole
Ingredients:
Instructions:
Place broccoli in a buttered square glass baking dish.  (There are some good deals on glass bakeware here.)  Sprinkle with salt and pepper.  You can always add more at the table, too.  (Have you seen this post:  To Salt Your Food or Not to Salt Your Food?)
Slowly melt 2 Tablespoons butter and the cheese in a saucepan over low heat with the milk, and whisk in the arrowroot to get it all creamy.  Pour the cheese sauce over the broccoli.
Then for the topping melt the 1/2 cup butter and stir in the crackers.  Sprinkle over the top of the broccoli and cheese sauce.  Bake 20 minutes at 350* or until hot all the way through.
And yes, this is good for you, because saturated fat is good for you.  Yep I said it.  If you don't believe me, take a look through some of these posts on healthy fats.
Let me know if you try this.  Anyone have other yummy grain-free recipes you'd like to share with us?  If it's a good one, maybe you'd be willing to turn it into a guest post here on the blog??  If so, don't forget to snap pictures, and then email me, thanks!  [email protected]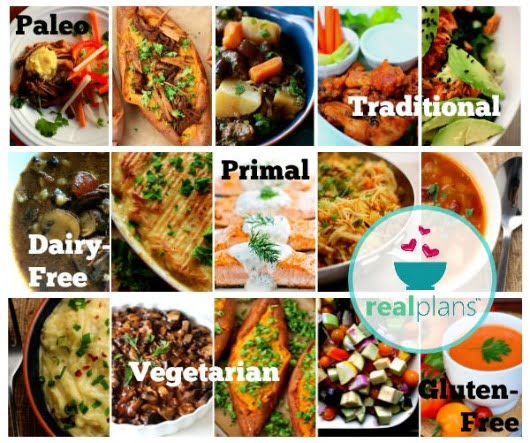 Meal Planning Help!
Sick of planning meals and answering the question, "What am I going to feed these people?"  No matter what kind of eater you are…   Check out these affordable interactive easy-to-use meal plans where the work is done for you!   Also read over my review to see what I thought of it.